AHEAD of the NAB AFL Draft Combine, Cody Weightman obtained a vertical jumping test and practised at home, pushing himself to perfect his technique and leap higher by the time he tested in front of clubs.
He ended up finishing fifth in the test at the Combine, jumping 69cm (but felt he could have gone even higher).
>> The 2019 NAB AFL Draft runs from November 27-28. Follow all the latest news in the draft hub
Weightman is a draft prospect who will do everything he can to improve. That's been central to his rise this year into top-15 calculations, and a key factor to his development as a player.
Everywhere you look in his background you find examples of the 18-year-old's determined approach.
Earlier this season, after spraying a couple of kicks at goal late in his school side Haileybury College's loss to Caulfield Grammar, Weightman headed back out to the field after the game and practised his set shots by himself.
The Dandenong Stingrays prospect has done extracurricular running and sprinting sessions, and this year saw the benefits after winning All Australian honours at the under-18 carnival and firming as one of the leading small forwards in the pool.
"To get drafted has been my goal for ages. My whole life, basically. I would be absolutely over the moon. I don't know how I'd feel on the night if that does happen," Weightman told AFL.com.au.
The photos on Cody Weightman's bedroom wall say a lot - he loves to go surfing to take his mind off footy.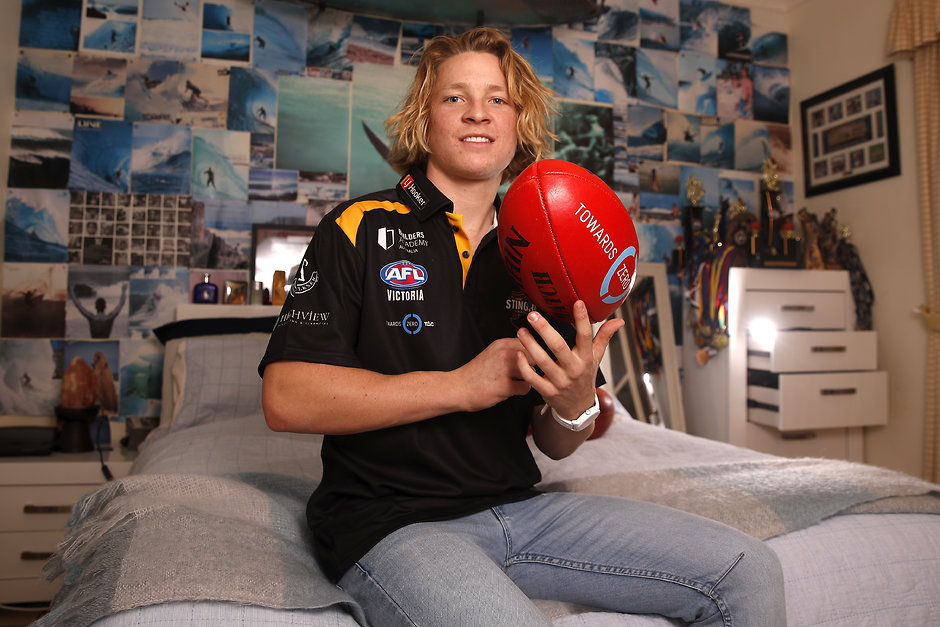 "Fingers crossed it does and I'd be able to experience that.
"It's always been my goal so naturally you have to dedicate parts of your life to it to make sure you give yourself the best chance to be there. It might be limiting your social life a little bit and … the whole way through you might not do things that your peers might do.
"To be able to get that chance and know that the dedication [came off] and when you're thinking 'Is this worth it?' along the way, if it does pay off it'll be really rewarding."
Weightman can lose the if. Now it's just a matter of where. Melbourne has been linked to the exciting goalkicker, particularly after its failed chase of Collingwood star Jamie Elliott, while Geelong and Gold Coast will also consider him with their first-round picks, with Weightman invited to the opening night of the draft.
Weightman grew up idolising Elliott, and feels he can also play in a similar way as a small forward who is a threat in the air.
INDICATIVE DRAFT ORDER Your club's latest picks
"Hopefully I can fulfill a small forward role and be able to play a bit taller and smaller in the same position, and hopefully have a bit of flair," he said.
"I'm starting to get better at that pressure side of my game so hopefully that can develop into a strength over the next few seasons."
Find Road to the Draft on Apple Podcasts, Google Podcasts and Spotify.
Weightman's drive is noted among clubs who have watched him progress this season, but perfecting his golf game and hitting the surf are pastimes that have taken his mind off footy during a busy year.
"I'm a bit of a 'footy head' but it can become too much when you start to get into the rigours of it," he said.
"In previous years I would've known most players on every list and would watch nine games [each week] religiously, but this year I haven't been able to hit those key indicators. I've had to back it off a bit and get away from it a little bit."
Celebrating a goal for Vic Country at this year's NAB AFL Under-18 Championships.