FORMER Magpie Sam Murray has provided the most detail yet on his ongoing drug ban, reiterating that he came into "inadvertent contact" with cocaine.
Murray's revealing chat with Danny Kennedy on The Fitness and Lifestyle Podcast included him discussing his mental health and the impact of his 13-year-old cousin's death last year in a farming accident.
Kennedy has become close with Murray and is training the 2018 NAB AFL Rising Star nominee three times a week in a bid to prepare him for a third AFL shot, after stints at Sydney and Collingwood.
View this post on Instagram
He could be recruited in one of the drafts, as a delisted free agent or in the pre-season supplementary selection period but AFL.com.au understands his chances are slim.
RETIREMENTS, DELISTINGS AND TRADES Your club's list changes
Murray met with Greater Western Sydney and Melbourne in recent weeks and received some interest from reigning premier Richmond and North Melbourne.
He is able to train with an AFL club from December 17 and can play from February 17, when his 18-month ban ends for cocaine being detected in his system in a match-day test.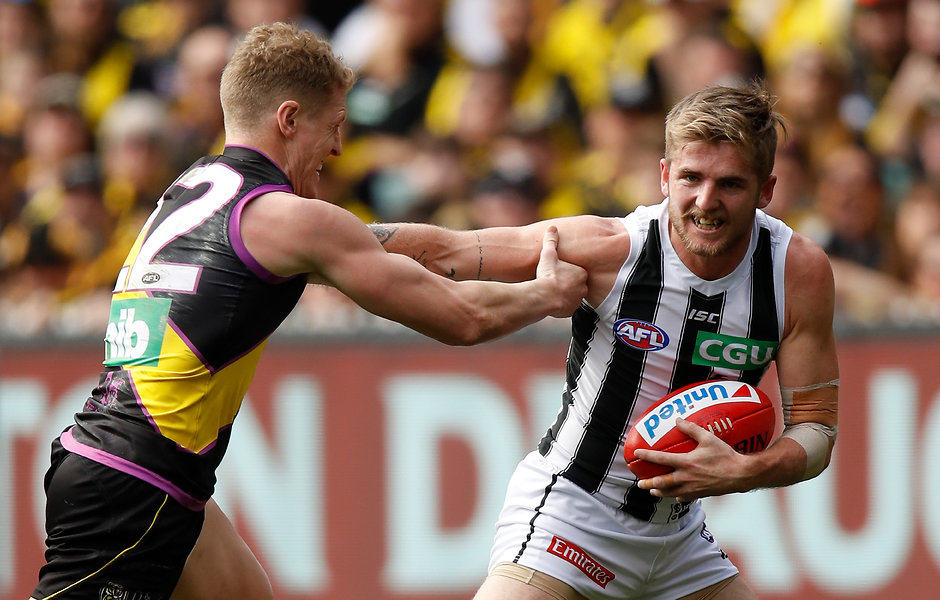 "I didn't intentionally go out and touch cocaine, and I've proven that in a court of law to the judges," Murray said.
"I didn't go out and 'get on it'. The Wednesday night before (the test), I had come into inadvertent contact with it, so I didn't understand how this had happened.
"For a long time, I didn't know what had happened, so that was probably the hardest bit, because I could have been playing in a Grand Final … Collingwood made the Grand Final and I was playing consistently."
You know what that was for me? That was the kick, that as bad as it is – and I don't wish that upon anyone – I realised my life was OK and how lucky we are as humans to wake up every day
Murray said it was still unclear how his positive test occurred, but that there was enough evidence to suggest it was unintentional and that's why he avoided the maximum four-year suspension.
He wants to disprove any perception of him being "this party kid" and part of that process involved him re-emerging in the public eye on social media.
View this post on Instagram
Murray plans to tell the full scope of his story at some stage and said people's view of him would be dramatically different once he did.
One of the lesser-known elements of this saga is Murray's long-term difficulty with his mental health, which saw him regularly meeting with a Magpies-employed psychologist.
"The story's untold, and I've been pretty quiet about it, but what people don't realise is before the substance finding I was suffering very heavily with mental health issues," he said.
>> The 2019 NAB AFL Draft runs from November 27-28. Follow all the latest news in the draft hub
"I think it was the week before I was told I had tested positive to a substance, and I had walked into my psychologist's office at Collingwood and broken down mentally through anxiety and stuff like that.
"I know people are worse than me … but I was struggling heavily with anxiety and the thing with anxiety is the best way to deal with it is to have things in place you can fall back on.
"That's why I was OK in football … then when I got out of the system and didn't have football, didn't have structure, didn't have anything … I found myself completely lost."
The tragedy involving his cousin occurred not long after his provisional ban became public in August last year.
Murray temporarily moved back to Wangaratta and he described that period as "probably the hardest month of life I've dealt with".
"I thought my stuff was bad with football but then I got this and it put it into perspective," he said.
"You know what that was for me? That was the kick, that as bad as it is – and I don't wish that upon anyone – I realised my life was OK and how lucky we are as humans to wake up every day."
Murray started a digital marketing business during his time away from football and said he would handle the disappointment if another AFL chance didn't arise.
"I think I have a greater knowledge of what's important to me – and that's my family, friends and happiness," he said.
Find Road to the Draft on Apple Podcasts, Google Podcasts and Spotify.