ESSENDON was unaware of Conor McKenna's decision to play in a Gaelic football relegation playoff game for his local club in Ireland at the weekend.
McKenna scored a second-half goal to help Eglish defeat Edendork, 2-9 (15) to 1-10 (13), and move closer to maintaining its Division One spot.
The fixture was played in the early hours of Sunday morning, Melbourne time, and Eglish is now awaiting the Division Two playoff winner.
Eglish is a small village in Northern Ireland county Tyrone, where McKenna played in the minors in the Gaelic Football Association championship before joining the Bombers as an 18-year-old in 2014.
An Essendon spokesperson told AFL.com.au that club officials hadn't spoken to McKenna and would wait until he returned to Melbourne to find out the full details and why he played.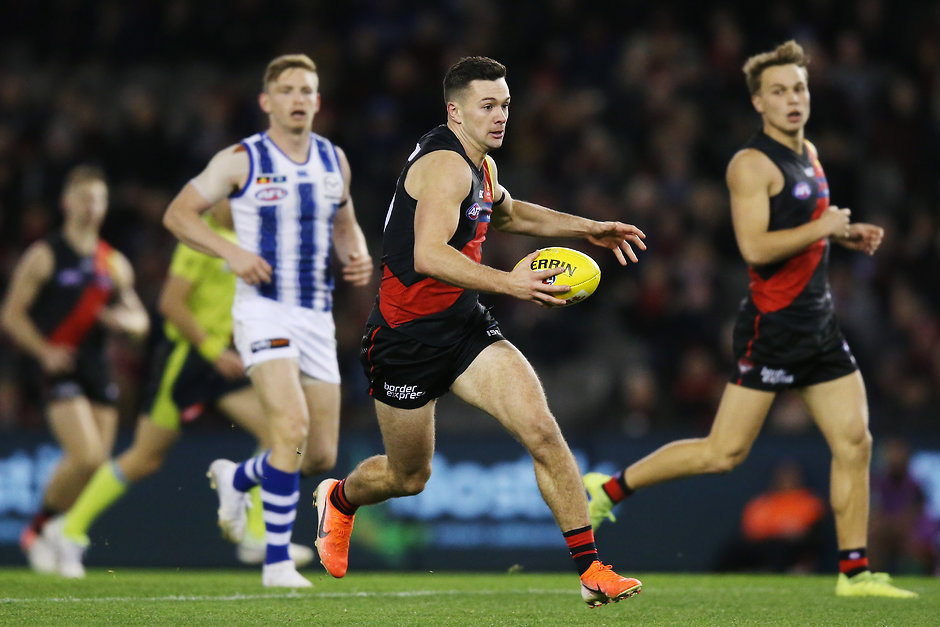 McKenna's countryman and Geelong footballer Mark O'Connor was forced to apologise last year after the Cats discovered he played for his Irish club Dingle in the off-season.
Hawthorn's Conor Nash also played for his local Gaelic team, Simonstown, without the Hawks' knowledge ahead of the 2018 season, but ex-Blue Ciaran Byrne sought approval to play for St Mochta's last year.
"Going home, I suppose, you can get caught up in a lot of things in the local community and people asking you to play who are not really thinking of your best interests," Nash told AFL.com.au.
"I got caught up in that a little bit. I played only half a game of football, which wasn't my wisest decision, but I came back here and we had a chat about it and dusted it over."
Byrne retired from the AFL soon after and subsequently sustained a broken ankle in a separate Gaelic contest.
McKenna has become one of Essendon's most valuable players, evidenced in him finishing fourth in this year's Crichton Medal count, behind only winner Zach Merrett, Dylan Shiel and Adam Saad.
The 23-year-old defender averaged a career-high 21 disposals and five rebound 50s, as well as having 28 more running bounces than any other player in the competition.
Often, McKenna will burst past an opponent with the aid of one of his trademark 'solos', where he chips the ball to himself – a must-have skill in the Gaelic game.
He missed just one game this past season, to travel home to Ireland to attend his brother Emmet's wedding.
"I was very happy to be home for a week," McKenna told AFL.com.au in August.
"I still struggle a wee bit with homesickness and stuff like that, so to get home for a week and spend time there was very beneficial for me and my season.
"It gave me something to work towards, like I had only a few weeks left then I could go home for a week and reset, then come back and go again for the finals."
View this post on Instagram
The Bombers have tripled their Irish playing presence for next season, signing Irish young guns Ross McQuillan and Cian McBride on two-year rookie contracts.