MISSING half of last season with concussion symptoms and a knee injury has rekindled the fire in Port Adelaide veteran Brad Ebert.
The 29-year-old played just 11 games in 2019 having been sidelined for six weeks with a concussion before a PCL strain in his left knee ruled him out of the final six weeks.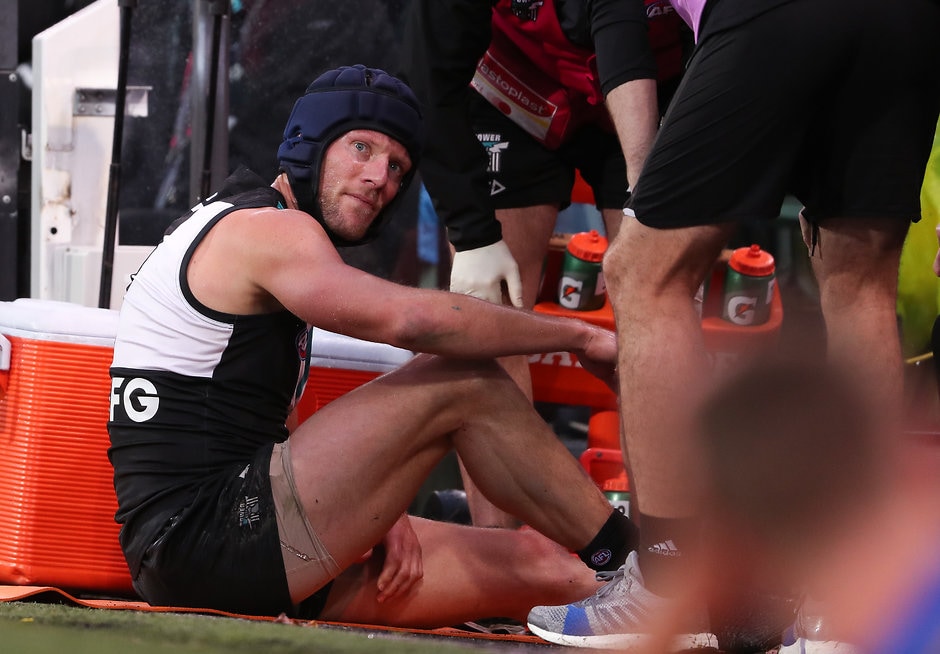 "Having that time off has almost reinvigorated the love of football," Ebert said on Monday.
"You sometimes come back to pre-season and mope in thinking, 'Here we go again', but missing a half of a footy season this year, I was watching finals footy a little more eagerly, I was even watching the Trade Period, which I haven't done much of before.
"There definitely is that silver lining because watching the team be up and down, probably like we were most of the year, but for that last six weeks, looking as a spectator, it was quite hard to watch.
"It definitely makes you eager to get back in and go to training."
Find Road to the Draft on Apple Podcasts, Google Podcasts and Spotify.
Ebert wore a helmet when he returned to football after his concussion scare, but said he won't wear one next year.
"I've had enough time off now to let myself recover in that space," he said.
"When I got cleared to play, the specialists in Melbourne and the doctors here were confident that I was back to 100 per cent and I haven't had any ill effects of concussion.
"I'm feeling good mentally."
>> Follow the 2019 NAB AFL Draft on Fox Footy from 6.30pm AEDT on Wednesday, November 27 and Thursday, November 28. Not a Foxtel or Kayo subscriber? Cal Twomey, Nat Edwards, Riley Beveridge and Mitch Cleary bring you Draft Night Live on AFL.com.au and the AFL Live Official App, from 6.30pm AEDT on Wednesday, November 27.
Entering his 13th pre-season, Ebert – who has played 170 games with the Power after 76 with West Coast from 2008-11 – resumed early with the club's first-to-fourth-year players.
He said he would play mostly forward again next year, but there is a possibility of more midfield time.
101 PROFILES Get to know the top players ahead of the NAB AFL Draft
"I'll probably find myself down forward a fair bit, but we can probably tinker with the percentages," he said.
"I think I can still contribute a little to the midfield and that's the talk upstairs (with the coaches).
"We're trying to find the right balance of forward/mid and seeing how that goes."
>> Catch all the build-up to the 2019 NAB AFL Draft in our Draft Countdown Live. Cal Twomey, Riley Beveridge and Mitch Cleary will interview coaches, recruiters and prospective draftees over two massive days from 2pm AEDT on Tuesday, November 26 and Wednesday, November 27.
Ebert nominated Sam Powell-Pepper, Sam Mayes and Karl Amon as those who have impressed during pre-season.
Meanwhile, midfielder Willem Drew has been sidelined with a foot injury and will return to training early next year.
The 21-year-old had surgery to repair a stress fracture in his left foot last Friday after pulling up sore during pre-season training.
Drew – who played 10 games for the Power this year – is expected to be available for the Marsh Community Series.