A SURPRISE early bid for Fremantle's Next Generation Academy forward Liam Henry has forced the Dockers into a live trade to salvage their NAB AFL Draft position.
Carlton launched a shock play at pick No.9 for the mercurial Henry, who was tipped to attract a bid about No.18, according to AFL.com.au draft guru Callum Twomey.
CAL TWOMEY'S 2019 PHANTOM DRAFT Top 30, your club's whispers
Fremantle matched the Blues' bid but not before making a live pick swap that ensured it still had a selection before the tail-end of the draft.
The Dockers sent pick No.66 and a future second-round pick to Port Adelaide for picks 52 and 55.
The result was three players in the top 10 for the Dockers – skilful defender Hayden Young at No.7, lively mid-forward Caleb Serong at No.8 and Henry at No.9.
Greater Western Sydney Academy midfielder Tom Green had been expected to draw the first interest from an opposing club, perhaps as early as Sydney's No.5 pick, but the Blues' bid on West Australian Henry was the first one lodged.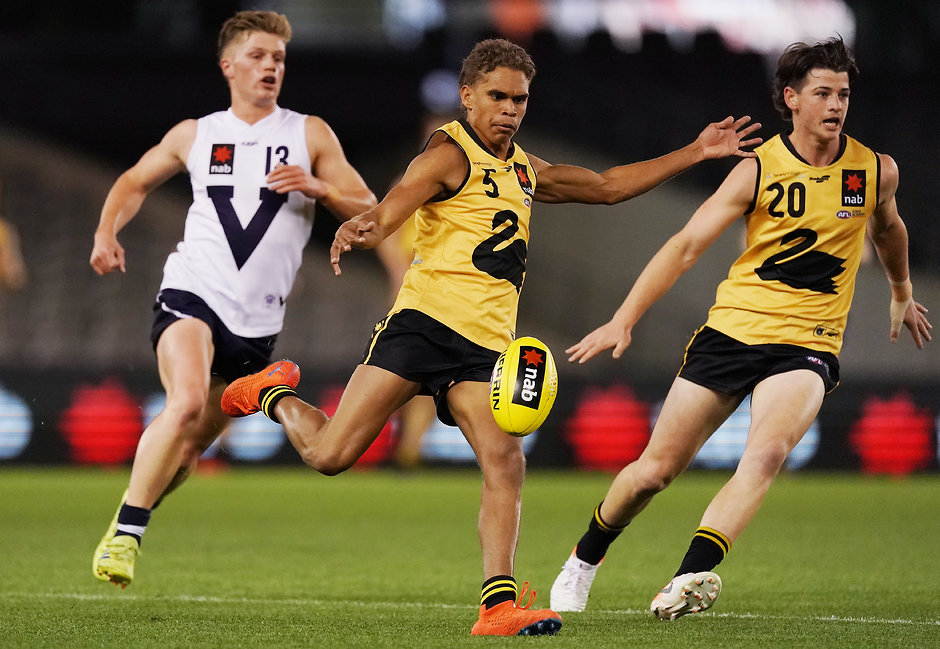 Once Fremantle secured Henry, Carlton followed up with a bid on Green that was matched by the Giants, before eventually trading its re-positioned pick No.11 to Gold Coast.
>> The 2019 NAB AFL Draft runs from November 27-28. Follow all the latest news in the draft hub
It's the second year in succession Carlton has been the surprise packet of the opening night of the draft.
It was an early bid on a rival club's Academy prospect this year, while in 2018 it was the first live trade in AFL history with Adelaide.
On that occasion the Blues gave up their 2019 first-round selection – that Adelaide used on Victorian tall Fischer McAsey – in return for pick No.19 (used to select midfielder Liam Stocker) as well as the Crows' first pick in 2019.
That selection was of course the one they used to bid on Henry, then Green, before trading it to the Suns.