For a glamour forward who can make the game look easy, Nick Riewoldt knows more than most about footy's flipside.
"It's such a hard game," Riewoldt, 33, told the AFL Record as he prepared for his 300th game.
"Such a hard game. You can't take anything for granted."
St Kilda's longest-serving skipper always appeared destined for the greatness he achieved long ago, but his journey hasn't been an easy one.
Riewoldt has confronted many character-testing challenges – those agonising Grand Final losses, that career-long knee issue, the tragic death of his sister – and emerged as a universally respected statesman of the game.
The Saints' revered leader shares how he did it.
THE MILESTONE

Riewoldt is just the fifth Saint to reach 300 games, behind early mentors Robert Harvey (383), Nathan Burke (323), Stewart Loewe (321) and 1966 flag hero Barry Breen (300).
Riewoldt: "The greatest privilege is to join 'Harvs', 'Burkey' and 'Loewey', because I played with and idolised them. In my first year (2001), Loewey and Burkey played their 300th games, but I didn't play in either because of injury. But I played in Harvs' 300th. I've also had a bit to do with 'Breeny'.
"If you play long enough you'll have challenges, setbacks and injuries, and they make the milestone really satisfying.
"I didn't think I'd get this far because at 28-29 I was in trouble with my knee, so it's a credit to the support team, the ability to reinvent yourself, your professionalism and some luck, too."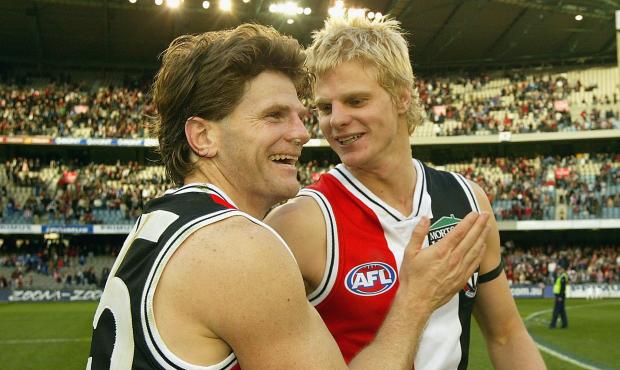 Riewoldt played in Harvey's milestone 300th game. Picture: AFL Media
ROO-JUVENATED
An extended off-season break in wife Catherine's native America and a streamlined physique – he'll play at around 92kg for the first time in 13 years – has Riewoldt as motivated as ever.
Riewoldt: "The last five years have been instrumental in keeping me fresh. Spending time in the States has been huge for my frame of mind. This year was a longer break – we left two weeks after the season and didn't return until after Christmas, so we were away for about three-and-a-half months.
"It's important to have a mental break, enjoy life and just be. But I needed to come back in reasonable shape, which has its challenges in the States. I gave myself a few weeks to indulge, and I probably put on a couple of kilos, but was then able to lose about 5kg.
"I also had to prepare for International Rules while I was away, so I did more running this off-season than I had for the previous five years. Playing International Rules with the absolute elite has also kept my hunger strong."
THE 'RICHO' ROLE
To extend his career and develop other forwards, the Saints plan to use Riewoldt further afield in a manner reminiscent of Richmond's Matthew Richardson at the same age in 2008.
Riewoldt: "I love 'Richo' and it'd be great if I can do something similar to what he did on the wing at 33. The greatest thing that happened to Richmond that year was that it gave (cousin) Jack Riewoldt the opportunity to be the man in the forward line, and he's since developed into a great key forward.
"It's much the same with us. I hope my time up forward is limited because it would mean our young key forwards in (Paddy) McCartin and (Josh) Bruce are doing a fantastic job – and I have every confidence they will."
WATCH: Highlights of Riewoldt's 300 games
THE KNEE

Several years ago it seemed Riewoldt's degenerative left knee would force a premature retirement, but thanks largely to a revolutionary blood-spinning procedure, he feels he could play into his mid-30s.
Riewoldt: "It's something I've always had to manage. In my first year, before I'd even played a game, I had two-thirds of the medial cartilage removed. I started having real issues in about 2008 when I needed cortisones, and it got really bad a few years ago when I had 60-100ml drained from it every week. That's not sustainable and it took a real mental toll.
"We investigated and tried a few things, and dropping weight has helped. The doctors always said, 'You might reach a point where the knee finds a bit of balance.' There's still swelling, but it's not as sore as it once was – or maybe I'm just more conditioned to it.
"When we warm up, the boys say I've got a rock in my shoe because I hobble around.
"It'll probably end my career one day, but hopefully that's a few years off."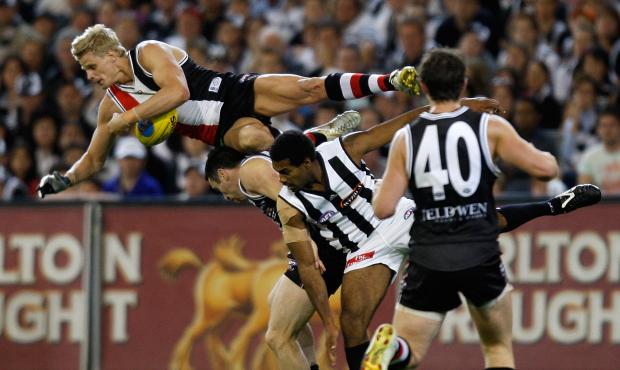 Riewoldt persevered through persistent left knee pain in 2008. Picture: AFL Media
THE KEY TRAIT
Riewoldt's attributes are many: athleticism, courage, marking ability, leadership … but he believes he owes his status to his blue-collar work ethic.
Riewoldt: "The thing I've applied to everything – footy, life outside footy, marriage, family – is there's no substitute for hard work, and after that there are no guarantees.
"Not many players would have out-prepared me. I've always taken pride in being the hardest trainer, and the habits I formed at training naturally transferred to games. You need talent, but all the great players with longevity are the pros."
THE MENTAL BATTLE
Riewoldt: "I have self-doubts every game. I'll think, 'What if I don't touch it today?' It's not rational, but it clicks me into gear. I bring it back to, 'What makes me a good player? Well, it might take me a half, but I'll work my opponent over and it'll turn my way.'
"Harvs once said he never felt truly comfortable at the top level. That's why he was such a great player – he never took his foot off the pedal, never got complacent. I've got a similar mindset. I've never felt safe, because it's such a hard game."
SMACKED IN THE MOUTH
In his first game as captain, Riewoldt received a baptism of fire from the Brisbane Lions in the 2005 season-opener at the Gabba. Then 22 and the reigning AFL Players' Association MVP, Riewoldt suffered a broken collarbone, waved away trainers and was bumped by Lions pair Mal Michael and Chris Scott, ending the night in tears on the bench.
Riewoldt: "That was a massive smack in the mouth. It was the first time things hadn't gone well for me, and I learnt the hard way that no one was immune to criticism. People have held on to the display of emotion, but I was just shattered that I was injured when we were almost premiership favourites and I was a Brownlow favourite. There was a loss of identity for a bit, and I struggled for form, but fought through it."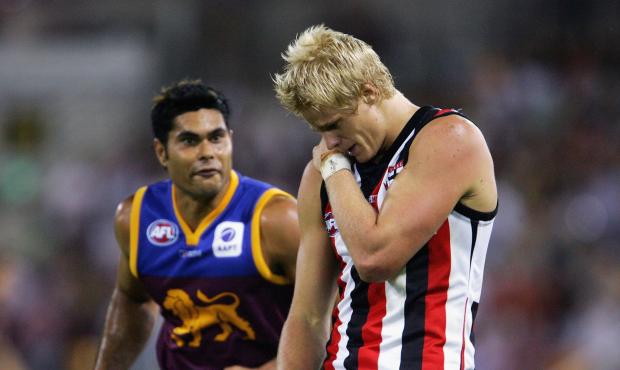 Riewoldt endured a torrid night at the Gabba in 2005. Picture: AFL Media
IN THE ZONE
It's often fascinating when great players explain what it's like to be at their best, and Riewoldt is no exception.
Riewoldt: "It's when I'm in a rhythm with my running and I'm feeling explosive. I feel the fatigue, but I'm thinking, 'If I'm feeling that, what must my opponent feel like?' It might be in the first minute that he's struggling to keep up and I know I've got him.
"The greatest feeling was in '09 because the whole team was in the zone, which made it easier to play well."
THAT ELUSIVE FLAG
Riewoldt led the Saints in three Grand Finals in 2009-10, for two losses and a draw – tough results to swallow for a competitive beast whose siblings never liked playing games with because he couldn't handle losing.
Riewoldt: "It's the one thing that's missing, but I can live with it because while we could've executed better, there are no what-ifs in terms of effort, desire and preparation. It'll always be held against us as a group and me as a player and leader, but what I'm most disappointed about is that I didn't get to share that feeling with my teammates, coaches, the supporters and, more than anything, my family, because they ride it as much as we do."
LEADERSHIP
Last week Riewoldt became just the fifth player to be captain in 200 games, behind Stephen Kernahan (Carlton, 226), Dick Reynolds (Essendon, 224), Ted Whitten (Footscray, 212) and Michael Voss (Brisbane Lions, 210).
Riewoldt: "You need to be a natural-born leader to some extent, but you grow enormously through situational experiences. It's been really important for me to evolve because I can't think of another club in my time that's been through as much change as we have.
"After a strong, sustained period, we've undergone a complete rebuild with a lot of my friends removed, traded, moved on, retired. Modifying my expectations and my leadership role has been the most difficult but most important adjustment.
"It's also exciting having an important role to play with a great young group, and I don't want to just help the transition – I want to be part of the climb.
"I follow the NFL really closely, and watching Peyton (Manning) win a Super Bowl at 39 was inspiring."
A BROTHER'S HEARTACHE
A year on from his younger sister Maddie's death – after a five-year battle with the rare bone marrow disease Aplastic Anaemia – Riewoldt is proud to continue her legacy with 'Maddie's Match' and the Maddie Riewoldt's Vision charity.
Riewoldt: "Maddie's always been such a big part of my footy career. She loved it like nothing else and was so fiercely loyal. If anyone criticised me on TV or Twitter or in the crowd, she'd cut them down so fast.
"That's why I'm so proud to play in her honour at my 300th and raise funds for Maddie Riewoldt's Vision. She's the only thing missing from the game, but in this way she'll still have a presence."
DOTING FATHER
James Riewoldt was born 17 months ago, shortly before his aunty Maddie's death, and has had a profound effect on his family.
Riewoldt: "I was one of the last ones among my teammates to become a father. It's been amazing, particularly during such a difficult period. The best and worst things to happen in my life happened within two months. James has been a beacon for our family to shower with love and attention. I don't think his feet have touched the ground yet – he's always being picked up.
"And, professionally, it has totally changed my purpose. Everything becomes about them, and I want to spend as much time as I can with him. Game day is less stressful because you're not as self-absorbed and I don't bring footy home as much, which is good because I'd always struggled with that."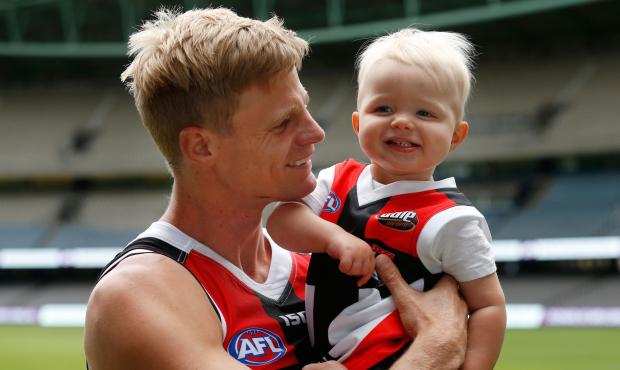 Riewoldt says the arrival of son James has helped to put footy into perspective. Picture: AFL Media
LIFE AFTER FOOTY
Post-footy, the articulate Riewoldt will have numerous options, professionally and geographically.
Riewoldt: "Long-term our future lies in Melbourne, and professionally I'm not sure yet what that will be. We'll be in the States for a period – for maybe a year or two. Ideally, we'll split our time between here and the States, but that becomes more difficult with children. The distance could be seen as a burden, but we think it's an opportunity."
RANKING RIEWOLDT
Where does Nick Riewoldt rank among St Kilda's greats?
We asked two eminently qualified men – Saints great Neil Roberts and club historian Russell Holmesby.
Both rate Riewoldt at No. 5.
Holmesby has Ian Stewart at No. 1, followed by Tony Lockett, Darrel Baldock, Robert Harvey and Riewoldt.
Roberts went Lockett, Stewart, Baldock, Harvey, Riewoldt.
When Holmesby revealed his top 25 on the club website last year, a fan suggested that had it not been for "a toe poke (from Geelong's Matthew Scarlett in 2009) and a bad bounce (for Stephen Milne in 2010)", Riewoldt would have been a dual premiership captain and possibly No. 1.
"It's a good argument," Holmesby said. "I didn't have a ready answer and still don't."
Roberts: "Nick learned the hard way, but has been a great player and leader. If he'd played mainly at centre half-back, he'd have been one of the greatest to ever play."
As for St Kilda's best team, selected in 2001, both would find a spot for Riewoldt but retain the undersized Baldock as centre half-forward and skipper.
TEAMMATES ON RIEWOLDT

The mate: Leigh Montagna
"We might wind Nick up by saying we made him the player he is by delivering the ball to him, but he made us midfielders look better because we just had to put it in his vicinity and he'd do the rest.
"Sometimes we'd kick to him when he had two or three opponents and (then coach) Ross Lyon, in his typically sarcastic tone, would say: 'I know he's handy, but we can kick it to someone else.'
"Nick was thrust into the captaincy perhaps before he was ready, and early on he was very focused on his own output as a player, but he gradually looked more outwards to help the team improve.
"He'd always be so wound up before a game you wouldn't want to be around him, but now he's got a family he's more relaxed, and it hasn't affected his performance. He wishes he'd found that balance earlier because it would've made life easier.
"He's been through a lot of highs and lows on and off the field and he's matured into a very rounded person."
The understudy: Paddy McCartin
"I'm so lucky that Nick's taken me under his wing a bit, on and off the field, and he teaches you how to be a good person and how to go about life. I can talk to him about anything.
"You learn just by watching him – his workrate is phenomenal.
"He worked more with the midfield group this pre-season, but last year he'd take the forward group for 10-15 minutes' extra work on things like how to get off your man.
"It's a credit to him how he still found time to give us young guys last year when he had so much happening."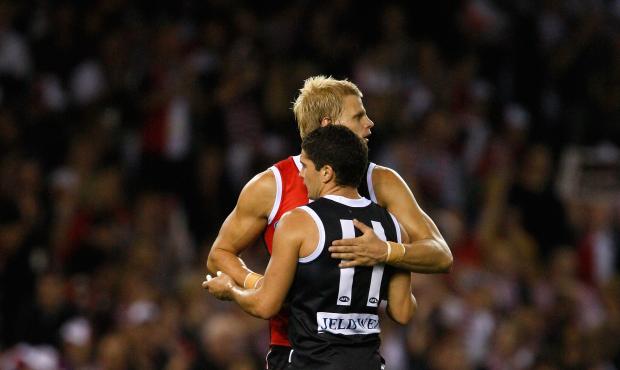 Riewoldt and Montagna have been St Kilda fixtures for more than a decade. Picture: AFL Media
RIEWOLDT FACT FILE
Number: 12
Born: October 17, 1982
Recruited from: Broadbeach/Southport (Qld)
Debut: Round 15, 2001 v Adelaide
Height: 193cm
Weight: 92kg
Games: 299
Goals: 650
Player honours: best and fairest 2002, 2004, 2006, 2007, 2009, 2014; 2nd best and fairest 2008, 2013; AFLPA MVP 2004; All Australian 2004, 2006, 2008, 2009 (captain), 2014 (vice-captain), All-Australian nominee 2007, 2012, 2013; International Rules Series 2004, 2014, 2015; leading goalkicker 2008, 2009, 2013, 2014; NAB AFL Rising Star 2002; pre-season premiership sides 2004, 2008; captain 2005; co-captain 2007; captain since 2008.
Brownlow Medal: career votes 130.
Maddie Riewoldt's vision

Maddie Riewoldt suffered from a bone marrow failure called Aplastic Anaemia, which claimed her life in February 2015.
Maddie, 26, had a five-year battle with the illness and experienced countless blood transfusions, intrusive medical procedures, two bone marrow transplants and seven months in hospital, with 227 days spent in intensive care.
Roo's mind on Maddie in milestone match
Maddie and the Riewoldt family did not want anyone to go through her ordeal so in June 2015 – four months after her passing – Maddie Riewoldt's Vision was established to raise money and fund medical research into finding a cure for Bone Marrow Failure.
Since being established, Maddie Riewoldt's Vision has received close to $1 million from generous donations and pro bono support. It has already made strategic inroads into its mission of finding a cure and started funding significant medical research projects, including the world's only national Aplastic Anaemia registry.
Maddie Riewoldt's Vision aims to raise more than $1 million a year to sustain its research strategy.
WHAT YOU CAN DO
For further information, visit mrv.org.au
Help us Fight Like Maddie by donating at mrv.org.au or text 'Maddie' to 0437 371 371
WHERE TO GO
Facebook: Maddie Riewoldt's Vision
Twitter: @MaddiesVision
Instagram: @MaddiesVision
#FightLikeMaddie
#Rooey300