Wayne Milera: His skill level was always going to be evident early but it's Milera's running capacity that has really stood out. He's completed everything asked of him to this stage.
Tom Doedee: Training in defence as a third tall, Doedee's athleticism and ability to read the game is already evident. He's been able to remain injury-free, which is giving him a great opportunity to play in the NAB Challenge.
ROOKIES
Paul Hunter: The young ruckman will need time to develop the finer points of his craft, but Hunter's engine is supreme. He can run as well as any ruckman and has given himself a great platform off which to build.
Jonathon Beech: An experienced SANFL campaigner, Beech has slotted nicely into the AFL system. He's completed every session and will try to push for a spot in attack or slightly higher up the ground.
Hugh Greenwood: The former pro basketballer's skills have developed quickly since arriving at West Lakes - indeed he had a decent base given his background in the sport. His competitiveness has been a highlight but he'll continue to try and improve his fitness.
Alex Keath: Hasn't spent much time at training yet due to his commitment to the Strikers in the BBL. He'll have to undergo a mini pre-season when he returns but he kicks the ball well and moves well for a big body. - Harry Thring
Josh Schache: Super impressive in his early stages and has not missed a beat. Not only a good runner, but is surprisingly big through his lower body and already looking at home with contested work.
Eric Hipwood: Like his fellow Academy products, has come into the system in good shape. Working hard to put weight on his tall frame, but runs well and has to be held back to save himself from overtraining.
Ben Keays: One of the front-runners in the club's 3km time trials, it has translated to match simulation work where he bobs up everywhere. Is already driving older players to match his intensity.
Rhys Mathieson: Trains with an intensity that is hard to match. Whether it's running or doing skills and contest work, throws his body around even when he appears exhausted. Like Keays, has a very strong body for a teenager.
Sam Skinner: Has a great attitude on his road to recovery from a knee reconstruction. Has worked on strengthening his legs and is slowly increasing his running volume and will commence agility work next week.

ROOKIES
Reuben William: Slowly building fitness base after a groin injury pushed the start of his pre-season back. Has a great attitude, shown by completing a voluntary training session at the club on his 18th birthday over the Christmas break. Will join in with skills next week. – Michael Whiting
Jacob Weitering: Has impressed with his professionalism and willingness to learn since arriving at the club. Has taken part in full training and slotted in well with his new teammates.
Harry McKay: Cuts a powerful figure and has become bigger and stronger since arriving at Ikon Park. Has impressed with his running ability for a big forward and the Blues are prepared to give him plenty of time to develop.
Charlie Curnow: Powerful athlete who has taken recent off-field hiccup in his stride and performed well in the club's 2km time trial, finishing third in the event won by his brother Ed. The Curnows have been fiercely competitive on the track.
David Cuningham: Training with the midfield group and standing out with his elite running capacity and leg speed. Hard worker who has become stronger in the upper body.
Jack Silvagni: Has put on a few kilograms, although training has been restricted as he recovers from shoulder surgery. Fan favourite should be in full training with a month.
ROOKIES
Jesse Glass-McCasker: Key defender who has spent time on the track and away from the club with veteran Michael Jamison. Impressed with his work ethic and willingness to learn.
Andrew Gallucci: Cheeky small forward has been a welcome addition, being a lively character around the place. Has impressed with his leg speed.
Matt Korcheck: The American is improving his skills and the Blues have been careful not to overload his training. Ruckwork and marking showing positive signs and kicking a work in progress. - Howard Kotton
Brayden Sier: Having played predominantly at school and local level last year, the Pies' shock first pick has a considerable way to go to reach AFL-standard fitness levels. However, the big-bodied midfielder/forward has surprised by completing almost every session and handling the workload well. Has also impressed with his decision-making, kicking and hunger for knowledge.
Tom Phillips: The attacking left-footer immediately made a statement by dethroning the club's endurance king Steele Sidebottom in a 2km time trial in November. His turn of speed and neat disposal have also been noted.
Ben Crocker: The former Vic Metro vice-captain has lived up to his reputation as an aggressive forward/midfielder, being a standout with his hardness and love of the contest in competitive drills. After sliding down the draft order further than expected, he has started his AFL journey with a fiercely determined approach.
Rupert Wills: The powerful, mature-aged midfielder/forward has impressed with his stoppage work – hitting the contest at speed, winning the hard ball, breaking tackles and bursting away. Working on building a stronger fitness base.
ROOKIES
Josh Smith: The mature-aged rookie midfielder from Queensland isn't yet among the fittest players at Collingwood but has already shown an admirable penchant for punishing himself physically. Trains with genuine intensity, whether it be on the track or in the gym, and attacks everything with gusto.
Darrean Wyatt: The Melbourne-born former US college basketballer looms as one of the AFL's most impressive athletic prospects, being among the fastest players on the Pies' list despite his 204cms. Needs to develop his overall fitness, but the budding tall forward already reads the game well and has a knack of finding space. - Ben Collins
Darcy Parish: The club's first pick in last year's draft (No.5) is well ahead of schedule in his first season at AFL level. Parish has impressed with his competiveness around the ball and his ability to hit targets. Look for him to play early and regularly in 2016.
Aaron Francis: Selected at pick No.6 in last year's draft, behind Parish, Francis has had a deliberately measured start. Has been battling a niggling groin problem but is back into training. Reads the game well, which allows him to take intercept marks in defence.
Alex Morgan: Injured his hamstring in his second last game of his TAC Cup career. As a result, the Bombers put him through a full rehabilitation program. Ticked off his first session on Thursday and will be trained up as a midfielder. Possesses breakaway speed.
Mason Redman: Redman has a similar game style to Hawthorn's Jack Gunston and the Bombers hope he can fill a similar lead-up forward role. His program has been backed off because of a niggling knee issue of late, but already his leadership skills at training and around the club have shone through.
Yestin Eades: Along with Parish, Eades has been a clear standout among the draftees. His ability to break lines and also win the ball in tight spaces have been a feature of his game. Has hardly missed a session.
Mitch Brown: The former Cat is likely to slot into a key post down back back with Michael Hurley and Cale Hooker suspended. He has been training in defence but the Bombers will not be afraid to swing him forward if the situation presents itself. Has put on three kilograms since coming into Essendon's system.
Michael Hartley: The ex-Magpie rookie has played on all of Essendon's key forwards in training and has held his own. Like Brown, his opportunities are set to be enhanced with Hurley and Hooker's absences. Came fifth in the club's time trial.
ROOKIES
Gach Nyuon: Nyuon is a raw ruck prospect and the Bombers will be patient with his development. Still needs to learn the finer points of the game and his craft, but he is blessed with some freakish ability.
Anthony McDonald-Tipungwuti: Known to his teammates as 'Walla', McDonald-Tipungwuti is an exciting player with great pressure skills. Although he played in defence for the Bombers' VFL team last year, Essendon is hoping he can turn into a crafty small forward. Will push for immediate senior selection.
Tom Wallis: The son of two-time premiership Bomber Dean, Wallis has had a few setbacks with a niggling knee issue. Back training with the midfield group and has shown he can provide grunt around the ball. Will take some time. – Ben Guthrie

Darcy Parish looks likely to play plenty of senior games this year. Picture: AFL Media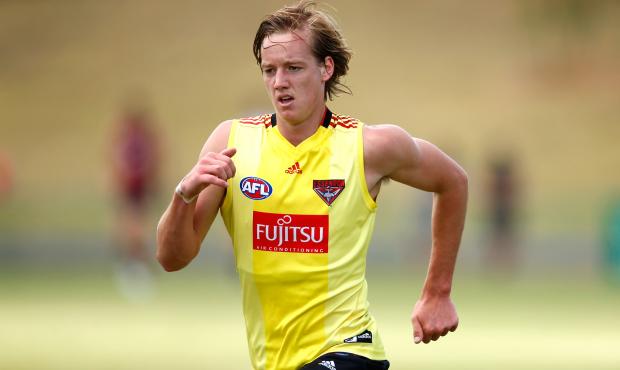 Darcy Tucker: Looks to have transitioned seamlessly into the life of professional football. Lived with Garrick Ibbotson when he first arrived and has been a regular participant in main sessions.
Harley Balic: Was in rehab during the first part of pre-season coming off wrist surgery last year. Has been able to run but was held out of ball work prior to Christmas. Spent some time running alongside Nat Fyfe.
Sam Collins: Has settled in comfortably as a mature-age, readymade key defender. Has looked settled in the defensive drills and ball movement work at the main sessions. Could play straight away.
Shane Yarran: Has been in rehab trying to sort out a knee problem that he suffered in the WAFL Grand Final last year. Has hardly been sighted at main sessions and will continue to ease his way into his first year.
ROOKIES
Matthew Uebergang: The Queenslander has trained well since arriving in Perth. Has reportedly performed well in skills sessions and has good athleticism for his size.
Ryan Nyhuis: Has settled in nicely after living with one of the club's leaders, Lee Spurr, during his first couple of weeks. Has shown promise at training so far and will continue to develop. - Alex Malcolm
Ryan Gardner: Gardner is learning plenty under the tutelage of Harry Taylor and Tom Lonergan. The key defender possesses speed but needs to build his light frame before getting an opportunity at AFL level.
Sam Menegola: The former Fremantle and Hawthorn-listed midfielder will push for senior selection straight away. Blessed with endurance, the 23-year-old finished second only to Mark Blicavs in the club's 15-minute time trial.
Wylie Buzza: An engaging personality, the man with the shaggy brown hair has already made an impression at the Cattery. A key position prospect who will take time to develop up forward or even down back early in his career.
Matthew Hayball: A clever half-forward type, Hayball is a long way from playing AFL football. He needs to put on size and grow into his body. Will be given every opportunity to develop in the VFL.
ROOKIES
Jock Cornell: Cornell, the cousin of Essendon's Joe Daniher, is a neat player who uses the ball well. He has shown his skills at training, but again is unlikely to see senior action in 2016.
James Parsons: Unlucky not to be drafted, Parsons started the pre-season in with a delay after recovering from a stress fracture in his foot he suffered while playing for the Eastern Ranges in the TAC Cup. Now back on the track he has impressed with his use of the ball.
Tom Ruggles: Recruited after winning the club's VFL best and fairest, Ruggles started the pre-season slowly, but he has been able to find continuity in his training, which has helped immensely. Could slot straight into the backline if injury hits early on. – Ben Guthrie
Callum Ah Chee: A terrific character who has taken to the professional lifestyle like a duck to water. Has trained hard and shown off his speed and agility in different sessions. Working hard on improving strength and power.
Brayden Fiorini: A few niggles have slowed him down a bit and forced the club to be cautious with his workload, but once on the training track has showed his good kicking skills and great decision-making.
Josh Schoenfeld: As expected has dominated the 2km time trials and is clearly the club's best runner. Has a training appetite, that has to be reigned in sometimes, that has seen him already add 5kg of muscle.
Mackenzie Willis: At 20, already has two years senior experience in the TSL and his mature body has handled the step up in training well. Quietly spoken but hasn't missed a beat.
ROOKIES
Tom Keough: Has fitted in beautifully and looks like he's been at the club closer to eight years rather than eight weeks. Is super competitive and it wouldn't surprise if the third tall defender was elevated to the vacant spot on the senior list.
Darcy MacPherson: Has impressed with his energy and intensity. Good character with intense training standards. Put himself in the frame to play senior footy. Only a little fellow, but is a hard worker and is resilient.
Ryan Davis: The former Eagle – who was delisted in 2009 after 14 games – has stamped himself early as a great competitor. A larrikin by nature, Davis has put a few Suns teammates on notice with his attack on the ball in contested training. Still working on improving his running.
Cameron Loersch: After struggling over his young career with glandular fever, the giant forward has been nursed through his first pre-season. Had some niggles but is slowly building his strength, fitness and resilience.
Jesse Joyce: After years in the Suns Academy, has fitted into professional life well. Has already put on strength and size and improved his speed, agility and fitness. – Michael Whiting
Jacob Hopper: Doesn't look out of place amongs the midfield group, with his mature body for a teenager already proving to be an asset in clearance work.
Matthew Kennedy: The country boy is already a popular member of the club and has settled well with his former academy teammates.
Harry Himmelberg: Learning plenty from senior talls Jeremy Cameron and Jon Patton, and doesn't look out of place amongs the leading forwards.
Matthew Flynn: Told media when drafted he was excited to start working with Shane Mumford and has impressed coaching staff with his attitude.
ROOKIES
Sam Reid: No surprise that the former GWS-listed forward looks right at home back on the list, and training standards continue to shine.
Daniel Lloyd: A part-timer footballer working his way into professional mode, but looks classy in skills work and definitely has a touch of x-factor about him. - Adam Curley
Ryan Burton: An athletic forward in the Jack Gunston mould, Burton has put a serious knee injury behind him and has made an immediate impact at the Hawks with his fierce determination to improve and training intent.
Kieran Lovell: Looms as an AFL debutant this year after taking to training with the ease of a veteran. The 173cm Tasmanian, who has drawn comparisons with Sam Mitchell, has been a ball magnet in game-sense drills, is clean in possession and continues to improve his positioning without the ball in hand.
Blake Hardwick: Boasts an excellent understanding of the game, is neat with his skills and is hungry to improve as quickly as possible. Hardwick – who has the nickname 'Dimma' – has been impressing the Hawks with his strong attack at the footy like his namesake Damien Hardwick.
ROOKIES
Luke Surman: A back injury has restricted the 197cm rookie this pre-season, with Surman only riding the stationary bike and walking laps at training during the week. Has handled himself with maturity and looked natural leaping at the ball in the air before he was struck down with injury.
Kade Stewart: Only tips the scales at about 70kg, but the Hawks love the way Stewart throws himself into the contest with scant regard for his safety. He's another left-footer at Hawthorn with superb skills who is thorough with the way he reviews his training and has quickly become popular in the group.
Conor Glass: The Northern Irishman has amazed some at the Hawks with how comfortable he has looked at the level, despite his minimal exposure to the sport. Glass' skills were an asset in Gaelic football and he has quickly transferred that to the oval ball. The 18-year-old has trained mostly in defence but could move into midfield given his awareness in traffic. Glass returns home to finish school soon but will be back in July. – Travis King
Clayton Oliver: Has demonstrated good pace and is a reasonable size but is likely to take time to be ready for senior football as he embeds good habits in preparation for his AFL career.
Sam Weideman: After an ankle stress fracture sidelined him for five months last season, he has been brought along slowly this pre-season. The long-term approach will be taken with Weideman, who has impressed with his approach.
Mitch King: A skinny tall, he needs to add weight and muscle to his frame, so he has turned up ready to work and is a keen learner. Impressed with his attitude but is a long-term prospect.
Liam Hulett: Good character and has the physical characteristics to compete at senior level. He has been training very well in the pre-Christmas period.
ROOKIES
Joshua Wagner: Knows what he is doing, has a good left foot but needs to improve his running. The matured-aged older brother of North Melbourne's Corey Wagner could be this year's Aaron vandenBerg.
Joel Smith: Another player who is progressing ahead of schedule given he had not played much football before being claimed as a category B rookie. Has speed and good spatial awareness. - Peter Ryan
Ben McKay: Has impressed with his game-sense drills at both ends of the ground, showing a strong pair of hands and good agility for a 198cm big man. McKay's biggest challenge – like many draftees – will be to get his head around the complexities of team structures.
Ryan Clarke: Came with a reputation as a strong runner and has been just off the top Roos in time trials, but has turned heads with his pure gut-running during game-sense drills and ability to get to multiple contests. Bodywork on the inside has been a big focus so he can compete against men.
Mitchell Hibberd: Plenty of work has gone into Hibberd's defensive craft so he can hold his own one-on-one and learning the correct setups for when he pushes up onto a wing. Has a big tank, is a good size at 190cm and has fit in well to an AFL system given his maturity.
Corey Wagner: Is working hard on his body-strength at the coalface – like Ryan Clarke – but the Brisbane Lions academy product has outstanding game sense and knows where to run to get a kick. Is trying to bulk up and strengthen his core while building his impressive endurance.
Declan Mountford: Liked by North's coaches for his desire for the contest in tackling and repeat-effort one-on-one drills, Mountford has been working hard on sharpening his kicking skills.
ROOKIES
Farren Ray: The former Saint has fit in straight away at Arden Street like North's other experienced recruits from recent years and is already sharing his thoughts in meetings – particularly showing an interest in developing the younger Roos. – Travis King
Riley Bonner: The club's first pick at the 2015 NAB AFL Draft has already shown his teammates and coaches the skills that saw him dominate off half-back at under-18 level. It's already clear he uses the ball really well.
Aidyn Johnson: Boasting speed and agility, Johnson's injury-free and his tenacity has been on full show so far this pre-season. When training as a small forward, his coaches have been thrilled by the pressure he's laid on his opponents.
ROOKIES
Will Snelling: Having come from a senior SANFL environment, Snelling has taken the step up to the AFL in his stride. He's a professional operator – both on and off the field from all reports. His stoppage work against senior listed players has been impressive.
Cameron Hewett: Needs to put on some weight, but hasn't let that stop him from doing all he can this summer to put his best foot forward. Eager to join in whenever he can.
Dan Houston: He's still got some way to go to build to an AFL-standard fitness, but his body shape has already changed. He's clearly an intelligent player who's shown good composure when in possession at training.
Kane Mitchell Having been re-drafted as a rookie, Mitchell is now back into full training after a slight knee issue before Christmas. Everyone knows what they'll get – he's super fit, never gives up and is continuing to work on his disposal. - Harry Thring
Daniel Rioli: Being handed the No.17 by his great uncle, former Tiger star Maurice Rioli, wore was enough to make this pre-season memorable but he has been impressive on the track. Despite being light he handles the ball well, is quick and stands out in skill drills.
Oleg Markov: Lived with experienced teammates Dylan Grimes and Nathan Drummond as he settled into the routine. Confident, athletic and enjoying the work, the strong runner has impressed with his attitude.
Nathan Broad: Mature-aged defender from Western Australia who has several state league seasons behind him. A good runner, he has the body to slot straight into the senior team. He still needs to work on his kicking.
ROOKIES
Callum Moore: A late starter to AFL football, he is athletic and has shown agility. With a basketball background, he needs to build his frame over time.
Mabior Chol: Rangy and athletic, the young tall left-footer from Queensland is a project player who is being gradually introduced to the program. A bubbly character he has fitted in well and has made track watchers sit up and take notice with his athleticism.
Adam Marcon: Matured aged rookie from Williamstown, the 23-year-old settled in quickly and is making every effort to put his name in front of the selectors. He is a hard worker who is putting his heart and soul into every session. – Peter Ryan
Jade Gresham: Has been like a duck to water, training alongside the Saints' best clearance players, impressing with his ball-winning ability and clever decision-making. Injury-free and working to improve his running ability.
Brandon White: Has been earmarked as a defender to start his career before eventually moving onto a wing. Impressing with his competitiveness and ability to kick to an AFL standard. Adding weight a focus.
Bailey Rice: Had a rude awakening on the standards required to fit into an AFL program but returned from Christmas in much better shape. Is being educated as a defender for now with the Saints keeping his program simple.
ROOKIES
Nick O'Kearney: Adapted the quickest of the Saints' recruits and has needed to be held back at times because of his desire to do everything. Working with the midfielders, he has impressed with his ability to find the ball and is speaking up in meetings.
Nicholas Coughlan: Hasn't missed a session since joining the Saints as a 19-year-old, reading the ball well in drills and learning his craft as a tall defender. Has shown a great willingness to work hard and the Saints would like him to add weight. – Nathan Schmook
Callum Mills: Another Swans' academy gem that looks ready-made for senior footy after performing well in time trials and blitzing the skill work.
Tyrone Leonardis: Was drafted for his kicking ability and has shown that it's a hallmark of his game in contested work, and skill drills under pressure.
Jordan Dawson: Looks a likely prospectwith strong hands in marking contests and a booming left-foot kick. Still developing but as worked hard in his first few weeks.
ROOKIES
Tom Papley: The nuggety small forward is working hard on his tank and has looked more comfortable when the balls have come out.
Harry Marsh: One of the Swans' second tier that needs to stand up, and after being de-listed and re-drafted as a rookie, and looks hungry to show he deserves to be on the senior list.
Kyle Galloway: The raw ruckman has plenty of time to develop and has already shown some positive signs working alongside Kurt Tippett, Callum Sinclair and the rest of the Swans' big men.
Sam Murray: The mature-ager has attacked his first pre-season hard and while senior footy might be some time away, he doesn't look daunted by his surroundings.
Colin O'Riordan: The Irishman has picked up the game well, works extremely hard and has solid skills for an international rookie. – Adam Curley
Luke Partington: Looks an impressive player and has settled into pre-season training well. Has not looked out of place with his skills in the Eagles' ball movement drills.
Tom Cole: Has hardly missed a session throughout the summer and has settled in well. Skilful player who looks comfortable within the Eagles set-up.
Kurt Mutimer: Suffered a minor hamstring issue before Christmas and had to be managed but has returned to main training after the break in good shape. Has already put on some size in his upper body.
Matthew Allen: Has been present throughout the pre-season. He has a big frame and looks like a project player as a key forward. Has been working on his goalkicking through the summer so far.
ROOKIES
Jordan Snadden: Big-bodied rookie midfielder who is training well at the moment. Has been regular participant at main sessions and has handled his first pre-season well so far. - Alex Malcolm
Josh Dunkley: One of the standouts over summer. Dunkley has quickly picked up on the team structures required as a midfielder and to play in attack, works hard on the track, has plenty of courage and a level head. The Dogs are more than happy with their first pick.
Kieran Collins: Has shown a genuine appetite for hard work since being drafted with pick 26 and has fitted in well. The 193cm and 99kg tall backman is physically developed, but he has the attitude and maturity to match.
Marcus Adams: The mature-age key defender from West Perth was recruited to fill a need and has hit the ground running at the Kennel. What Adams lacks in height (he's 192cm) he makes up for with strength and physical presence, while his thumping kick has also turned heads. Has been able to jump into heavier training workload than younger draftees.
Bailey Williams: Coming from outside of the state under-18s system, the clever midfielder has adapted well to the heavy training workload in the AFL system. Williams is already a strong runner, but he's another whose focus is on bulking up to compete with men.
ROOKIES
Bradley Lynch: It's been a big pre-season in the gym for the Swan Districts product, who only tipped the scales at 74kg when he was picked up in the rookie draft. Putting on size will be a major focus early in Lynch's career, with the 18-year-old already boasting pace and elite skills.
Luke Goetz: The 202cm big man is a highly-promising project player for the Doggies. Goetz can run, jump, has a good set of hands and shows the natural athleticism that has excited coaches, the 19-year-old just needs game exposure and ongoing teaching about the nuances of ruck and forward craft.
Jed Adcock: The ex-Brisbane Lions 200-gamer has been everything the Dogs hoped for bringing his leadership qualities to the young group, giving feedback to his younger teammates and displaying the professionalism required of successful AFL players. Has had a clean bill of health and has trained the house down. – Travis King