ST KILDA'S No.1 draft pick Paddy McCartin gave supporters a glimpse of his promise during the Saints' intra-club match on Saturday.
The key forward started his first appearance in St Kilda colours impressively, competing strongly in the air and converting a difficult shot at goal.
In the first two 20-minute terms, McCartin started deep in the forward line and then worked up the field, building some chemistry with fellow forward Tom Lee.
McCartin sat out the third and final term of the intra-club match with his load being managed, with approximately 2000 Saints fans at their Seaford base to watch proceedings.
"He started really well," said assistant coach Adam Kinglsey.
"He's still got a lot to learn but he was playing on some reasonable players up forward. The ball at times didn't come to him all that well but he just worked and worked and kept competing, which is what you want your key forwards to do."
Kingsley said the 18-year-old's NAB Challenge form would dictate whether McCartin would feature in the Saints' senior line-up early in the season.
"He's certainly tracking in the right direction and we're quite pleased with his progress," Kingsley said.
Captain Nick Riewoldt, midfielder Jack Steven and defender Sam Gilbert were among the senior players to sit out the scrappy contest, but there were many younger players to give the club optimism after finishing last in 2014.
Spencer White showed some encouraging signs in attack, including a strong mark and goal late in the game, while Jack Billings gathered plenty of touches playing on a wing.
Saints recruit Tim Membrey tries to dish off a handball under pressure. Picture: Getty Images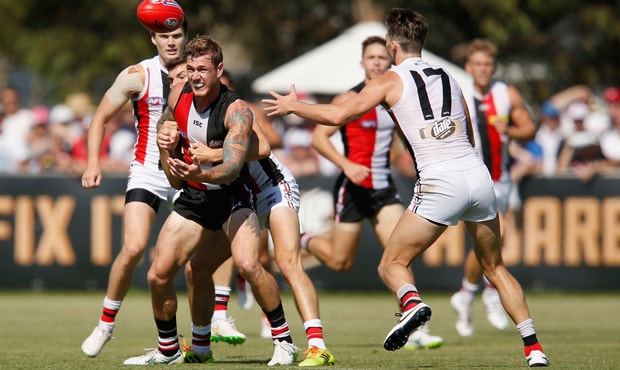 Jimmy Webster continued his development off half-back with some dash, Luke Dunstan impressed early with his work in the midfield, and first-year defender Hugh Goddard used his body well in defence.
American ruckman Jason Holmes, who was close to an AFL debut towards the end of last year, was another to highlight his development, regularly winning hit-outs to advantage and becoming more involved around the ground.
Of the more experienced players, veteran defender Sam Fisher showed he was back at full fitness after an uninterrupted pre-season, patrolling the half-back line.
Sam Fisher tries to evade Josh Bruce during the Saints' intra-club match. Picture: Getty Images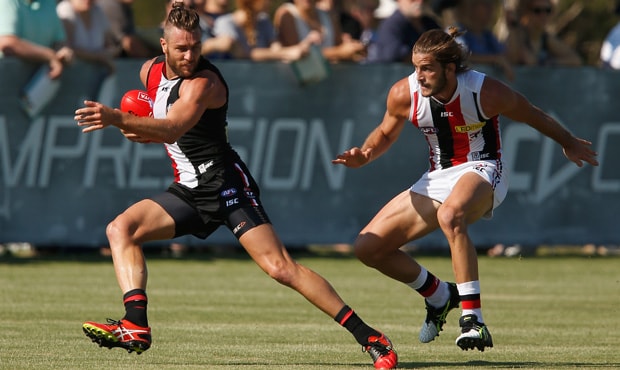 Daniel Markworth showed he had lost little of his speed despite knee problems limiting him so far in his career, but suffered a minor shoulder injury in the intra-club.
"He's got a lot of talent and he's been really unlucky with some injuries. He hurt his shoulder a little bit today but hopefully it's not too bad," Kingsley said.
"We expect him to play his role, really improve and try to work his way into the team. We think he could be a player for us but he's got a bit of work to do so we'll keep putting the work into him."
Paddy McCartin gets a kick away during his impressive outing on Saturday. Picture: Getty Images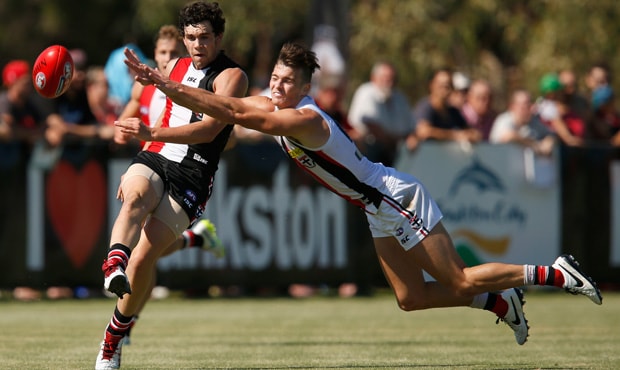 The Saints open their NAB Challenge series against the Brisbane Lions next Saturday and Kingsley said the hit-out – plus six minutes of running after the intra-club – had provided an opportunity to tighten up before the games begin.
"We got a fair bit out of it. Traditionally the practice matches are quite scrappy and it's always hard how well you go because you're playing against your own people," he said.
"But the form of some of our young guys early is quite positive and our old stagers were able to play well."