PAUL Puopolo knows from experience that tenacious small forwards rarely command the public spotlight – especially in premiership teams chock-full of stars.
But as one of the AFL's pressure kings, his grunt work never goes unnoticed inside the four walls at Hawthorn.
Puopolo led the competition for forward-half pressure acts last season and laid the most tackles in that part of the ground, according to Champion Data.
And it's those types of statistics, not the limelight, that the 27-year-old has prided himself on since he arrived at Waverley from Norwood as a mature-age recruit in 2010.
Hawthorn's most important: Hodge or Roughead?
"That repeat chasing and making a team stuff-up and miss a handball is something that most people don't think about if they see it in the vision," Puopolo told AFL.com.au.
"My goal in a game is to make people do stuff like that. If I can do that, that's when I rate myself highly - not for kicking five goals or having 30 touches.
"That ambition to tackle people and create opportunities for others is why 'Clarko' and the coaching staff are pretty impressed with me and keep me in the side."
After carving out a role as a defensive small forward, Puopolo has missed only seven games since he made his debut in round seven, 2011.
And through Hawthorn's well-documented injury woes last season, he was one of only four Hawks – along with Shaun Burgoyne, Luke Breust and Grant Birchall – who played every match.
The 173cm dynamo booted 22 goals in the remarkable back-to-back premiership campaign, but he didn't finish top-10 at the club in other 'headline' stats such as disposals, clearances or inside 50s.
Instead he was among the standouts for total tackles (2nd), free-kicks won (2nd) and goal assists (5th), with his value to the side recognised with his first top-10 placing (9th) in the Peter Crimmins Medal.
It was just reward for a player who has given his all for the team since he was taken with the 66th pick in the 2010 NAB AFL Draft.
"The people who are getting picked up late have probably missed the opportunity a couple of times. That's what drove me," Puopolo said.
"The guys that really want to get drafted and are highly motivated end up succeeding."
Puopolo has never lacked for determination. He hates being beaten and it "really bugs" him if even one tackle slips out of his grasp.
Those traits stem from his family, particularly his parents.
His father, Frank,made a successful life in Australia after arriving by boat from Italy as a 10-year-old who could barely speak English and his mother, Gina, recovered from two operations to remove a brain tumour in 2012.
By Puopolo's own admission he struggled that season, but his performances have blossomed since.
"Mum was pretty sick, so I was trying to play footy and do that and I was getting injured and not having the best sleeps. I found it pretty tough that year," Puopolo said.
"She got better later that year. Obviously we played the Sydney Swans in the Grand Final and we ended up losing.
"I didn't have the best finals series, so once her health got a bit better it drove me to succeed a bit more.
"I haven't been that many years in the system, but I'm just really starting to feel like I'm improving a lot more too."
Puopolo (right) celebrates back to back flags with his Hawthorn teammates. Picture: AFL Media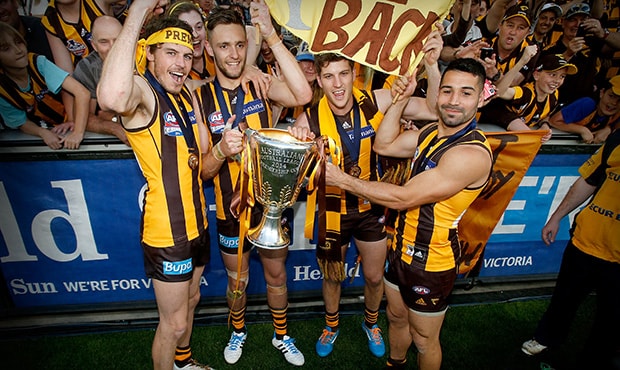 Apart from a 'corkie' that "bled a little bit" before Christmas, Puopolo has been at his normal "full throttle" this pre-season.
He's expected to build on the midfield minutes he's added to his repertoire in recent seasons, but is also keen to add leadership to his skillset.
He was recently appointed one of the AFL's new multicultural ambassadors, where he will carry on from his previous work alongside Melbourne's Jimmy Toumpas coaching Sudanese and Chinese kids at the Dandenong Stingrays.
The new role will take him outside his comfort zone when he has to speak publicly, but he hopes to become more vocal at Hawthorn because of it.
"I'm a pretty quiet person, I'm more about action. I won't be yelling out to someone, I will probably me doing the action and trying to motivate people that way," Puopolo said.
"That's something I want to get better at as a person, is talking a bit more and getting out there.
"Hopefully with the multicultural role, I get a bit more out there."