AT CERTAIN points in games last year, young Cat Darcy Lang's mind began to wander.
It may have only been for a brief second but it was enough for Geelong's 2013 first-round draft pick (No.16 overall) to lose his man in traffic or miss his assignment in the team's defensive structure.
A tough conversation with then-VFL coach, now the Cats' AFL midfield coach, Matthew Knights ensued.
"You can probably develop a few bad habits in the juniors, but there's no time for it out here," Lang told AFL.com.au from the boundary line of Simonds Stadium.
"He (Knights) just said to me 'You've got to be switched on every game, for the whole game'.
Lang, 19, duly noted Knights' advice and the way he has maintained a high level of intensity at training this pre-season has him in line for a NAB Challenge berth and, potentially, a slot in the Cats' round one side.
Geelong's NAB AFL Fantasy prices and positions revealed
It has also helped that the nippy midfielder/forward has been able to complete most, if not all, the sessions this summer.
That was in direct contrast to when he started his first AFL pre-season in mid-January last year, having recovered from a broken leg and dislocated ankle sustained in the NAB AFL Under-18 Championships in 2013.
Lang's fitness has also improved accordingly.
He ran a personal best effort in a 2km time trial on Monday and learnt plenty in his one-on-one battle with Nakia Cockatoo, the Cats' 2014 first-round draft selection at No.10 overall, when the two went head-to-head in match simulation at training earlier in the week.
"It's been a big focus as a group to have those quality sessions," Lang said.
"It's something you've got to do in order to be the best. For me personally, it's something I've really worked on.
"I need to keep it simple this year and make sure my intensity is right up there."
Darcy Lang chases Tony Armstrong in a VFL clash between Geelong and Collingwood. Picture: AFL Media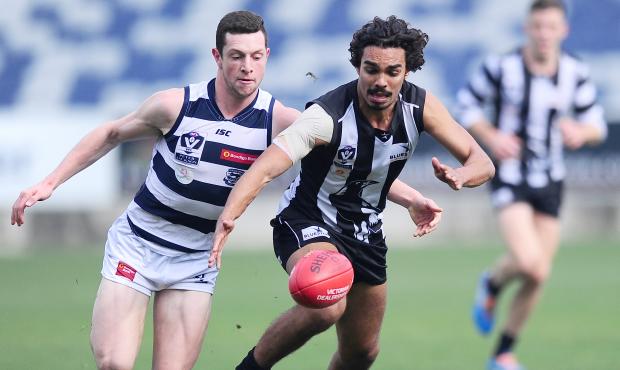 Following the departures of Allen Christensen (Brisbane Lions) and Travis Varcoe (Collingwood), there is a spot for a clever, goalkicking forward in Geelong's side.
Lang, whose only senior appearance remains his debut as the substitute in round 13 against St Kilda, has already pushed his case this pre-season to fill that void.
He's worked with forwards coach James Rahilly on refining his leading patterns and with development coach Shane O'Bree on improving his positioning at stoppages.
"I'm much fitter now than what I was last year," Lang said.
"It was a good experience to play in the ones and that's given me the motivation to play round one this year and the NAB (Challenge) games before that.
"The game's so much faster and there's a lot less room for error. That's something I want to build back up to."
Mid-tier Cats must step up, says Selwood
Teammates say Lang, who hails from Colac (about an hour's drive from Geelong), tends to fly under the radar.
He may be quietly spoken in the change rooms but he exudes a quiet confidence on the field.
The 183cm midfielder bounces through traffic with a minimum of fuss, while he's also proficient at using either side of his body to dispose of the footy.
That colourful style of play appealed to Geelong recruiter Stephen Wells who decided to take Lang in the first round, despite the fact the youngster had a plate inserted in his left leg as part of season-ending surgery.
The plate is attached to the bone by five screws, which protrude from his lower leg and appear similar to five over-sized ball bearings sitting under the skin.
Lang understands the importance of making the most of his opportunities, especially considering his draft position.
"They showed faith in me and I'm going to try to repay them as best I can," Lang said.