Analysis: How the Hawks unravelled the Eagles' web
• Match report: Hawks secure historic three-peat
• Every Hawks premiership player rated

CYRIL Rioli is a player who entered the AFL with an air of destiny. On Saturday he fulfilled it by joining his uncles Maurice Rioli and Michael Long as a Norm Smith medallist.
Known as 'Junior Boy', he made his own name as a premiership player back in 2008 and on Saturday he elevated himself into rare air with a masterful performance that stamped him as a superstar.
He was the crowd's pick, with the announcement drowned out by 'Cyril' chants, and he was a clear favourite with the judges who awarded him 13 of a possible 15 votes.
Midfielder Sam Mitchell (34 possessions and six clearances) was a star and was deemed best on ground by two judges to finish runner-up for the second year in a row with nine votes.
Defender James Frawley (four votes) finished third after keeping Coleman medallist Josh Kennedy goalless and to just nine possessions.
Rioli was presented with his award by dual Norm Smith medallist and Adelaide champion Andrew McLeod, who he thanked on stage along with his wife and children.
He dedicated the award to his cousin, Fabian 'Brocky' Brock, who was killed halfway through this season.
"That was my driving force for the second half of the year, dedicating the games to him," Rioli later said.
He then grasped what coach Alastair Clarkson described as "an extraordinary part of the history of our game", having joined his uncles as the best player in a Grand Final.
"It's an unbelievable feeling to follow in their footstep and very humbling, especially to get it from Andrew McLeod," the natural-born star said.
• Match report: Hawks secure historic three-peat

But he saved his best comment for last. The Grand Final winner's media conference was wrapping up when Rioli was asked how it felt to be the AFL's first four-time indigenous premiership player.
Clarkson interrupted, noting teammate Shaun Burgoyne also just won his fourth flag after triumphing with Port Adelaide in 2004.
"Does he have a 'Norm'?," Rioli then quietly asked, prompting plenty of laughter.
Andrew McLeod presents Cyril Rioli with the Norm Smith Medal. Picture: AFL Media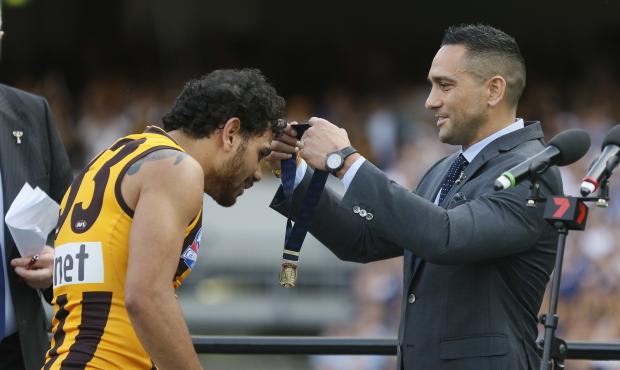 When Rioli took his 12th mark deep in the fourth quarter – having set the match up more than two hours earlier – the faithful stood and bowed down to their champion.
It's hard to think of a more popular winner for those supporters, who have been so spoiled by him and their team. This was Rioli's fourth premiership in eight seasons.
The late Maurice Rioli won his Norm Smith Medal with Richmond in 1982, while Essendon champion Long collected his in 1993.
The latter's running goal through the middle of the MCG is the enduring image of his career. For Rioli, you need to sift through a dozen moments on Saturday.
He kicked the Hawks' first goal with a left foot snap, and when he found space to kick his second after 11 minutes, he would have had the Eagles' backline rattled, such was the ease at which he found space.
• From the outer: How you saw history's hottest GF
Rioli is often referred to as a genius, and the instincts he called on to find space in the Eagles' now famed 'web' broke the game open. He would start quarters in the centre square and then drift forward with a plan only he knew.
Rioli enjoys watching his teammates kick goals and by his 10th score involvement he had enjoyed a hand in nine.
Perhaps the most brilliant was his pick pocketing of Jeremy McGovern, followed by the deftest of handballs to Luke Breust, which led to a Jack Gunston goal.
Then there was the standout defensive effort of the day. Early in the second quarter he flew for a mark with McGovern in defence and went to ground, before bouncing to his feet and chasing down an unsuspecting Mark Hutchings.
WATCH: Cyril's brilliant tackle
His proud father, Cyril Rioli Jnr, will remember the mark he flew for on the wing with four minutes remaining that he shouldn't have had the energy to take but did.
"To win his fourth premiership in his eighth season, I'm a very proud dad," Rioli Jnr told AFL.com.au.
"For him to move away and do the hard yards he's had to do, he's done everyone up in the (Northern) Territory very proud.
"He's done himself very proud."
Cyril Rioli celebrates with his two medals. Picture: AFL Media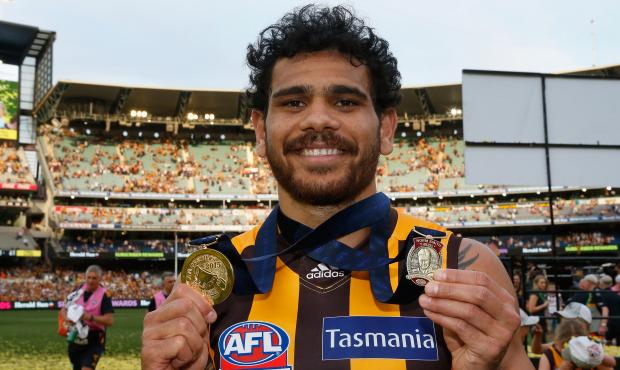 Norm Smith Medal voting
Cyril Rioli - 13
Sam Mitchell - 9
James Frawley - 4
Luke Hodge - 2
Isaac Smith - 1
Shaun Burgoyne - 1
Judges
Peter Bell (chairman) - Rioli, Mitchell, Burgoyne
Mark Thompson - Mitchell, Rioli, Smith
Dermott Brereton - Mitchell, Rioli, Frawley
Guy McKenna - Rioli, Frawley, Mitchell
Peter Lalor - Rioli, Hodge, Frawley
Lucky 13 - Hawthorn's VFL/AFL premierships
Year
Grand Final
Norm Smith Medal
1961
Hawthorn 13.16 (94) d Footscray 7.9 (51)
Not awarded
1971
Hawthorn 12.10 (82) d St Kilda 11.9 (75)
Kelvin Moore* (Haw)
1976
Hawthorn 13.22 (100) d North Melbourne 10.10 (70)
John Hendrie* (Haw)
1978
Hawthorn 18.13 (121) d North Melbourne 15.13 (103)
Robert DiPierdomenico* (Haw)
1983
Hawthorn 20.20 (140) d Essendon 8.9 (57)
Colin Robertson (Haw)
1986
Hawthorn 16.14 (110) d Carlton 9.14 (68)
Gary Ayres (Haw)
1988
Hawthorn 22.20 (152) d Melbourne 6.20 (56)
Gary Ayres (Haw)
1989
Hawthorn 21.18 (144) d Geelong 21.12 (138)
Gary Ablett (Geel)
1991
Hawthorn 20.19 (139) d West Coast 13.8 (86)
Paul Dear (Haw)
2008
Hawthorn 18.7 (115) d Geelong 11.23 (89)
Luke Hodge (Haw)
2013
Hawthorn 11.11 (77) d Fremantle 8.14 (62)
Brian Lake (Haw)
2014
Hawthorn 21.11 (137) d Sydney Swans 11.8 (74)
Luke Hodge (Haw)
2015
Hawthorn 16.11 (107) d West Coast 8.13 (61)
Cyril Rioli
*Between 1965-78, 'Grand Final best on ground' was awarded before becoming the Norm Smith Medal in 1979