- Pressure point: which coaches are under the pump?
- How the Hawks aim to avoid the luxury tax
SUCCESSFUL clubs in the modern era have learned how to manage their salary cap to retain and attract talent.
The next challenge on the horizon is managing their football department cap in a way that fosters success.
Introduced as a cost control measure as part of the AFL's competitive balance strategy, the cap on non-player spend of $9.4 million, and the tax attached to it if exceeded, will be reviewed in 2017.
But it's already having implications for clubs, particularly those with a non-player spend near the limit.
Not only are clubs constantly in touch with the AFL about what is and isn't within the cap, many are forensically assessing what their expenditure priorities should be, as they work out future football department structures and strategies for the future to be successful.
It's not easy.
As one football manager told AFL.com.au, there are not many levers to pull when you're looking at reducing football department expenditure.
The list ranges from coaches, to medical costs, to strength and conditioning, to recruiting, to the boot-studder and property steward, to finance personnel involved in contract negotiations to funding the VFL team, to the footballs that are kicked at training.
You can't skimp on the number of scans a player has for instance, and try telling the board you missed Nakia Cockatoo because you didn't have anyone watching him two years out from when he was drafted.
The scenario facing clubs – particularly those with the ability to spend above the cap – is to examine the number of personnel and their roles.
The fact is, coaches are likely to feel the shift more than most line items.
Clip their wages, chop their numbers, or get fewer doing more for the same amount, are options.
While the senior coach's wage will not drop – industry sources suggest the current average wage for a coach is $700,000 – the more pragmatic among them will recognise that what they get paid could now affect the club's ability to get resources into the football department in other areas.
It means a successful coach such as Hawthorn's Alastair Clarkson, who could write his own ticket in previous eras, might have a choice to make the next time he is out of contract at the end of 2016.
Chase his market value at another club, likely to be less successful and with fewer resources than Hawthorn, or accept below market rates to be part of an organisation he helped establish that has a good culture and ongoing prospects.
His friend, and part of the reason for his success, fitness coach Andrew Russell, is likely to find himself in the same position too.
Their club president Andrew Newbold knows that, hence why he called in December for a tenure allowance to sit outside the football department cap, so stable clubs can remain attractive to long-serving employees.
Newbold's other option, as some in the industry suggest he should, is to exceed the cap and pay the tax.
No-one likes doing that however, particularly when you're a club with Hawthorn's history that has risen from the ashes with hard work and good decisions from the bottom to the top, and knows it's only one or two poor seasons and bad decisions away from the nasty reality they have faced before.
Clarkson is neither greedy nor silly.
He knows the club's success is based on the system he and others have established over many years that is not easy to replicate.
But he has invested in his career when it wasn't easy for him to do so and is entitled to command a good contract.
Among the first batch of coaches to have their earning power limited, he will need to see that the game is making good use of its dollars in other areas.
The other option, and Melbourne is the closest club to this model, is for a bottom club needing a highly-paid coach to not only manage, but make the club a brand that supporters, players and sponsors want to join.
Should some of that wage be part of the marketing spend – equivalent to an additional services agreement for players – to account for the senior coach's role in the corporate side of football?
If not, then clubs won't be able to go down a Paul Roos-type path, because they will struggle to surround the coach with the resources necessary for success.
If so, then the biggest clubs will be able to attract the best coaches because they will have greater earning opportunities in the corporate environment. Therefore the objective of competitive balance would be undermined.
Perhaps creating a disincentive for clubs to head down the track Melbourne had to in the end is healthy, because the only way to success is to grind out a plan involving the right people and more good decisions than bad.
This reality is causing club CEOs to ask questions:
How many coaches do we need? Most have 10. Is this enough or too many?
That depends if you're a coach, bean-counter, or a player.
I suspect in the future it will be seen as too many.
One assistant coach told AFL.com.au that clubs are already making choices.
Appoint experienced hands on reasonable money and make their job description wide and varied. They could be doing opposition analysis and be director of coaching, or do development and recruiting, or be stoppage and apportioned four opponents to monitor.
It could also, as another club CEO told AFL.com.au, be smart for some football department staff to be part football, part finance, building skills in areas that will help them if their time in football ends or create opportunities for them in other parts of the industry.
How that affects player development and the wellbeing of assistant coaches – many under considerable stress already – is anyone's guess.
Right now clubs are prepared to take a 'suck it and see' approach.
They can see the bigger picture of competitive balance and the deflationary effect it will have, but they also sense the cost of compliance and the potential risk of unintended consequences.
They are being patient with the AFL and aggressive within their own environment.
The coaches and football department jobs have become that much harder.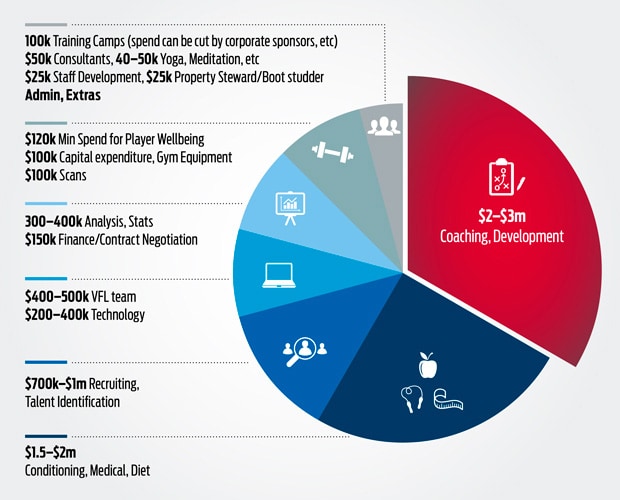 10 potential consequences (intended and unintended) of the football department cap
POSITIVES
1. Cost control measure
As club executives were reminded pre-season, the game doesn't have a revenue problem, it has a cost problem. Before the cap was introduced the industry was feeding on itself. Key staff were either being poached or clubs had to artificially bump up pay to retain football department staff who attracted offers from elsewhere, creating inflation within the industry. The cap makes the environment more stable and easier to manage.
2. Competitive balance
The theory is simple. A board and an administration finding the money to fund a football department that attracts, develops and coaches talent. Each club spends the same amount of money on each area and the game becomes about decisions, not the luck of history that gives some clubs more access to revenue than others.
3. Innovation, not waste
Forced to work within the same guidelines, clubs will need to find other ways to gain a competitive advantage. What this could lead to is anyone's guess but as long as the decisions made are ethically sound, the competition will become more exciting as a result. People will not be employed unless their worth is proven.
4. Potential for sharing resources
It won't happen immediately but there must be a case at some stage for centralising some expenses such as medical scans where economies of scale work. Clubs will be more active in seeking ways to save costs while maintaining professional standards.
POTENTIAL NEGATIVES
1. Player wellbeing threatened
Under the current rules, $120,000 has been allocated to player wellbeing. If clubs don't spend that money it remains within their cap. While many clubs spend above and beyond $120,000 its inclusion could be a disincentive for clubs to grow that area. The AFLPA would prefer it sits outside the cap and the most progressive clubs understand its importance.
2. Development of football department staff curtailed
The AFL has admitted there is a dearth of skilled talent within club administrations, particularly with the inclusion of two expansion clubs. Clubs are concerned the professional development that emerging football managers might need to parlay them into CEO or other senior executive roles might be cut over time, which would be to the game's detriment.
3. Other codes poaching key staff
A particular threat in the areas of conditioning and sports science, with competition for skilled staff that can transfer between sports is hot.
4. Compliance costs
Clubs need to lodge their returns for the football department cap by February each year. With so many rulings being made in relation to what is included and excluded in the cap, clubs and the AFL are investing time, effort and money into setting up a system that ensures all clubs are on a level playing field. This represents a short-term drain on resources and with the game becoming increasingly regulated, another less than attractive feature of working within football departments.
5. Coaches stretched
There are differing views on this but stretching coaches' roles to make money go further can create stress for coaches. Assistant coaches have a rewarding job but they are not infallible to pressures of working six days a week, often late nights in an emotional and uncertain environment, particularly when many have young families and little experience in the work force.
6. Coaches seek other income
There is the chance senior coaches will use the power of their brand to earn extra income because their wage is limited. Whether or not this is a negative is debatable but it certainly moves the job of managing a coach more intriguing.
Stable clubs have good employees, treat them well and retain them. You could argue there is a chicken and egg effect but the clubs who stay near the top for any length of time have a long-serving football manager, often a long-serving coach, a stable recruiting environment and fitness coach aligned to the team's needs on and off the field.
Is there the need to find a way for good employees to earn outside the cap based on their tenure?
The average wage of an AFL senior coach
Estimated range: $400,000 – $1.2million
Estimated average age: $700,000
Percentage of cap: 13 per cent
Note: many coach contracts include bonuses dependent on performance outcomes
Football department employees (example)
Director of Football
Football Operations Manager
Executive Assistant
Player Wellbeing Manager
Opposition Analyst
Football Analysis Manager
Senior Football Analyst
Football Analyst
Football Analyst
Football Analyst
Dietitian
Player Development Manager
VFL General Manager
Property Manager
VFL Property Coordinator
Coaching department employees (example)
Senior Coach
Senior Assistant Coach
Assistant Coach (Backline)
Assistant Coach (Midfield)
Assistant Coach (Forward line)
VFL Coach
Development Manager
Development Coach (Midfield)
Development Coach (Forward line)
Skill Acquisition Coordinator

Football high performance department employees (example)
High Performance Manager
Strength and Conditioning Coach
Sports Scientist
Head Trainer/Player Appearance Coordinator
Rehabilitation Coordinator
Strength Program Coordinator
Movement and Weights Specialist
VFL Strength and Conditioning Coach

Doctor
Integrity Manager
List management department employees (example)
General Manager of List Management
Senior National Recruiting Assistant
National Recruiting Assistant
National Recruiting Assistant
Key details and numbers of the football department cap
The football department cap figure is $9.4million
2015: AFL implements a soft cap on non-player football expenditure set at projected industry average spend plus $500k
A luxury tax will be applied to spend above the soft cap of 37.5 per cent in 2015 and 75 per cent in 2016.
Luxury tax payments will be capped at $1million per club per annum for 2015 and 2016

Any cash impact for clubs will be phased in with luxury tax on 2015 spend to be paid in 2016

The soft cap and luxury tax rate will be reviewed for season 2017

The decision to spend above the cap is at each club's discretion – but capped to ensure clubs are not unfairly disadvantaged.