• Malthouse claims on Betts spark inquiry
• The journey's over: Mick Malthouse won't coach again
• All the contenders for the Carlton coaching job
• Ten things the new Blues coach must fix
MICK Malthouse's record-breaking coaching career is over after Carlton sacked the three-time premiership coach on Tuesday.

Carlton backline coach John Barker will be the interim coach.
Blues president Mark LoGiudice confirmed that the club moved to sack Malthouse after a breakdown of trust between the board and the senior coach, prompted in part by a provocative radio interview the former coach gave on Tuesday morning.
"From a board perspective, we thought that Mick's views weren't aligned with ours," LoGiudice told a press conference held in the wake of Malthouse's sacking.
"When we sit in a meeting and we're all around a table and we agree on a strategy, then that's what we expect."
When asked if the club was in crisis in the wake of Malthouse's departure, LoGiudice was emphatic.
"No. Certainly not," he said.
"The definition of crisis, to me, is that you don't know where you are and you don't have a plan of where you're going. We certainly know exactly where we are, and we've known exactly where we are for a long time, and we certainly have a plan - and a documented plan - of where we're going.
"So we're certainly nowhere near crisis."
Doomed to fail: Why Mick and the Blues were never going to work
Carlton CEO Steven Trigg supported LoGiudice's stance but declined to go into detail about the meeting earlier on Tuesday at which Malthouse was informed of his sacking.
"One thing in this business is really clear: the coach, president, CEO, captain - throw in your head of footy - have to be lockstep every step of the way and our view was that wasn't the case. We don't need to go through all the nitty-gritty," he said.
Trigg also assured club members that Malthouse's departure with half a season remaining on his three-year contract would impose "no significant financial impost" on the club.
A grim-faced Mark LoGiudice and Stephen Trigg at Tuesday's press conference. Picture: Getty Images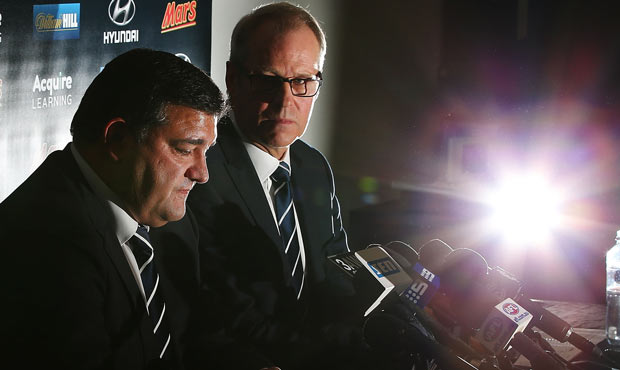 The CEO conceded that the media storm surrounding Malthouse's tenure had forced the club to examine its handling of the issue.
"You do ask yourself the question: could we have handled it better?" Trigg said.
"[But] we believed that the right thing to do, knowing it was probably going to get pretty difficult throughout the year, was to call it late in the year, to put a shield up and go 'whatever happens, we're going to do it late in the year'.
"The decision to bring it forward is one that you could question, though that was in fairness to a whole range of stakeholders under some crushing pressure, including Mick himself.
"We felt that the bye was an appropriate juncture to make a call. We genuinely hadn't made a call, despite reports to the contrary."
Malthouse did not attend the media conference, having left Ikon Park about 3pm. He did not speak to reporters, but addressed the Blues' players before his departure.
He released a statement later on Tuesday afternoon, confirming that his coaching days were over and thanking everyone with whom he had worked during his 718-game career at the helm of four clubs.
Click here to read Mick Malthouse's full statement
Carlton champion Chris Judd speaks to the press on Tuesday. Picture: Getty Images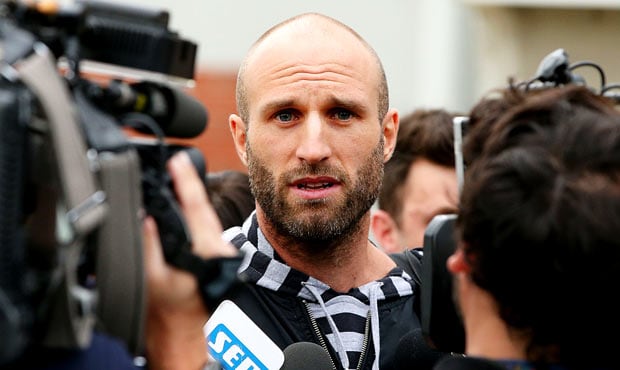 Carlton had been set to decide Malthouse's future during the week of its round 11 bye, but the club's hand was forced by the coach's provocative interview on Tuesday morning.
Senior Carlton figures met around noon at president Mark LoGiudice's city office to decide the coach's fate.
Malthouse, 61, broke Jock McHale's 66-year-old VFL/AFL coaching games record when he coached his 715th match in round five against Collingwood, and departs Carlton on 718 games.
Malthouse told SEN radio on Tuesday he did not understand why the Blues needed two more weeks to decide whether to re-sign him when they could judge him on his coaching record over 31 seasons.
The Blues coach also said he did not expect his contract to be extended beyond this season, saying he knew it would an uphill battle to keep his job after the club bosses who appointed him, former chief executive Greg Swann and former president Stephen Kernahan, left the club last year.
Malthouse also took a thinly veiled shot at the Carlton board led by LoGiudice.
"Good boards stay sound, boards crack under pressure," Malthouse said.
"The first thing that goes is the coach because it relieves a bit of pressure and they beat their chest because they've made a decision ... what do they get out of it, is it an ego trip?"
Malthouse's comments came just five days after he raised the ire of LoGiudice and Trigg by suggesting the club's publicly stated position that it was rebuilding had contributed to its horror start to the season.
Trigg hit back the following day expressing his surprise that Malthouse had gone "off message" and conceded there was "potentially a point" when the club could part ways with him before the end of his contract despite LoGiudice's repeated assurances he would serve out the entire 2015 season.
The media try to keep up with Dale Thomas at Ikon Park. Picture: Getty Images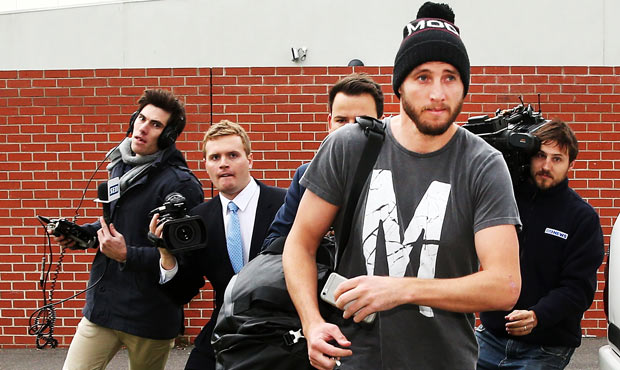 And on Monday LoGiudice told members Carlton would now make a decision on the three-time premiership coach's future in the week of the round 11 bye rather than the second half of the season as previously stated.
League to investigate Malthouse's claims Crows poached Betts
The final season of Malthouse's three-year contract at Carlton was a disaster.
The Blues won just one of their first eight games – against St Kilda in round four in Wellington – and four of their losses were by margins of more than 11 goals.
Malthouse replaced Brett Ratten after the Blues finished 2012 in 10th place following three consecutive finals appearances.
The West Coast and Collingwood premiership coach led Carlton to the finals in 2013, albeit only after Essendon was disqualified as part of its AFL-imposed penalties for governance failings during its 2012 supplements program.
Nonetheless, the Blues defeated Richmond in an elimination final that year and were brave in a 24-point semi-final loss to the Sydney Swans.
Carlton tumbled to 13th last season with just seven wins and a draw, but suffered several close losses and finished the season strongly.
Malthouse was optimistic heading into 2015 but after the Blues' 69-point round two loss to West Coast LoGiudice told News Corp the club was "rebuilding".
The former St Kilda and Richmond player coached Footscray from 1984-89, West Coast from 1990-99 and Collingwood from 2000-11.
He led the Eagles to their first two premierships, in 1992 and 1994, and guided Collingwood to the 2010 flag.
MICK MALTHOUSE: A COACHING LIFE
Debut: Round 1, 1984. Footscray d Richmond by 39 points at Western Oval
Footscray 1984-89: 135 games, 67 wins, 66 losses, two draws, three finals
West Coast 1990-99: 243 games, 156 wins, 85 losses, two draws, 25 finals, three Grand Finals, two premierships (1992, 1994)
Collingwood 2000-11: 286 games, 163 wins, 121 losses, two draws, 22 finals, five Grand Finals, one premiership (2010)
Carlton 2013-15: 54 games, 20 wins, 33 losses, one draw, twofinals
Career: 718 games, 406 wins, 305 losses, 7 draws, 56.5 per cent success rate, 52 finals, eight Grand Finals, three premierships