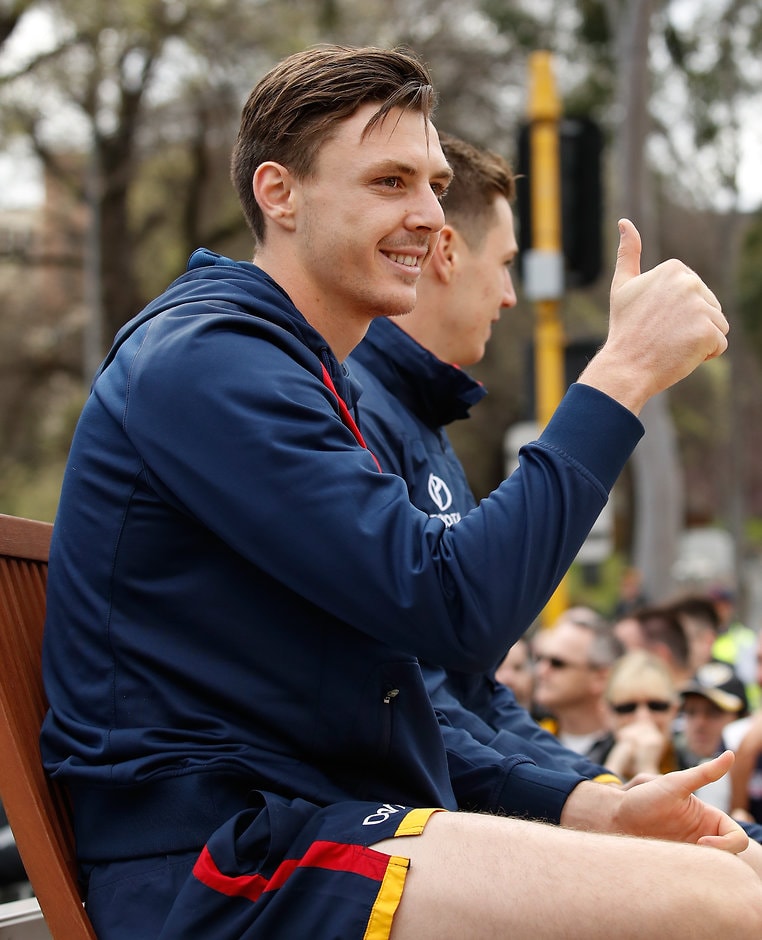 • All the latest trade and free agency news
• Indicative draft order: Keep up to date with all the picks
• Who's hanging up the boots? Keep track of 2017's retirements and delistings
MELBOURNE has landed the first blow of this year's NAB AFL Trade Period, securing emerging key defender Jake Lever in a deal with Adelaide.
The Demons and Crows finalised a trade for Lever on Thursday morning, in which Melbourne gave up pick No.10 and its 2018 first-round and fourth-round selections. In addition to Lever, the Crows gave the Demons pick No.35 and their 2018 third-round selection.
Lever, 21, requested a trade to Melbourne just days after the Crows' Grand Final loss to Richmond.
The Crows were quick to demand two first-round picks for the Victorian, while the Demons initially offered their first two selections, Nos.10 and 27, in this year's draft.

Melbourne football manager Josh Mahoney confirmed on Thursday that Lever had a four-year deal, later telling NAB AFL Trade Radio that Melbourne was content to give up two first-round picks over two years.

"That was our No.1 priority, to get Jake Lever to this footy club during the trade period," he said.
"We thought the trade was going to be a bit more difficult with where our picks laid, we were middle to late with our picks and Adelaide Crows were late with theirs.
"I know it's two first rounds, but there's different values in first rounds. We're talking pick 10, and we're certainly hoping to improve next year with our future first.
"We thought it was really important if we were going to commit to that, I was very comfortable in bringing in a 21-year-old All Australian squad defender, but we thought it was important we get a second-round [pick] back as well."
Mahoney said the club was aware a month ago Lever was keen to make the move back to Victoria.
"We finally got notification after the Grand Final when you work through the financials as well that we knew he was going to be a Melbourne player."
Lever, 195cm and 93kg, played 56 games in three seasons with Adelaide and emerged as one of the competition's most exciting key defenders in 2017.
With Crows teammate Daniel Talia manning the opposition's most dangerous key forward most weeks, Lever averaged the most intercept marks in the AFL this season, 3.8 a game.
He was named in the All Australian squad of 40 and was widely considered unlucky to miss the final team.


Adelaide list strategy manager Justin Reid said the deal was "a fair result for both parties".

"They get Jake Lever and obviously we all move on. We wish Jake all the best for his future with the Melbourne Football Club. And we [thank him] for all his efforts with the Adelaide Football Club over the last three years."

The former Calder Cannon should fit seamlessly into the Demons' backline alongside fellow talls Oscar McDonald and Sam Frost, allowing Melbourne to deploy Tom McDonald in attack in the wake of Jack Watts' expected departure.
Get the AFL Trader sent to your inbox
Every weekday evening during Trade Period we'll send you a bite-sized email wrap of the day's biggest trade stories.
We'll only tell you what you really need to know, plus exclusive insights and scoops from our Trade reporters.
Enter your email address here to get the AFL Trader in your inbox every weeknight:
Having trouble on the app? Click here to set up your subscription. You can always unsubscribe by following the link in the footer of AFL Trader emails.
Want more trade news?
• Rocky opens up on 'the worst time' in his career
• 'If Jake goes ... I assume it would help': Crameri
• Trade winds: Is this the solution for the Cats?
• Trade wrap: Rivals set to swoop on Smith
• Power play: Rockliff officially joins Port
• Watts, Stringer now unlikely to join Cats