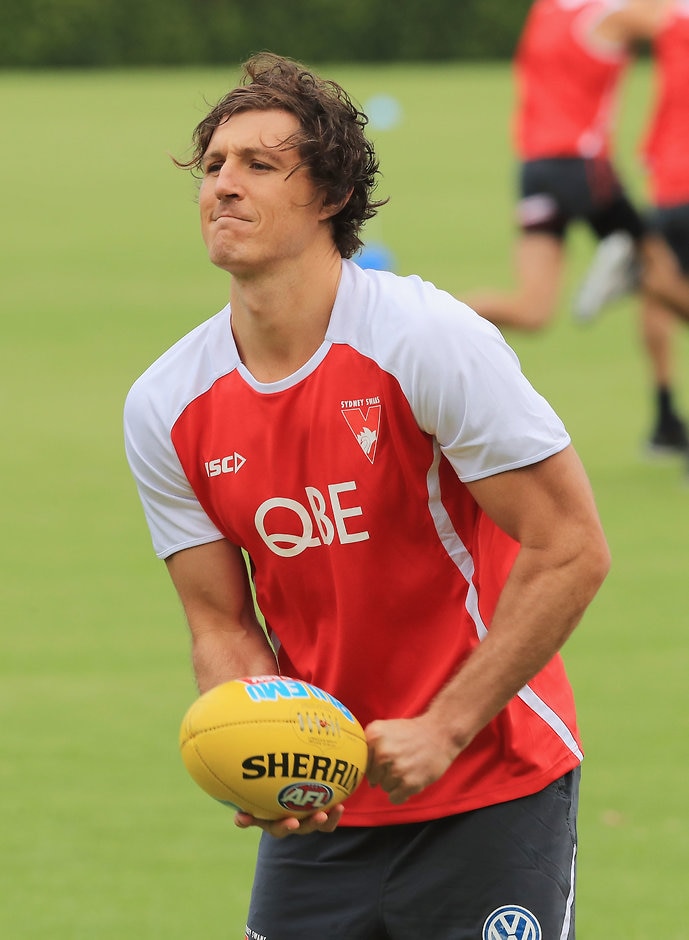 The reality is that my body isn't going to stand up to the rigours of professional football
Kurt Tippett
SYDNEY big man Kurt Tippett has retired from football, effective immediately because of a degenerative ankle injury.
The 30-year-old played 74 games for the Swans since his high-priced – and controversial – transfer from Adelaide in 2013. He played 104 games for the Crows, having been drafted from Southport.
He had three years remaining on his contract.
Tippett hurt his ankle early in 2017 and battled his way through the season. He underwent an ankle reconstruction last October and had been working to strengthen the joint, but decided to retire after doubts crept in that he could return to full fitness.
He informed his teammates of his decision on Monday afternoon.
"It's really tough to leave a game and a club which I really love, but the reality is that my body isn't going to stand up to the rigours of professional football. As I've found out in the past 18 months or so, it's impossible to play at the level you want without being fully fit," Tippett said.
"I want to thank the Swans and also the Crows for the opportunity to fulfil my dream to play and compete in the AFL. I would also like to thank my teammates and coaches, particularly John Longmire and Neil Craig, and the fans and supporters of our great game."
Tippett's playing stocks soared after an outstanding 2009 season – his second with Adelaide – in which he kicked 55 goals from 24 games. And after his stellar 2012 campaign, he came to be regarded as one of the best ruck-forwards in the game.
He kicked four goals in the 2012 preliminary final, as the Crows almost upset the highly fancied Hawthorn at the MCG.
He came out of contract at the end of that season and had been tipped to return to Queensland. But his decision to join the Swans on a lucrative deal stunned the game and when Lance Franklin joined the Swans 12 months later, also on a huge contract, moves were set in place for the Swans to lose their Cost of Living Allowance (COLA).
Tippett goes down with an ankle injury in round two, 2017. Picture: AFL Photos


As it was, he was the subject of controversy when, late in 2012, Tippett and Adelaide were found guilty of breaching the salary cap and draft tampering during his time there, with Tippett copping a 22-game ban (11 of which were suspended) and a $50,000 fine. The Crows were fined $300,000, excluded from the first two rounds of the 2013 NAB AFL Draft and lost several administrators to suspension.
Tippett celebrates a goal during the 2012 preliminary final. Picture: AFL Photos


Swans coach John Longmire said Tippett had been an important player at the club.
"Kurt has played some key roles for us but has been very unlucky with injury, which is a real shame, because when he's out on the field he's been a great competitor," he said.
"It takes courage to admit when your body isn't up to playing at the level you want, because players love nothing more than to be out there with their teammates competing each week.
"Kurt has considered what's best for the club and his teammates when making this decision, and he departs with our full support."
Hear from Tippo after he announced his retirement today 👇#ProudlySydney pic.twitter.com/mCNGRRihYD

— Sydney Swans (@sydneyswans) January 22, 2018