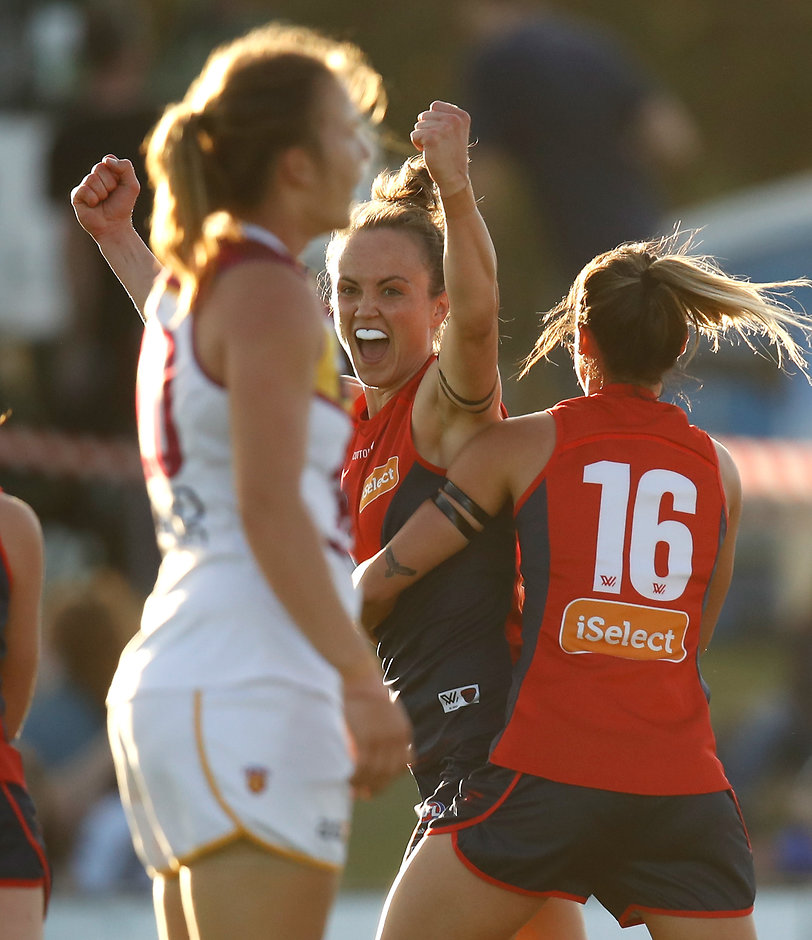 MELBOURNE kept alive its Grand Final aspirations with a fighting win over Brisbane at Casey Fields on Friday night.
Led by skipper Daisy Pearce and onball partners Karen Paxman and Elise O'Dea, the Demons led from the start to triumph by six points, 4.10 (34) to 4.4 (28)
Pearce set the standard for the Demons with a superb bounce-back performance, Paxman was prolific around the heavy traffic and O'Dea epitomised the collective spirit with nearly a dozen tackles.
It was inevitable that Brisbane would mount a second-half fightback and the Lions found more of the ball, particularly at ground level, to work back into the contest in the third quarter.
Watch every NAB AFL Women's match LIVE on AFL.com.au, the AFL Live Official App and the AFLW Official App
The increased work rate finally paid off when Sabrina Frederick-Traub marked beside the behind post, ran around a slotted the banana kick from close range to reduce Melbourne's lead to just six points.
In a tough, slogging contest in fading light, Melbourne found the critical reply when young forward Tegan Cunningham took a contested mark from a long kick from Shelley Scott late in the third term.
AFLW: Latest news, fixture and results here
Like Frederick-Traub, Cunningham was able to run around and open up the goal to extend the Demons' lead again.
With such high stakes, players threw themselves into the contests. Play was briefly halted after Cunningham and Lion Nicole Hildebrand were helped off under the blood rule after a head clash in a marking contest.
Brisbane edged back within striking distance after Britt Gibson steered through a long shot to cut the Demons' lead to eight points.
But Melbourne again struck back when Kate Hore somehow found space in a pack of several players to fire through a decisive goal from 25m.
WATCH: Kate Hore gives the Demons some breathing space
Melbourne dominated possession in the first half and really should have gone to the long break with a lead far more substantial than 11 points.
With Pearce and Paxman in command across the midfield, the Demons always threatened to score and the Lions' defence worked overtime to try to hold them out.
A measure of Melbourne's control was the lopsided 11-3 inside 50 advantage in the opening term.
Ominously, the first quarter ball monopoly was similar to the losses to Fremantle in Perth and Collingwood in Alice Springs over the past two rounds.
Pearce set the pattern for the Demons' fierce desire for the ball. And she set them rolling on the scoreboard with a clever snap goal after three minutes and repeated the feat 10 minutes later.
WATCH: Superstar Daisy Pearce kicks her first goal of the season
Brisbane finally broke through when the dangerous Frederick-Traub broke clear and fired through a shot on the run six minutes into the second term for the Lions' first goal.
WATCH: Sabrina Frederick-Traub snaps the Lions' first goal
It was timely as the hard-running Demons had threatened to break away and, once again, it was inaccuracy with just two goals from eight scoring shots that left them vulnerable to a second-half scoreboard challenge.
GOT THE JOB DONE
By midway through the second quarter, Melbourne skipper Daisy Pearce had nine possessions in an ominous sign. That was the meagre game total in a rare personal loss the previous round against Collingwood. And she wasn't going to stop this time against the Lions. Pearce kicked the first two goals of the game and racked up 24 disposals to lead brilliantly from the front. "She's outstanding, there's no other words to describe it. Her ability to step up when the team requires it and get more from those around her with her communication. That's why she's our captain," Demons coach Mick Stinear said.
TOO MUCH LEFT TO TOO FEW
Hawthorn champion Dermott Brereton was once so captivated by Brisbane forward Sabrina Frederick-Traub that he felt compelled to pass on a few tips during an exhibition game. Frederick-Traub has absorbed the lessons and continued to flourish and the power forward so nearly lifted the Lions to an unlikely victory. The dominant Lion kicked three goals and half-back Kate Lutkins gathered an impressive 28 possessions to leave coach Craig Starcevich pondering why the pair didn't get support from more teammates. "Sabrina is amazing. She and Kate Lutkins at both ends of the ground have been super for us this year. We just need a few more to help out around her," the Lions coach said.
TOO BRAVE FOR THEIR OWN GOOD
Young Demon forward Tegan Cunningham may not remember the significant contribution to the tense victory. Cunningham booted a telling set shot goal late in the third quarter to help thwart Brisbane's second-half comeback. A minute later, she was helped off the field with blood streaming from a cut nose after a terrifying collision with Lion Nicole Hildebrand in a marking contest. "She came off and had the concussion test. She had a fair whack on the nose and we just didn't think it was worth the risk putting her back on. It was a critical contest and it gave a lift to her teammates," Stinear said. And an equally brave Hildebrand had a large lump on the side of her head to remind her of the painful trip to Melbourne's outer east.
Tegan Cunningham shows off her battle scars. Picture: AFL Photos
STILL A WORK IN PROGRESS
Once again, goalkicking practice will be high on the list for Melbourne's forwards next week. The Demons so nearly threw away the crucial win with six more scoring shots from a sizeable inside 50 advantage. "We definitely have to improve that area of our game because you just can't afford to let teams come back at you. It would good to get that reward in front of goal and that will come. But that will be on the list at training this week," Stinear said.
SAY WHAT?
"We felt we had gone away from our game style the last couple of weeks and for the girls to come back to that tonight and be that strong around the ball for four quarters, we were proud of them." - Melbourne coach Mick Stinear.
"We're proud because they fight it out to the end, but we just left ourselves too much to do tonight. The pressure and intensity wasn't high enough in the first half. It would've been the steal of the century if we had found our way in front or even level." - Brisbane coach Craig Starcevich.
WHAT'S NEXT?
Melbourne has an extended rest before playing Carlton at Ikon Park next Sunday afternoon. Brisbane will host Collingwood at Moreton Bay Central Sports Complex next Saturday afternoon.
MELBOURNE 2.3 2.6 3.10 4.10 (34)
BRISBANE 0.0 1.1 2.2 4.4 (28)

GOALS
Melbourne: D Pearce 2, Cunningham, Hore
Brisbane: Frederick-Traub 3, Gibson
BEST
Melbourne: D Pearce, O'Dea, Paxman, L Pearce, Smith, Patterson, Hore
Brisbane: Frederick-Traub, Lutkins, Ashmore, Anderson, Zielke
INJURIES
Melbourne: Cunningham (head knock)
Brisbane: Hildebrand (head knock)
Umpires: Dore, Buwalda, Atkins
Crowd: 2100 at Casey Fields, Cranbourne