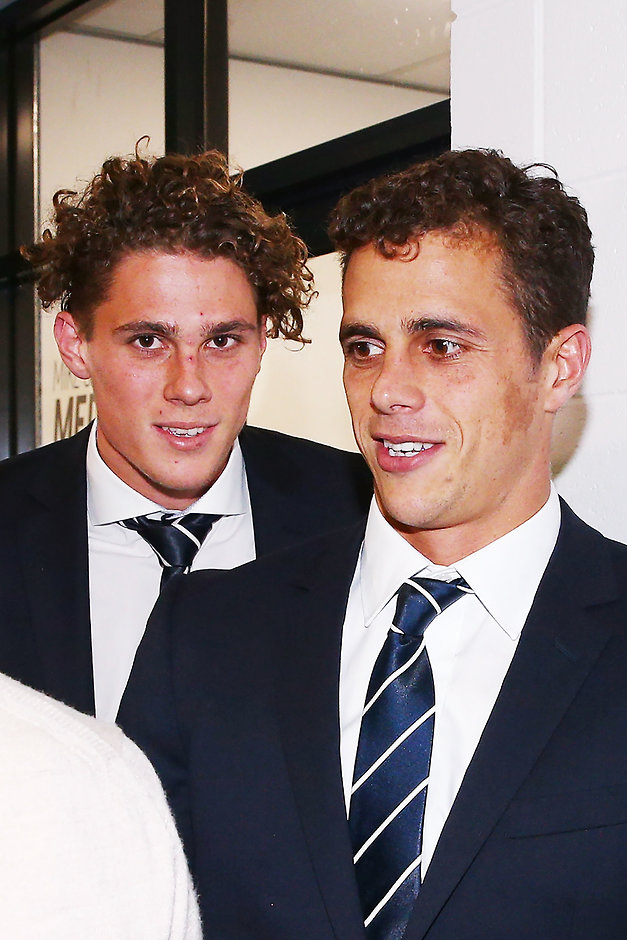 ED AND Charlie Curnow have both successfully challenged charges of intentional umpire contact at the Tribunal on Tuesday evening and will be available for Carlton's round nine clash against Melbourne at the MCG.
Both the Curnow brothers pleaded guilty to the lesser charge of careless contact with an umpire and were fined $1000 by the Tribunal.
GET TRIBUNAL ALERTS Subscribe for free with the AFL on Messenger
Charlie Curnow was charged with making intentional contact with umpire Matt Stevic during the third quarter of Carlton's victory over Essendon at the MCG last Saturday, with his case referred directly to the Tribunal by Match Review Officer Michael Christian.
The same happened with Ed Curnow after he lightly touched Nathan Williamson in the chest with his right hand, about five minutes before his brother.
ROO BEAUTY: North skipper gets kneeing charged overturned
He was brought to the witness stand and said: "I had no intention to touch the umpire".
While Curnow accepted he touched the umpire, he didn't necessarily accept he knew he had touched the umpire, since Merrett was standing directly behind Williamson.
Woods argued Curnow made eye contact with Williamson and that was unbroken when the Blue touched the umpire.
Both parties agreed Curnow didn't extend his arm into the umpire, but was instead moving away from the umpire.
RECAP: Trio at Tribunal as it happened
Curnow and Williamson shook hands after the game and Curnow said "Thanks for the game".
Curnow's advocate and Carlton board member Marcus Clarke QC summed up with:
"The touching was so light that the umpire, who was in very close quarters, didn't move back whatsoever, despite the contest and most importantly, while recalling it, thought nothing of it," Clarke said.
"That's the most compelling evidence."
It took 12 minutes for the Tribunal panel of Wayne Henwood, Jason Johnson and Stewart Loewe to come to their decision.
Ed Curnow makes contact with umpire Nathan Williamson. Picture: Screen Shot


Meanwhile, Charlie Curnow told the Tribunal he had not intended to touch Stevic, but had been focused on trying to break up a scuffle between his teammate Jed Lamb and Bombers defender Mark Baguley.
Curnow said he had not realised he had touched Stevic on the arm until the next day when he saw a photo of the incident in a newspaper.
Stevic did not appear at the Tribunal to give evidence after Curnow's advocate, Marcus Clarke QC, and AFL legal counsel, Andrew Woods, both accepted it was the umpire's position that he didn't recall the contact occurring, hadn't said anything to anyone at the time, hadn't felt under threat and had no issue with what occurred.
Woods argued it could be inferred Curnow intentionally touched Stevic given he had glanced to his right and seen the umpire shortly before extending his hand and moving it towards him.
Clarke said at the time Curnow made contact with Stevic he had also touched an Essendon player, his sole intention to shepherd anyone away from the scuffle so it did not escalate.
Clarke said Curnow was not looking at Stevic when he made contact, and argued his action was "not done with any aggression, not done in a way that's disrespectful".
Ed Curnow said after the hearing he and his brother respected umpires.
"Tonight, we both understand the Tribunal's decision and we respect it and the process involved. I'd just like to say we both highly respect the umpires and their position in the game as officiators and their importance to the game at all levels," Curnow said.