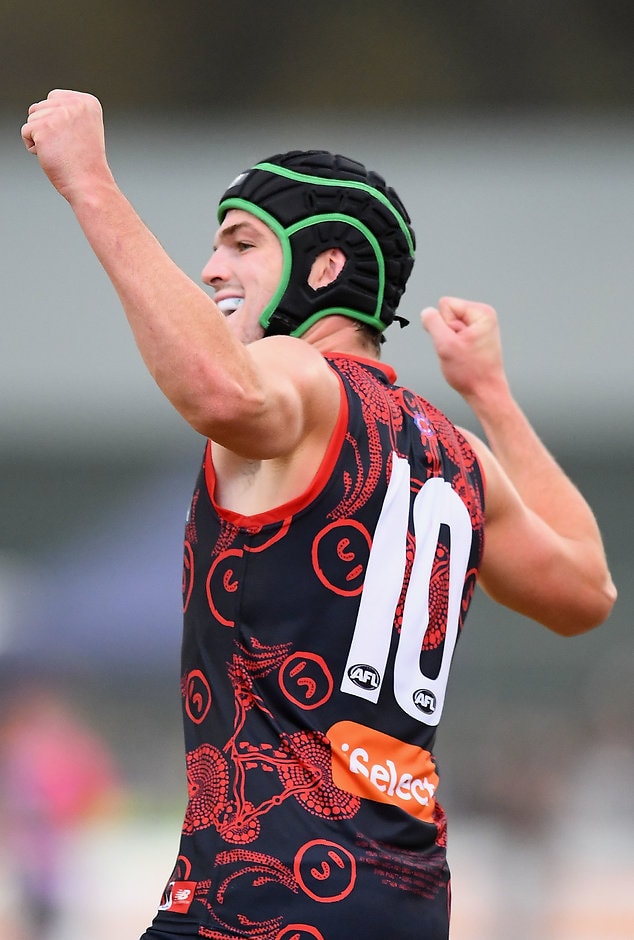 ALTHOUGH there were only two teams with a bye, Fantasy teams were tested for depth following the backline carnage on Thursday night and the late withdrawal of Paul Seedsman resulting in many coaches copping their first donut of the season. Trading for depth will certainly be the flavour between now and round 12.
Fantasy Pig
Angus Brayshaw is finally getting a good run at it and as a result has moved back into the midfield where he belongs. Since making the move, his numbers have gone through the roof and his performance on the weekend has thrown him in contention for a top-six defender position in the rolling 22. He scored a round-high 166 after taking a whopping 14 marks and gathering 37 possessions to go with three goals. Not many defenders have to ability to do that!
Honourable mention: Toby McLean is still owned by less than 20 per cent of the competition despite clearly being the best forward in the competition, but after his statement this week, it won't stay that way for long. Once again he did the majority of his work through the midfield, collecting 33 possessions, taking nine marks and laying 10 tackles for a whopping 152. The only issue for non-owners is he has a bye in two weeks so it may be worth holding off now until then, but let me be clear, he is a must-have!
Rage trades
Lachie Neale had a match-up with one of his favourite teams in a week of need for many of his coaches. Unfortunately, he let them down badly. Even though he avoided the dreaded Jacobs tag … (who for the record Nat Fyfe laughed off for 128), he was a shadow of what is expected from a premium midfielder with just seven kicks in his 20 possessions and no marks for just 58. He will be in the mix to be moved on prior to his bye week if he doesn't lift.
Honourable mention: Luke Parker is another player who will need to turn things around quickly prior to his bye otherwise he will no doubt be moved along for a premium who regularly reaches triple figures. Renown as a player who dominates in the wet, Parks was a big disappointment after half-time and was rarely sighted, eventually finishing on 67, which included just six kicks. Teammate Buddy Franklin has a slight excuse given the weather, but his 51 deserves a mention for a player who currently sits in the rolling 22 but is certainly on notice given that performance.
FROM THE TWOS: Bombers push case
Piglet
Logan Austin made a great debut for the Saints as the Tigers gave up a heap of points to defenders. He managed 23 possessions and eight marks while going at 82 per cent efficiency for a score of 97 and locking himself in the team for a while, which makes him a viable downgrade in the backline.
Bailey Rice also looked right at home, albeit in a very friendly game for the defenders. He had 19 possessions and six marks while going at 78 per cent and looks to be a deserving downgrade to get you through the byes.
Tim Smith was outstanding again, collecting 19 possessions, taking six marks, laying six tackles while also adding two goals for an impressive return of 107. He will be a popular downgrade target again this week.
Trade targets
Toby Mclean
Angus Brayshaw
Darcy Byrne-Jones
Tom Rockliff
Tim Smith
THINGS WE LEARNED: Time for Tomahawk to sharpen up
Fantasy mailbag
Giro might come in this week? 34 disposals in the WAFL

— Charles Bryant (@CBryant151) May 27, 2018
He is certainly one to keep any eye on over the coming weeks as a basement downgrade through the byes.
@WarnieDT @CalvinDT @RoyDT @FantasyFreako @AFLFantasy who do I drop for Rockliff 🐷 Hutchings or Taranto? And then who do I upgrade to McLean, the other of those two, Tim Kelly or cunico?
3 trades would be handy this week, would rage trade 5 blokes if I could

— Matt Rose (@goosey_13) May 27, 2018
There are huge concerns for Taranto now that Kelly has returned … he may need to go prior to his bye. Both your Cat boys are ready to go, but I would trade Kelly first.
@RoyDT @WarnieDT @CalvinDT -3 Dustin Martin. After 10 rounds has only scored 4 hundred + scores and none in the last month. Makes me feel sick, doesn't even deserve a trip to the mountain 🤢🤬 #AFLFantasy

— Alex (@no_hope21) May 27, 2018
I can't believe I am saying it, but he has to go.
Walter's top 6 forward @DTTALK @CalvinDT @WarnieDT @RoyDT 104 ave this season outside the game he was injured first quarter. Be brave boys, Devon Smith also.

— Nick (@NickyboyPerth) May 27, 2018
They are both in the mix, that's for sure! Smith's consistency might sneak him in to the rolling 22 on the podcast.
For more, follow me on Twitter: @RoyDT
Get expert advice from The Traders in the Fantasy Hub. Follow AFL Fantasy on Twitter and 'like' the Facebook page to join in the conversation.
The views in this article are those of the author and not necessarily those of the AFL or its clubs