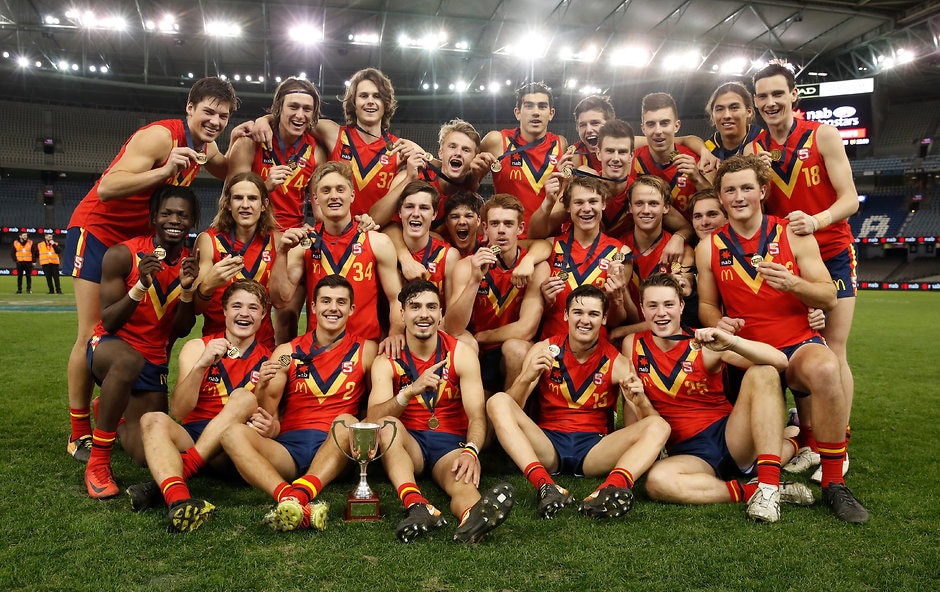 THE NAB AFL Under-18 Championships are complete, which means we edge closer to this year's national draft.
The division one under-18 carnival, consisting of five rounds over six weeks, is often the most important reference point in a draft hopeful's season.
Here are the big questions to come out of the championships, and some answers about the 2018 crop.
How did it go?
It came down to the final game of the championships to decide the title, but it was all but over by quarter-time. South Australia blew Vic Metro away in the opening term, keeping it goalless and leading by 26 points at the first break.
The Croweaters went on to win the division one 'Grand Final' by 55 points at Etihad Stadium on Wednesday after staying unbeaten across the carnival. It was the only game Metro lost and it again looks the side most likely to produce the highest number of draftees alongside SA.
The same can't be said of Vic Country which, after winning just one game last season, went winless this series. The Allies were more organised this year and should really have had more to show than their single win, while Western Australia won its final two games in Victoria.
WHO WILL WIN RISING STAR? All of 2018's nominees
Who lifted their stocks?
It was a carnival where the best performers tended to be the players everyone would have expected to do well. But other prospects were able to show their wares across the championships to boost their stocks.
Fraser Turner, a wingman from Tasmania, showed his running power, South Australian defenders Jez McLennan and Jacob Kennerley were influential off half-back, while Jordan Clark, a half-back for Western Australia, demonstrated why he might be the second-best prospect from his state behind Ian Hill.
Smaller midfielder Zak Butters didn't get huge numbers but has an impact with his disposals and could force himself into the top 20. It didn't end well for him; he suffered another injury to his shoulder, which he was already booked in to get operated on next week.
There were others. Metro captain Xavier O'Halloran doesn't often let you down in the midfield and his South Australian counterpart Luke Valente is in the same boat, having averaged 23 disposals across the four games.
James Rowbottom might not to be right at the pointy end of the draft but has an explosive streak, while Noah Answerth, who missed most of last year with a broken back and has returned as an over-ager, was a valuable contributor to Metro's win over Vic Country to give himself a chance.
Of the taller types, Vic Country backman Kyle Reid caught the eye, particularly in his side's round three loss to Vic Metro. It is not a draft full of tall defenders so Reid's impressive efforts stood out, as did his teammate Connor Idun at times. The same applied for Jacob Koschitzke, a key back for the Allies who put himself in the draft mix with some solid performances.
Allies defender Jacob Koschitzke, cousin of former Saint Justin, is in the mix. Picture: AFL Photos

How's the race for No.1 looking?
It's far from settled, but the leading candidates are South Australian forward Jack Lukosius and Vic Country midfielder Sam Walsh.
Both have strong claims. Lukosius had a strong carnival, kicking nine goals across the four games and being a dominant tall forward. Walsh was its best midfielder, averaging 29.5 disposals and showing he can win the ball and feed it out as well as provide run on the outside.
It may depend on which club holds the No.1 pick and what they are after, but Lukosius' natural talent and performances against senior opposition make him an attractive option, while Walsh is one of the most bankable players to come through the draft in recent years. It is hard to find a concern with the Country skipper, who won the Larke Medal as the best player in division one.
Beyond those two, the King twins – Ben and Max – will be considered early, with Ben booting 12 goals in the championships while Max sits out the year through injury, while South Australian Izak Rankine lit up the carnival at stages with his daring run and brilliance around goal.
He's arguably the most talented player in the pool, as evidenced on Wednesday with his five-goal haul, but it is rare clubs choose small forwards with the top pick. He's ready to play AFL now.
Bailey Smith is a top-five chance thanks to a great season in the midfield at every level he's played. He battled soreness across the championships to be Metro's most consistent player, and deserves to be talked about in this company at the nose of the draft.
Bailey Smith is expected to be a high draft pick. Picture: AFL Photos

Will we be seeing many father-son and Academy bids on draft night?
Absolutely. We'll start with the Academy players. Illness interrupted Nick Blakey's championships but he was impressive as a midfielder for the Allies in the final game. He looks set to attract a top-10 bid on draft night which the Swans will match.
Tarryn Thomas was less influential, with North Melbourne's Next Generation Academy player having an underwhelming division one carnival. Some scouts before the championships talked about the Tasmanian as a top-five player but he didn't have that kind of impact.
Isaac Quaynor lifted to the level. Collingwood has first call on the NGA player and could need to match a bid inside the first dozen for the powerful, versatile defender who is as reliable as any backman in the pool.
Big-bodied midfielder Connor McFadyen looks a nice option for the Lions, key back Dirk Koenen came on and will have taken the Suns' eye, while ruckman Kieren Briggs has put himself in top-30 contention after a dominant series. Briggs is tough and aggressive and is tied to Greater Western Sydney's Academy.
Small WA forward Jarrod Cameron (the brother of Brisbane's Charlie) kicked five goals against Vic Country and may appeal to the Eagles as a member of their NGA, while the Bulldogs will have been impressed by the form of half-back Buku Khamis.
The Dogs look set to take the first father-son, with a bid potentially coming for consistent midfielder Rhylee West in the latter parts of the first round. Potential Magpie Will Kelly was stationed in defence and could find a top-25 bid after a strong championships and Geelong father-son possibility Oscar Brownless offered run and carry to Country.
Bailey Scott can join North Melbourne or Geelong as a father-son pick, or the Suns through their Academy, and did his hopes no harm across the carnival. He finished it with a brilliant 30-disposal and one-goal effort against WA on Wednesday which illustrated his hard-running style.
Jarrod Cameron was impressive for Western Australia. Picture: AFL Photos

Was there anyone missing?
Clearly the big one here is Max King, who is 10 weeks into his recovery from a knee reconstruction. It is a shame the key forward couldn't show his wares on the big stage, but he remains in the mix as a top-five pick and is doing his rehabilitation twice a week at St Kilda.
A hamstring injury early in Vic Country's opening game against the Allies saw midfield prospect Jye Caldwell miss the rest of the championships but he remains a first-round chance.
Midfielder Liam Stocker suffered a broken jaw before the carnival and returned last week for the Sandringham Dragons, while a hamstring injury set back Irving Mosquito early in the championships and he didn't feature for Vic Country.
Another midfielder, Mitch Riordan, injured his hamstring in Vic Country's loss to Vic Metro, while Jack Bytel has also had his injury battles across the year, struggling with a back concern before the carnival and then hurting his elbow in round three.
Podcast: How should the Crows spend their draft bounty?
Find Road to the Draft on iTunes, Audioboom, Acast, Mixcloud or RSS.