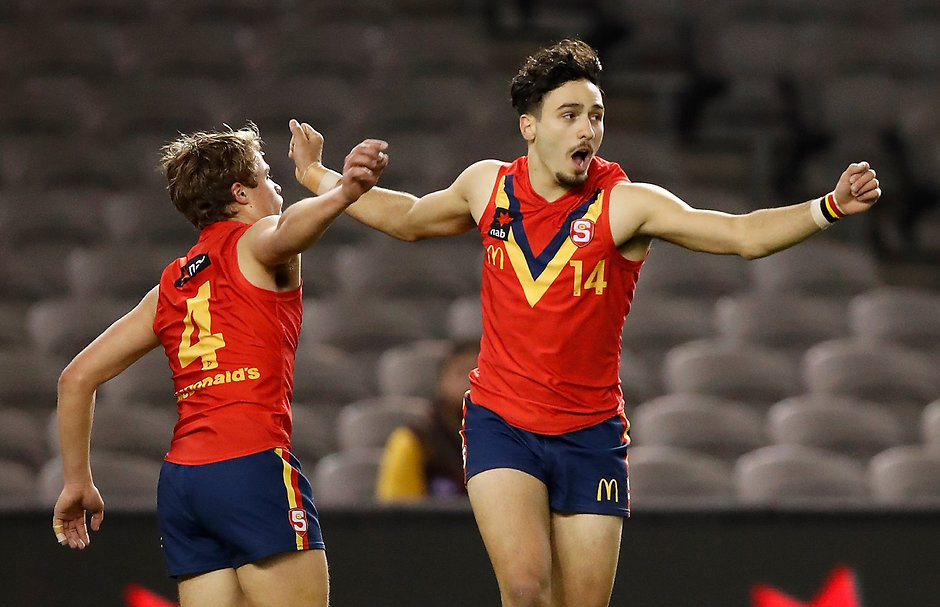 AN INSPIRED first term from likely top-five draft prospect Izak Rankine kickstarted South Australia's charge to the Under-18 title, although it had to hold off a fast-finishing Vic Metro which threatened to stage a monumental fightback at Etihad Stadium on Wednesday.
Trailing by a game-high 45 points at the 20-minute mark of the second term, Metro – led by the highly-rated Ben King, who bagged four majors – booted the next five goals of the contest and closed the margin to just 11 points midway through the third term.
But South Australia steadied and then turned on the afterburners in the 17.14 (116) to 9.7 (61) win, with two special final-quarter goals from Rankine helping seal the state's first national title since 2014.
It was Rankine who took the game away from Metro early, lighting up Etihad Stadium with a stunning first quarter that yielded 3.2 from seven disposals.
The exciting forward/midfielder opened his account with a volley goal in traffic from the pocket, his third goal was a left snap from a tight angle and he even took a 'speccy' in the same quarter for good measure.
Rankine, who can impact a game like very few with his pace and evasiveness, was quiet during the second and third terms, but came alive when the game was up for grabs and ended his day with five goals from 17 disposals.
Jacob Kennerley (22 disposals) and Jackson Hately (24) were other key contributors in South Australia's win, while recruiters got the chance to see possible No.1 pick Jack Lukosius, who was relatively quiet, play on King at full-back late in the contest.
King's ability to launch himself for marks in the air was impressive and along with twin brother Max, will certainly be among the first few players considered in this year's Draft.
Jack Mahony (17 touches) and Matthew Rowell (20) were central to Metro's fightback, while Joseph Ayton-Delaney (25 touches) was a steady influence throughout.
Possible top-20 pick Bailey Smith also got better the longer the game went, with the midfielder finishing with 22 disposals, seven clearances and six tackles.
Xavier O'Halloran (10 touches and five inside 50s) was also impressive for Metro.
Metro's fightback was hindered when highly-rated midfielder Zak Butters was forced from the field with a left shoulder injury in the second term, although it became apparent they left themselves with too much to do.
VIC METRO 0.1 2.3 8.5 9.7 (61)
SOUTH AUSTRALIA 4.3 9.4 12.7 17.14 (116)
Goals
Vic Metro: King 4, Taylor 2, Mahony, Rendell, O'Halloran
South Australia: Rankine 5, Jarvis 2, Munn, Rozee, Lukosius, Chandler, Luchowiak, Siviour, Chapman, Valente, Lewis,
Best
Vic Metro: Ayton-Delaney, King, Smith, Rowell, O'Halloran
South Australia: Rankine, Kennerley, Hately, Rozee, Lewis, Frederick, Chapman