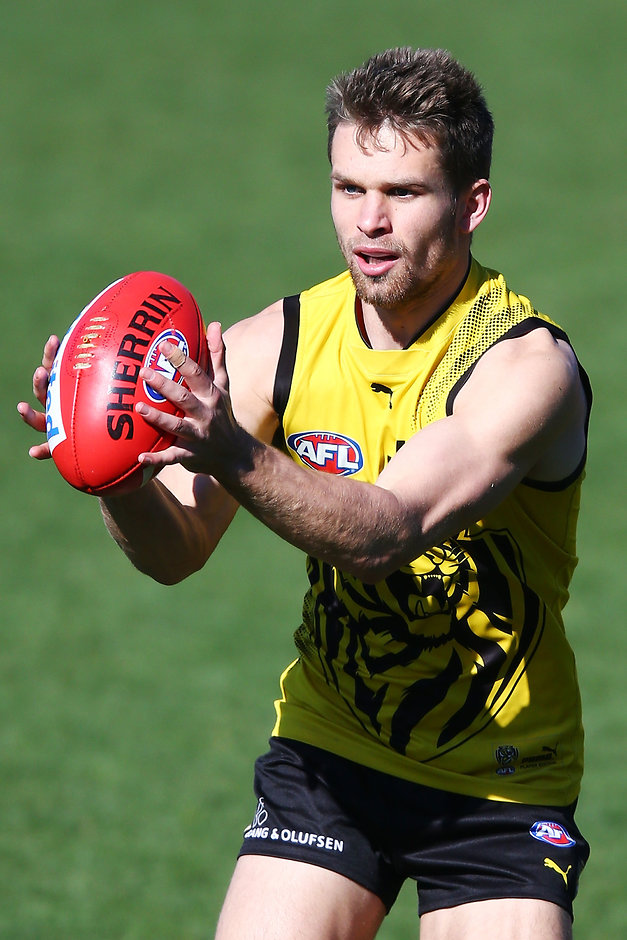 ALEX Rance and Jack Riewoldt are expected to be fit for Richmond's preliminary final on Friday week, but the window of opportunity is closing for Dan Butler following the end of the VFL team's finals campaign on Saturday.
Rance and Riewoldt were treated for foot issues in the second half of Thursday night's 31-point qualifying final win over Hawthorn; Rance shortly before three-quarter time and Riewoldt in the fourth quarter.
TIGERS TOO GOOD Full match coverage and stats
Both players finished the game, and with a 15-day break between the win and next week's preliminary final against Collingwood or Greater Western Sydney, are expected to recover and play.
But, it's a different story for Butler, who was backed off training over the weekend and held back from the VFL team's semi-final loss to Essendon because of continuing ankle soreness.
GET TO THE GAME All your finals ticketing info
"It will just depend on how well he's able to train, it probably makes it a bit harder for him because you can't see him play in a game," Richmond football manager Neil Balme told AFL.com.au on Monday.
"He's been a little bit sore anyway so we're not sure where he's going to get to.
"He'll try and train this week and we'll see how he goes."
Butler suffered a syndesmosis ankle injury in round 16 but didn't have surgical intervention until a month later.
He played a half of the VFL team's first final last Saturday night but pulled up sore, which saw his training loads reduced over the weekend.
Balme said while Butler's chance of a recall had taken a hit with the abrupt end of the VFL team's season, he would continue to train in case of injuries.
"It's a matter of how much he can run and how much he can impress with how much he can run, and whether you can take the risk after he's missed this much footy," he said.
"It will depend a bit on the fitness of everyone else I guess too, if everyone is fit, it's probably a bit unlikely but if there's an opportunity he'd want to be in a position to take that."
The players were given the weekend off after Thursday night's win but were back at the club on Monday.
They'll now run a relatively normal program with Tuesday and Saturday off, and a heavy session planned for Friday.
Balme said there would be a focus on balancing their work load with rest over the next two weeks, especially when considering their 15-day break between games compared to the six-day break their opponents will have.
But, he said they would benefit from their experience in dealing with the 15-day break they had between their winning 2017 qualifying final over Geelong, and their preliminary final against the Giants.
"If you're not ready and prepared to play in a preliminary final there's something very wrong with you," Balme said.
"I don't think we'll have to work too hard to keep them interested.
"You've got to give them enough work to keep them engaged but it's a good opportunity to get a bit of rest into them as well.
"It will be similar to what we tried to do last year, so we'll get a reasonable amount of work in, but we'll give them some rest as well. I think we'll handle it fairly well."
Balme said with no serious injuries to come from the win over the Hawks, the Tigers would have the majority of the list ready to play this week with just Jacob Townsend (fractured fibula), Shai Bolton (knee) and possibly Nathan Drummond (hamstring) unavailable.