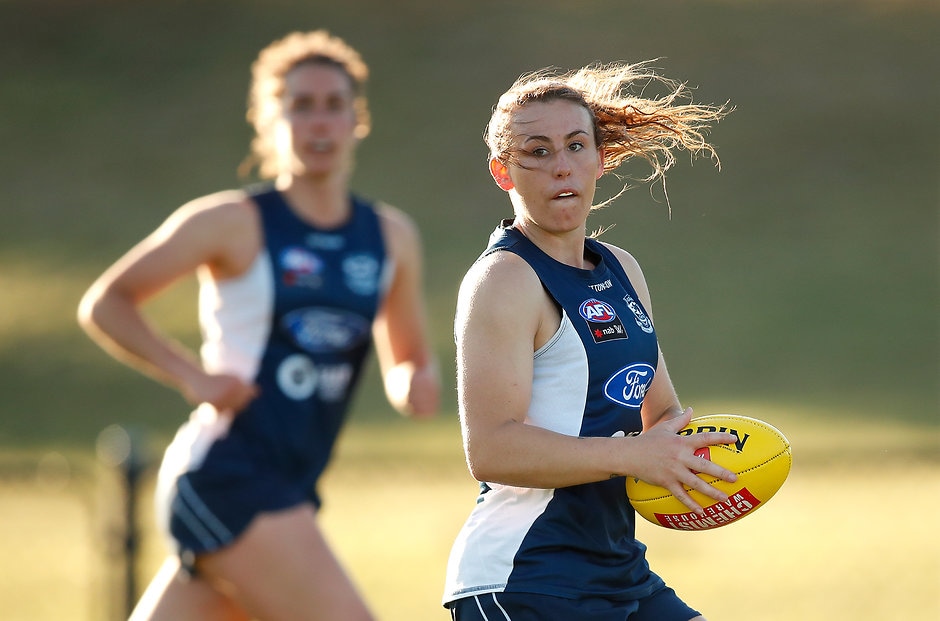 MOST, if not all, AFL Women's players have to make some sort of work-related sacrifice in order to play footy at the highest level.
But not many have had to give up riding 500kg racehorses at Melbourne Cup-winning trainer Darren Weir's stables.
Geelong draftee Maighan (pronounced May-gan) Fogas has had an unusual path to football, stopping trackwork at the start of the 2018 VFL Women's season in order to devote more time to the sport.
FULL FIXTURE Check out when and where your club plays
The Ballarat local had attempted to combine her riding and football in vain in 2017, often starting work at 3am before driving more than an hour down the Midland Highway to train with Geelong's VFLW side in the evenings.
Trackwork involves riding horses, as well as saddling them up and cooling them down, before cleaning and feeding them at the end of a session.
The contrasting hours of early trackwork and late footy training proved impossible to handle at times, and she was not picked for a VFLW game.
Instead, Fogas played 14 games for Redan in the AFL Goldfields competition, captaining the side and being named best on ground in a 57-point Grand Final loss to East Point.
"Trackwork is pretty hard to get right at the best of times, let alone trying to control a racehorse while being sore from footy. That's why I ended up giving it away," Fogas told AFL.com.au.
"I loved the horses and had been looking into getting an apprenticeship and becoming a jockey. But a lot of things turn me off it as well.
"I struggle to keep weight off as it is; I'm not that heavy at the moment, but I'd have to lose another 10kg to fit the criteria.
"I'd be eating one piece of broccoli and a sausage each night to lose the weight. I'm not great with diets either, clearly," she added, with a laugh.
A meeting with Cats coach Paul Hood and VFLW football manager George Seward convinced Fogas to give footy a serious shot in 2018, a decision which delivered benefits in spades.
She finished second in Geelong's VFLW best and fairest behind Richelle Cranston, playing 17 games as a tough inside midfielder feeding the ball to teammates.
The 23-year-old nearly didn't nominate for October's draft after Hood initially told her Geelong would give her another year in the VFLW to further her development.
INS AND OUTS Your club's full list for 2019
"'Hoody' then called me on the last day of the draft nominations and asked why I hadn't nominated," Fogas said.
"He pretty much had to convince me to put my name in. I was in Budapest during the draft, streaming it live at 2.30am.
"I was 80 per cent sure I wasn't going to be drafted and had just left a party on a boat, so I was finding it pretty hard to stay awake.
"I fell asleep around pick 18, woke up at 24, went back to sleep again at 30 and actually missed my name being called at 47. I woke up to Hoody calling me through Facebook at 5am asking if I had watched it."
Although she still rides for fun on weekends, Fogas now spends her time away from football working for a concreting business.
"My boss is a mad Cats fan luckily, which really helps. He's pretty good about me having to leave early for training," she said.
Fogas is one of five, including brothers Leon (six years older) and Ben (four years older), who would rope her into playing footy with them in the backyard.
"They'd play British Bulldog (a tackling tag-based game) with me and I'd always be thrown to the ground, or they'd be playing markers up (a kick-and-mark game) with their friends and I was never the one kicking. I was always the one being 'speckied'.
"It was never really fun, but it was challenging and I took on the fight."