• Cal Twomey gives his verdict from the national draft on every club
• Going places: Four extraordinary draft stories
• 2015 NAB AFL Draft Tracker: Profiles, pics and video highlights of every draftee
FORMER Brisbane Lions co-captain Jed Adcock is expected to join the Western Bulldogs at Friday's NAB AFL Rookie Draft.
The 30-year-old was cut by the Lions after 206 games with the club, but is set to win an AFL reprieve at the Dogs as a rookie, where he has been training in recent weeks.
After being told he would not be given a given another contract at the Lions, Adcock went on to finish his season strongly with a four-goal and 21-disposal effort in the club's surprise win over the Bulldogs in the final round.
Several clubs had shown interest in Adcock since his departure, but the Dogs are likely to add him to bolster their experience across half-back and at times in attack.
Clubs are expecting a number of mature-aged prospects and axed AFL players to be selected at the rookie draft after 70 selections at the NAB AFL Draft on Tuesday.
Here are the key questions ahead of the final draft of 2015.
What time does it all start?
The rookie draft will commence at 11am AEDT on Friday, November 27, with every selection to be announced on AFL.com.au's Draft Tracker.
It was due to start after the pre-season draft, however the PSD will not happen this year after all eligible clubs advised the AFL they would not be participating.
As has been the case in recent years, the rookie draft will be run via web conference, with clubs lodging their selections from their home state or club base and it being broadcast into AFL House.
Carlton, as 2015's wooden-spooner, will hold first pick in the rookie draft and is expected to take two selections.
How many picks are expected?
The pre-season draft has become something of a non-event in recent seasons, particularly since the introduction of the delisted free agency mechanism. That is certainly the case this time around, with it scrapped from the agenda completely this year.
Although some clubs could have use picks in the PSD this week to fill their senior lists, those recruiting teams have chosen to hold over their picks to take rookies and go into the season with 38 or 39 players on the senior list instead of the maximum of 40.
There are 72 selections in this year's rookie draft (see below) as determined by the AFL's official order it released on Thursday evening, but not all of these selections will be used.
The opportunities for new talent will shrink, too, due to the fact many clubs are likely to add their delisted players as rookies.
Majak Daw (North Melbourne), Josh Saunders (St Kilda), Anthony Morabito and Josh Deluca (Fremantle), Alec Waterman and Brant Colledge (West Coast), Viv Michie (Melbourne), Will Hams (Essendon), Harry Marsh (Sydney Swans) and Lachie Keeffe and Josh Thomas (Collingwood) are among the delisted players set to return to their clubs as rookies.
Kane Mitchell is in the same boat at Port Adelaide, the Brisbane Lions are likely to do the same with Jackson Paine, as will Gold Coast with Danny Stanley.
Ex-Crow Matthew Wright looked headed for the rookie draft until he was signed as a delisted free agent by Carlton on Thursday.
Viv Michie looks set to extend his stay with the Demons as a rookie selection. Picture: AFL Media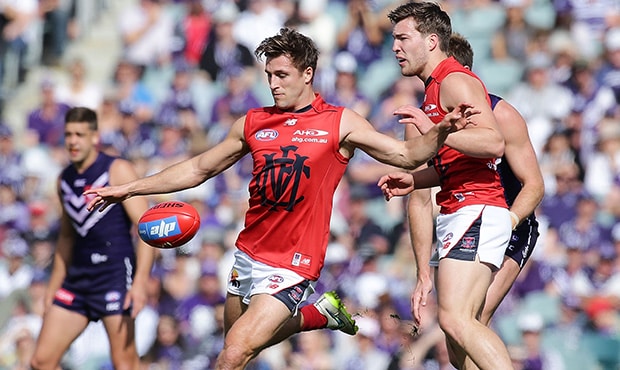 Who is a chance to find a home?
Some clubs ran out of names on their talent lists on Tuesday night, so recruiters will have spent the last couple of days taking stock and seeing what got through the national draft.
Essendon and St Kilda might be a chance to take on Under-18s All Australian ruckman Gach Nyuon in the ruck, while the Bombers have also pre-listed father-son selection Tom Wallis, who is set to join the club.

Reuben William (Brisbane Lions), Jesse Joyce (Gold Coast), Kyle Galloway (Sydney Swans) and Sam Murray (Sydney Swans) have all been nominated as academy zone pre-selected players giving them priority access.
Others to be overlooked on Tuesday's national draft who could catch the eye as rookies include Darcy MacPherson, Thomas Glen, Jesse Glass-McCasker and James Parsons. Forward Brett Blair, midfielder Andrew Tashevski-Beckwith and small forward Tom Papley are others possibly in contention.
Reuben William has been nominated by the Lions as an academy zone pre-selection. Picture: AFL Media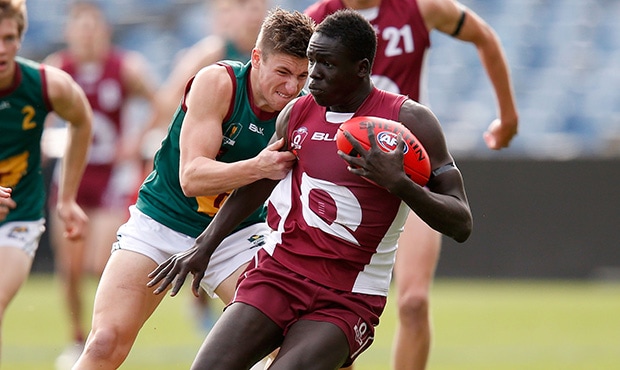 And what about those looking for a second chance?
Aside from Adcock's impending arrival at the Dogs, a number of other former players could find new homes through the rookie process.
Ex-Bulldog and GWS player Sam Darley has been linked to Richmond, while Greater Western Sydney youngster Tim Golds has been training at Collingwood. Former Hawks Sam Grimley and Jonathan Simpkin might appeal, while GWS has been linked to considering giving former player Sam Reid another go on the rookie list after a strong NEAFL season.
NAB AFL Rookie Draft - complete order of selections
Round one
1. Carlton
2. Brisbane Lions
3. Gold Coast
4. Essendon
5. St Kilda
6. Melbourne
7. Collingwood
8. Greater Western Sydney
9. Geelong
10. Port Adelaide
11. Western Bulldogs
12. Richmond
13. Adelaide
14. Sydney Swans
15. North Melbourne
16. Fremantle
17. West Coast Eagles
18. Hawthorn
Round two
19. Carlton
20. Brisbane Lions (A)
21. Gold Coast
22. Essendon
23. St Kilda
24. Melbourne
25. Collingwood
26. Greater Western Sydney
27. Geelong
28. Port Adelaide
29. Western Bulldogs
30. Richmond
31. Adelaide
32. Sydney Swans
33. North Melbourne
34. Fremantle
35. West Coast
36. Hawthorn
Round three
37. Carlton (P/S)
38. Gold Coast
39. Essendon
40. St Kilda
41. Melbourne (P/S)
42. Collingwood
43. Greater Western Sydney
44. Geelong
45. Port Adelaide
46. Western Bulldogs
47. Richmond
48. Adelaide (P/S)
49. Sydney Swans
50. Fremantle
51. West Coast
52. Hawthorn
Round four
53. Gold Coast
54. Essendon (FS)
55. Collingwood
56. Greater Western Sydney
57. Port Adelaide
58. Adelaide (P/S)
59. Sydney Swans (PZ)
60. Fremantle
61. West Coast
62. Hawthorn (P/S)
Round five
63. Gold Coast
64. Collingwood (P/S)
65. Greater Western Sydney
66. Sydney Swans (PZ)
Round six
67. Gold Coast (A)
68. Greater Western Sydney
69. Sydney Swans (P/S)
Round seven
70. Greater Western Sydney
Round eight
71. Greater Western Sydney
Round nine
72. Greater Western Sydney
NOTE
(P/S) - Pre-Selected Rookies - International 3yr non-registered
(FS) - Father/Son
(PZ) - Priority Zone
(A) - Academy