TAYLOR Adams is determined to own a position in Collingwood's midfield in 2015, saying he would be "angry" if coach Nathan Buckley wasn't thinking of giving him an opportunity to cement himself in the side.

Following the departures of Luke Ball (retired), Dayne Beams (Brisbane Lions) and Heritier Lumumba (Melbourne), Collingwood's midfield is suddenly light on for proven options.

Asked whether Buckley should consider him as a candidate to step up and fill the void, Adams was typically forthright in his response.

"I'd be pissed off if he (Buckley) didn't," Adams told AFL.com.au.

"There's a handful of guys there that can do it and if I wasn't in that handful I'd be pretty angry and disappointed.

"I think I've done enough developing to certainly step up."

Adams, 21, is set to enter his fourth season in the AFL, with 2015 marking his second year at the Westpac Centre after being part of the deal that sent Collingwood favourite Heath Shaw to Greater Western Sydney ahead of the 2014 season.

Upbeat Reid returns from Germany

Those at the Magpies say Adams, who has 43 career games under his belt, is ready to go to the next level, pointing to his increased leadership qualities around the club.

Adams sees it as his responsibility to step into the leadership breach vacated by seasoned veterans like Ball and Nick Maxwell.

"It comes with confidence. I've had a pretty good pre-season and I know the game-plan and I know where I want the club to go," Adams said.

"If I think something's wrong, then I'm not afraid to speak up and say something."

Who is Collingwood's most important player?

Adams managed 12 games in his first season at the Magpies.

He bounced between the VFL and the AFL for much of the first half of 2014, but proved his value with 28 disposals and seven tackles in the Magpies' thrilling six-point win over Port Adelaide in round 19.

That day, Adams played out the game with a torn ligament in his finger – an injury that would end his season the next week.

Although 2014 did not pan out the way he might have envisaged, Adams learnt a lot about what it takes to play football at a consistent level.

"I felt a fair bit of pressure last year playing in front of big crowds and once I played a couple of bad games in a row my confidence dropped and I started to doubt myself," Adams said.

"I hadn't been put under the microscope like that and it took a bit of getting used to."
Taylor Adams wants Nathan Buckley to give him an opportunity to step up this year. Picture: AFL Media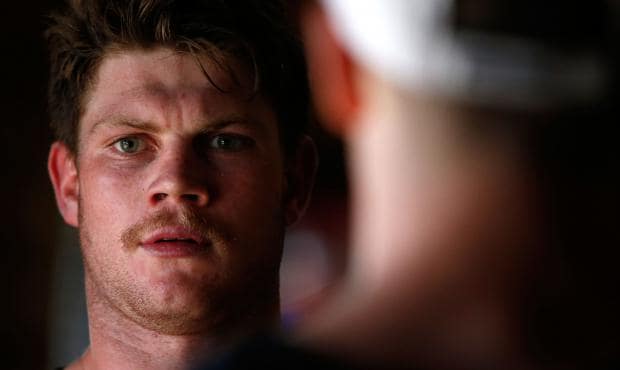 One main lesson he learned was to not become consumed by poor performances, while he also identified the need to find a vice outside of football.

As such, Adams enrolled in a business management course at university so he doesn't become a "footy nut".

"At stages last year, I probably overdid it and got myself into a pretty deep hole. I had no confidence, even though I was doing all the work and I was doing all these extra sessions," Adams said.

"When things weren't working game day, it made me realise that I needed a break and that it's good to have things outside of football to … take your mind away from it."

As much as Adams enjoys having balance in his life, whenever he's at the club he has an intense mindset.

He has been working closely with development coach Craig Macrae and midfield coach Scott Burns on his kicking and his decision-making under pressure.

Disposing of the ball cleanly was an area that let him down last season, reflected by a relatively low efficiency rating (66 per cent).

"When I start to fatigue, my ball drop can be a bit high at times. That leaves a lot more room for error," Adams said.

"As they say fatigue makes fools of us all, but you look at guys like Pendles (captain Scott Pendlebury) who perform so well under fatigue so that's where I've got to get to."