ALL 38 matches of next year's NAB AFL Women's competition will be shown live on television, with the Seven Network and Foxtel to share the coverage.
Seven will broadcast two games a round in every state and territory, plus all the non-Victorian clubs' matches into their respective local markets, live on free-to-air television, with Foxtel to air every AFLW game live via its subscription service.
A final fixture complete with broadcast details is yet to be released, but Seven will air its two games live on a Saturday each round.
From 2020 – when the competition expands to 14 teams – Seven will broadcast three games live each round, with Foxtel continuing to air every game live.
Both networks will broadcast all finals live across the country over the four-year broadcasting deal announced in Melbourne on Thursday morning.
FULL FIXTURE Check out when and where your club plays
All matches will also be streamed live on Seven and Foxtel digital platforms and via the AFLW App.
The AFL did not receive a rights fee for the first two AFLW seasons, but the new four-year deal is said to be valued at around $2 million.
The AFL's head of women's football Nicole Livingstone said the deal was significant for the AFLW competition and women's sport generally.
"The anticipation around season three of the AFLW continues to build and the new broadcast agreement is another important milestone in the journey we are on," she said.
"We are thrilled that every AFLW match will be broadcast live for at least the next four years.
"We thank Seven and Foxtel for their fantastic commitment to and support of AFLW."
Nicole Livingstone poses with AFLW players at Thursday's announcement. Picture: AFL Photos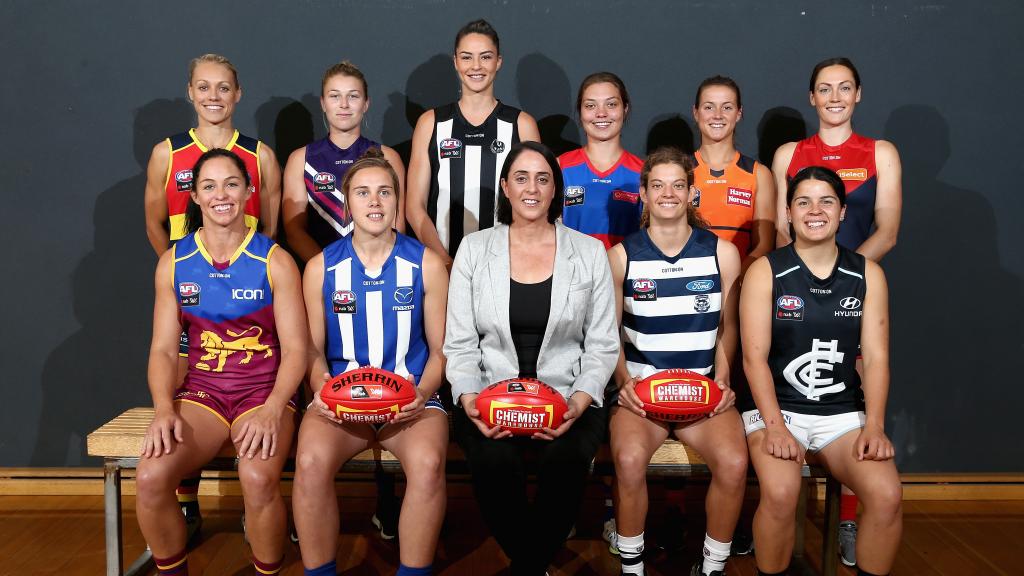 The 2019 AFLW season will be played using a conference system (with the 10 teams split into two and two ladders to determine four preliminary finalists), a decision that has had mixed responses.
Although a four-year broadcast deal is in place, the structure and length of future seasons beyond 2019 has not been finalised, with the competition set to expand to 14 teams in 2020.
"The season structure for 2020 is being discussed by the competition committee. We're not in a position to announce what that will look like," Livingstone said.
"This is a four-year arrangement, so it does give surety in our games being broadcast, which is fantastic."
The AFLW deal is set to end after the 2022 season; 2022 is also the last year of the six-year AFL broadcast contract, with Livingstone not ruling out the possibility of the two deals being "bundled" together as one agreement from 2023.
"Certainly nothing is off the table…the AFL will be renegotiating their broadcast deals, so it's good timing for us," she said.
"Cricket has done that (combined its men's and women's competition contracts) successfully, so it's something I would encourage us to look at."
Melbourne defender Meg Downie, an AFLPA players' representative, said the deal was a win for the players and the broader competition.
"This is an incredible opportunity and really reflects the AFL's commitment to the future of AFLW," Downie said.
"The AFLW is now becoming a benchmark for women's sport in Australia.
"It's also incredibly exciting for us to showcase our skills. It's going to give supporters an opportunity to really see what we can do and spread AFLW across Australia."