JACK Higgins has been booked in for brain surgery this month.
The 20-year-old Richmond forward will require six months recovery from the procedure, and has been told he will be able to resume his football career late next year.
The Richmond playing group was informed of Higgins' situation by coach Damien Hardwick on Tuesday.
Jack Higgins runs with the ball during his most recent AFL game, in round 13 against Adelaide.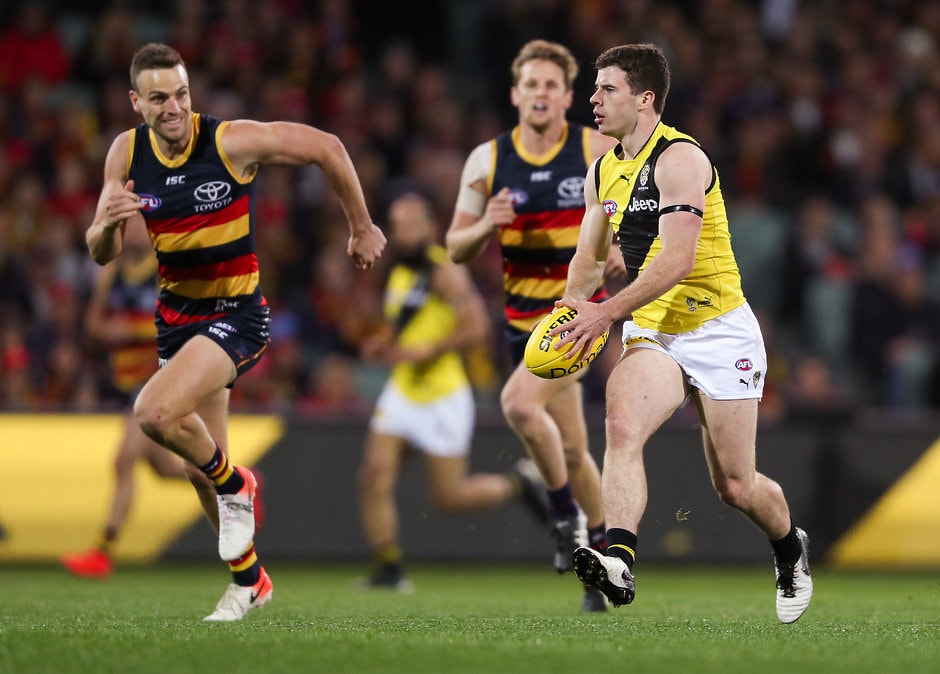 It had been hoped that Higgins' problem could have been dealt with less invasive surgery, but after deep consultation, medicos agreed on a more serious procedure.
Tigers general manager football Neil Balme said Higgins would need six months recovery.
"No one is underestimating how uncomfortable this is for the poor kid, and while they were hoping for a different procedure, that hasn't quite fixed everything," Balme told AFL.com.au.
"The positive out of all this is that there is still the same expectation for him – that he will fully recover and return to football when he is ready.
"With brain surgery, no one can be certain with recovery timeframes.
"It is obviously very challenging, but again, the positives out of it are that once he gets through it, he will be as good as new."
Higgins was initially treated for bleeding on the brain in July after suffering headaches after a VFL match.
Jack Higgins celebrates a goal in his most recent competitive game.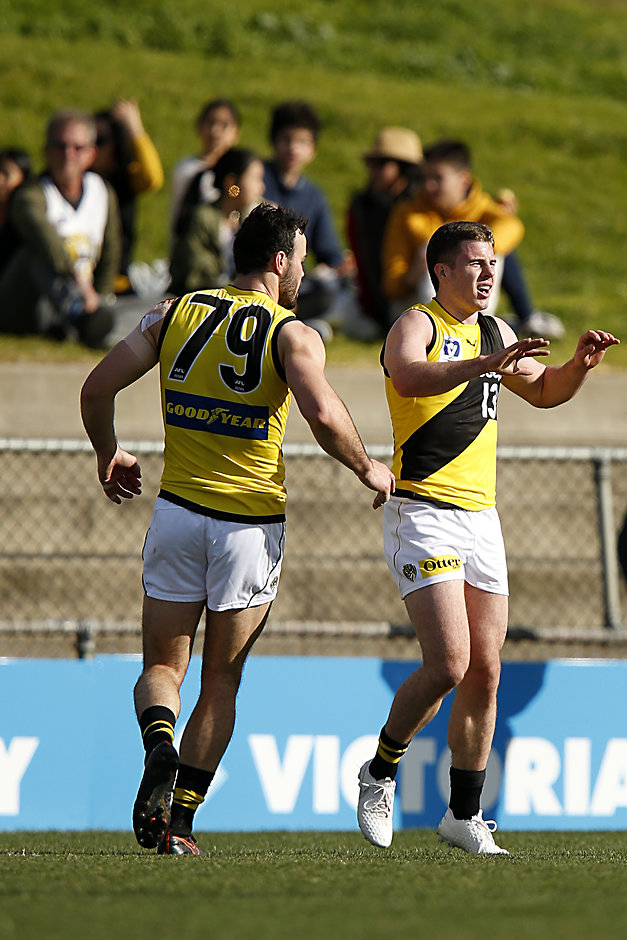 It was discovered he was born with an abnormality where certain blood vessels in his head were prone to bleeding.
Higgins, taken at No.17 in the 2017 national draft, played 20 matches and kicked 15 goals in his debut 2018 season.
Among his honours in that debut year were receiving the Coates Hire Goal of the Year award, and coming fourth in the NAB AFL Rising Star award behind Collingwood's Jaidyn Stephenson.
Jack Higgins has been awarded the 2018 @coateshire Goal of the Year. pic.twitter.com/zJMFEd7QA5

— AFL (@AFL) September 24, 2018
Twitter: @barrettdamian


Find In the Game on Apple Podcasts, Google Podcasts or Spotify