JAMES Frawley doesn't have to be a champion to be valuable to clubs other than Melbourne.
But assessing his true value is the question many clubs now face.
And coming up with an answer is not just about his form at Melbourne, although statistics show it stacks up in comparison to his peers.
Frawley spent the two seasons before this one on the last line of defence for the competition's basket case.
The Demons conceded, on average, 18 more inside 50s than their opposition in 2013 and 11 more in 2012.
More often than not the ball entered the defensive 50 at 100km an hour.
Let's be honest, a man playing a late stage of Space Invaders at a retro games arcade would have had more time to relax.
That Frawley maintained his sanity was almost as remarkable as his on-field efforts.
In 2013 he conceded just 25 goals in 17 games, with his direct opponent kicking more than two goals just twice.
Often he played under injury duress. At no time did he complain.
He has copped some criticism this season but he remains an elite one-on-one defender who can beat any opponent and bring the ball to ground. He is also one of the quickest defenders over 20m in the game, meaning he can match players on the lead or use his brute strength to grapple with the best forwards.
He is in the leadership group but he is not a natural leader. He is popular, loyal and more of a knockabout than a ranter.
Since 2009, when he began to establish himself as the most promising defender in the game, he has conceded just 1.7 goals in the reverse Coleman (a statistic that measures how many goals defenders have kicked on them).
It is a figure that stacks up against the All Australian full-backs in that time, with Matthew Scarlett averaging 1.1 goals per game, Brian Lake 1.5, Darren Glass 1.4, Luke McPharlin 1.2 and Scott Thompson 2.5, in the reverse Coleman since 2009.
Considering each of those players except Thompson played in teams that have gone deep into finals during that period, it is a reasonable effort.
Particularly when you consider Glass was 27 years old, Scarlett 29, McPharlin 27, Lake 27 and Thompson 22 at the start of 2009.
Frawley was 20 at the start of 2009 and was named in the back pocket of the All Australian team at the end of 2010 aged 21. He has not been close since but none of the other five were close to selection at 21.
Frawley's ability to read the play is elite and he is as tough as old bread, however he has taken less intercept marks than those other All Australians.
He is better than only McPharlin when it comes to intercept possessions and score launches and mid-range for spoils.
He has averaged just 1.8 score launches per game since, ranking him fourth among the All Australians. It's not hard to imagine scoring chains breaking down at Melbourne that might have progressed further at other teams.
Of course, Frawley's statistics can be read in many ways. With the ball being in his area more often than the others he is sure to rack up numbers.
Demon James Frawley quells Fremantle's Michael Apeness on Saturday night. Picture: AFL Media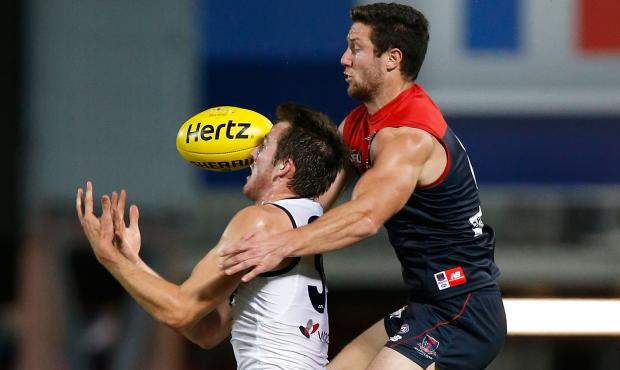 His decision-making is not elite and he can run and carry without a plan.
But give him an opponent and, regardless of shape or size, he will beat him.
Frawley is now 25, having played in 34 wins in 132 games.
Coincidentally, that is exactly the same number of wins his uncle Danny enjoyed in his first 132 games with the Saints (Don't despair if you love the Frawleys, their hometown team Bungaree sits undefeated on top of the Central Highlands League Ladder this week).
Joel Selwood, who went five picks higher than Frawley in the 2006 AFL National Draft, played in his 34th win in round 16 of his second season. He has now played in 141 wins in 175 games.
Even Jack Riewoldt, who plays his 150th game this week, has played in 59 wins.
Most people experiencing that sort of career trajectory would consider their options if given half a chance. Free agency has given Frawley that half-chance.
He has received good support from Lynden Dunn, Tom McDonald and Colin Garland while in defence at the Demons but it's hard to imagine he wouldn't take the same steps Jared Rivers at Geelong and Brian Lake at Hawthorn (excepting Friday night) took when they changed clubs.
Rivers, a former teammate of Frawley's, has been exceptional with the Cats this season able to play his role surrounded by quality.
Frawley has finished top 10 in the club best and fairest each year since 2009 while Rivers finished top 10 twice in that time.
Is he better? Maybe. He's certainly younger.
On Saturday night against Fremantle, Frawley played in defence and quelled first-gamer Michael Apeness with relative ease. He conceded no goals, made six spoils, picked up five intercept marks and had eight effective kicks.
He just did his job.
At Melbourne during his career Frawley has also been expected to counter-attack because he wins the ball, but it is not his strength.
He has a safe lateral kick that would put teammates into space. That is an asset when a player is surrounded with talented ball users.
Of course this season Frawley has been asked to help out in attack. He has kicked 12 goals and showed his speed when playing as a lead-up player, however he looks a natural defender.
He is not perfect. If he left Melbourne he may need to remove some bad habits that come with being beaten regularly. He is a safe rather than penetrating kick. And he would be performing with a microscope on his every move.
Melbourne has been patient, respecting Frawley's right to make his decision in his own time.
Other clubs have expressed interest. They know he is valuable.
If they win his signature his compensation will be debated but it appears – without taking into account the figure he is offered – first-round material.
With Glass and Ben Rutten just retired, Lake on the edge and McPharlin nudging old age, Frawley is a defender reaching his prime.
He is valuable, so Melbourne don't want to lose him.
But you can see why plenty want him.
| | | | | | | |
| --- | --- | --- | --- | --- | --- | --- |
| | Scarlett | Lake | Glass | McPharlin | Thompson | Frawley |
| Intercept marks | 1.4 | 2.9 | 2.0 | 1.8 | 2.0 | 1.1 |
| Intercept possessions | 5.2 | 7.0 | 6.4 | 3.8 | 7.9 | 4.6 |
| Spoils | 3.4 | 4.2 | 3.8 | 3.0 | 4.3 | 3.8 |
| Reverse Coleman | 1.1 | 1.5 | 1.4 | 1.2 | 1.8 | 1.7 |
| Total score launches | 2.3 | 2.2 | 1.6 | 1.2 | 2.5 | 1.8 |
| Contested marks | 0.7 | 1.7 | 1.0 | 1.1 | 1.0 | 0.6 |
| Effective kicks | 8.2 | 9.1 | 4.2 | 8.0 | 7.0 | 7.9 |
| Goals | 1 | 21 | 0 | 23 | 6 | 15 |
| Time on ground (min) | 113 | 114 | 112 | 112 | 118 | 112 |
Stats provided by Champion Data