IT IS impossible to extricate Conor McKenna's Irish links from the way the Essendon half-back plays.
McKenna has fused his Gaelic background with his newfound game, from his propensity to always play on after a mark, to his inclination to take the ball forward, and even the odd kick-the-ball-to-yourself 'solo'.
McKenna just went full Gaelic! #AFLDonsHawks pic.twitter.com/hC1yMaiKj3

— AFL (@AFL) June 14, 2019
These are the traits that have made McKenna one of the Bombers' most important players, as he teams up with fellow defender Adam Saad to propel Essendon out of defence.
McKenna's skills are so intimately intertwined with the sport he used to play, so grounded and tied to another land, that it's no surprise the 23-year-old also feels the pull back to Ireland.
That's why he asked Essendon at the start of the year if he could head home in July for his brother Emmet's wedding, causing him miss the Bombers' game against Gold Coast.
APP SURVEY Tap here to have your say on the AFL Live Official App
"I was very happy to be home for a week. I still struggle a wee bit with homesickness and stuff like that, so to get home for a week and spend time there was very beneficial for me and my season," McKenna told AFL.com.au this week.
"It gave me something to work towards, like I had only a few weeks left then I could go home for a week and reset, then come back and go again for the finals. It really breaks the season up for me."
View this post on Instagram
McKenna has found ways to overcome his homesickness, now living with his other brother Ryan and Ryan's girlfriend. At the end of the year, Emmet and his wife will also move to Australia for six months.
McKenna told the club about his plans before the season started and was glad the Bombers allowed his mid-season trip, saying he would have had to question playing AFL if it hadn't been granted.
"My brother actually moved the wedding six weeks forward so it would suit me better," he said.
"I told them well in advance and said what I was looking to do and they were very supportive and said 'Yeah, that's grand, go home because you were probably going to miss a game being rested or something', so I took it as that.
"The club could've just turned around and said no, but I think it could have backfired if it said no. Because if I had have missed a family event like that, I've missed weddings but not with my immediate family, then I don't know if I'd be willing to do it, honestly.
"For them to give me the confidence to go over, have my week, and then get back into it has worked really well."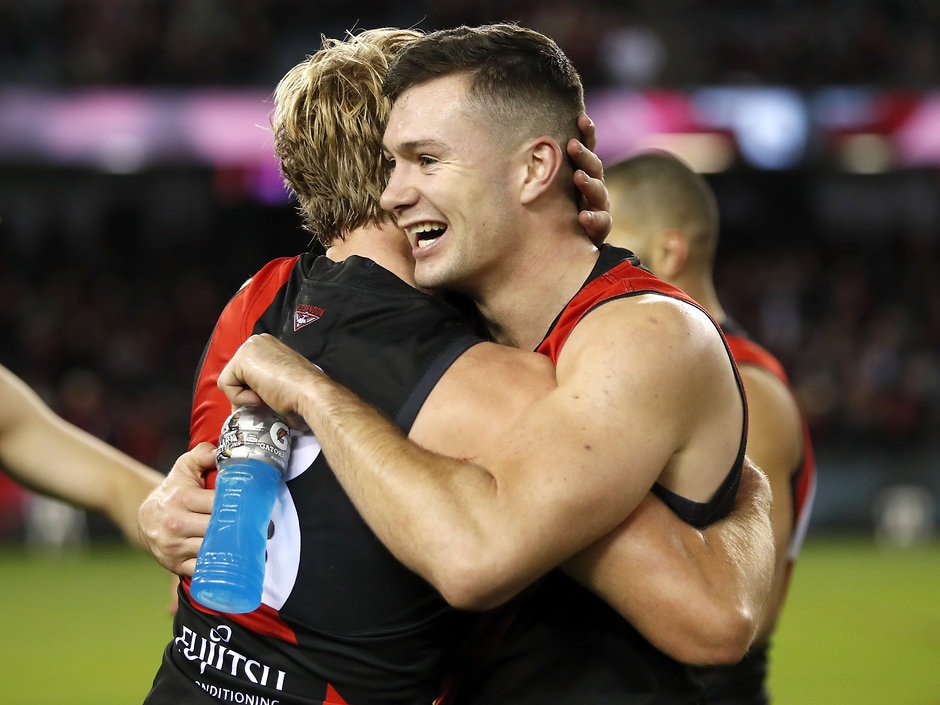 Essendon was able to (narrowly) beat the Suns without McKenna and he has returned in top form in what has been a career-best season.
McKenna has focused on finding more of the ball and his average is up to 20.35 disposals and nearly five rebound 50s this season, compared to 17 and 3.5 last year.
He's also found a rhythm alongside Saad and fellow running back Mason Redman as the trio slingshot Essendon out of defence into attack, although he is yet to challenge Saad in a foot race. "He'd win over a short distance but make it longer and I'd win," he said.
McKenna's licence to thrill is a key part of Essendon's return to September.
"The instruction is to defend first, and then if I think I can take it on, do it. You know you're going to make mistakes and turn the ball over a couple of times, but that's fine if you learn from it," he said.
Conor McKenna from downtown!

Brings it within 3 points for the Dons.#AFLSwansDons pic.twitter.com/7A81KzF8au

— AFL (@AFL) May 10, 2019
The mindset harks back to Ireland, where McKenna was a young star in the county of Tyrone in the north.
"In Gaelic it's all about going forward at all costs. It's a bit different because I played as a forward in Gaelic, but as a defender it's natural for me to get the ball and get it going as quick as possible," he said.
"There's no marks in our game at home, it's just always play on and if I see two or three metres of space, I just try to take off. You can always kick the ball long if you have to, but I try to look for the better option to start."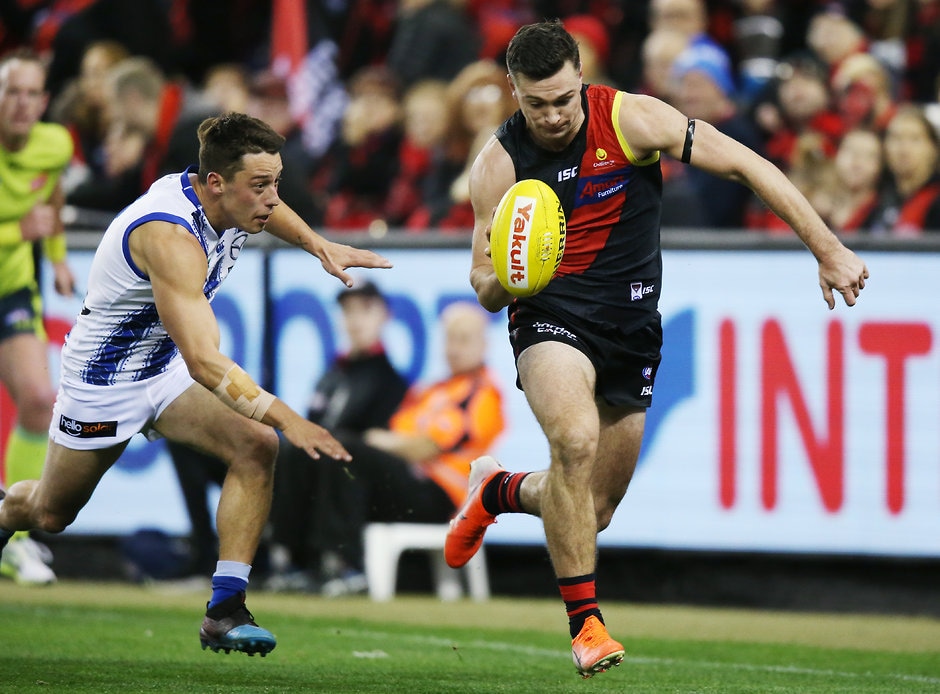 McKenna, who has two more years to run on his contract, is now an established player at AFL level, having registered 71 games since signing with Essendon at the end of 2014.
But there are still things he is getting his head around, and more tricks he would like to pull out.
On several occasions this year he has chipped the ball to himself while on the run, including one against Adelaide in round 18 when he bamboozled opponent Lachlan Murphy and ran past him after the 'solo'.
The dummy, Gaelic style, from McKenna! ☘️#AFLCrowsDons pic.twitter.com/84vGZxPQt2

— AFL (@AFL) July 19, 2019
"It's not natural for the Australians to recognise [the solo] so it's probably something I can take advantage of," he said.
"The one where you run along and flick the ball up is pretty hard to do unless it's sitting still on the ground but hopefully I can try it at some stage too. Playing soccer and Gaelic I always had the ball at my feet so it's natural to me."
He does, however, think the Australian game is too long. "It's two and a half hours with the breaks, and I still find that strange. I think it would be a better standard game if it was shorter too. Gaelic football is 60 minutes," he said.
McKenna, replete with peroxide blond hair he wanted to do before the wedding but thought he'd wait until after ("I would've got a slap if I went back with it," he said), is a vital player in Essendon's finals chances.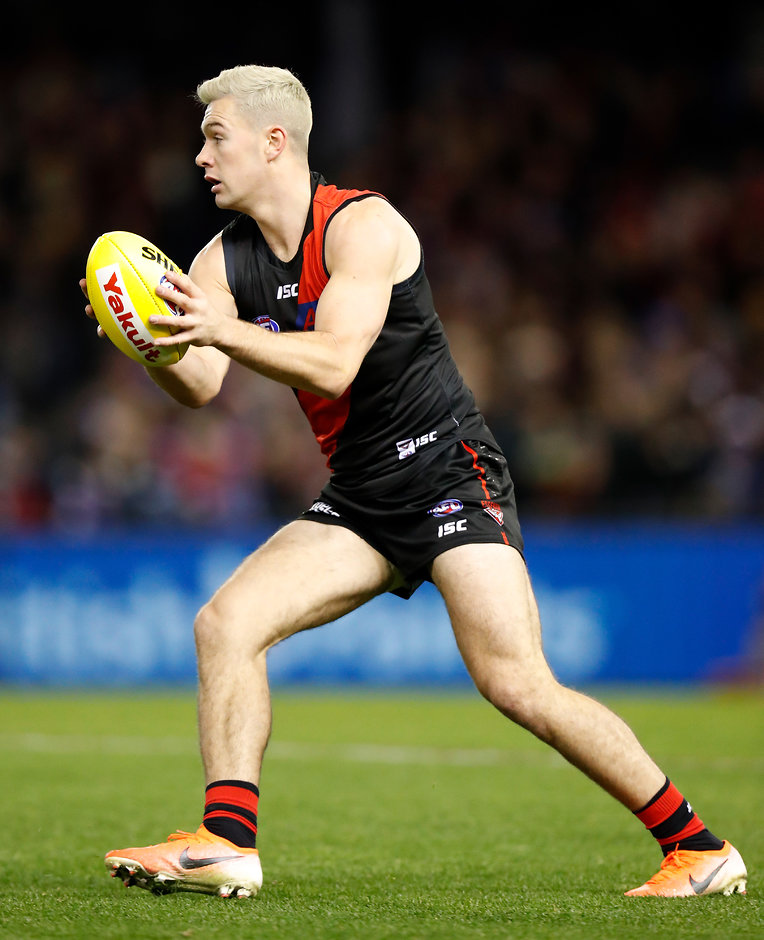 The Bombers locked in their top-eight place last week against Fremantle and could face their round 23 opponent, the Magpies, again in an elimination final. It is their first final since 2017 loss to Sydney, which McKenna featured in.
Next year, though, you might see McKenna in a different role. If he has his way, that is.
"I would like to go back forward. I like playing forward. Maybe next year I could try forward again, but I'm not sure the coaches will let me," he said.
"I started as a forward the first year and then in my second year, when the players were suspended, the ball didn't come in that much so it was a bit harder. I'd like to eventually end up there. I like kicking goals."