DAVID Armitage doesn't think he'd be preparing for his 100th AFL game this Sunday if Ross Lyon hadn't come to St Kilda at the end of 2006.
The 26-year-old is the first to admit it took him longer than the average player to realise the dedication needed to play at the highest level.
He's needed reminders along the way, with Lyon's successor Scott Watters having an early conversation with him about maintaining one per-cent efforts.
But it was an honest admission from Lyon when he first came to the club that was the first real jolt Armitage experienced as an AFL player.
"He was just very stern and very honest. He pretty much pulled me in a couple of times to his office and said, 'You're not going to make it unless you do A, B, and C'," Armitage told AFL.com.au in the lead up to Sunday's clash with Carlton.
"It was on the table pretty early for me and the quicker I got it, the better I was.
"He was a really good coach for me … and the likes of Jarryn Geary and Robert Eddy and other blokes coming through at that time – Jack Steven as well.
"He taught us how to be really professional athletes pretty early on.
"Sometimes he was really hard but I'd say fair and who knows, if it wasn't for those stern 'talking-tos' and 'this is how it is' discussions, who knows if I would have played 100 or not.
"I'm certainly grateful for his input in five years."
It wasn't the first time Armitage had been told he wouldn't make it as a footballer.
When he moved from the Queensland town of Mackay to Brisbane as a 16-year-old to play for Morningside, his mates were sceptical.
They told him he'd be home within weeks because he didn't have the drive required to be drafted.
But he did, and his second season in Brisbane after moving out of former North Melbourne player Gavin Urquhart's family home and in with Morningside football manager Jack Barry saw him shine.
He was recruited by the Saints with pick No. 9 overall in the 2006 NAB AFL Draft and moved to Melbourne as a kid known to possess agility, versatility and a decent endurance base.
It wasn't until Lyon got there Armitage learned the importance of defence.
He hadn't really concerned himself with the concept while playing in a "pretty weak competition" in Mackay or when being tagged in his teenager years.
All of a sudden, he was asked to move defence to the top of his priority list.
"I was always good at attacking the ball and the man; it was the other side of things," he said.
"I'd never really had to defend before.
"That was probably one of the biggest things. Team defence was so big with Ross and it's where the game is won and lost in AFL now.
"If you're not in the top four for defence you're probably not going to play off in a grand final.
"It was something I had to grasp and I'm still learning now – it's my eighth year and there's still things I'm trying to get better at defensively."
Ross Lyon talks to David Armitage at the 2006 NAB AFL Draft. Picture: AFL Media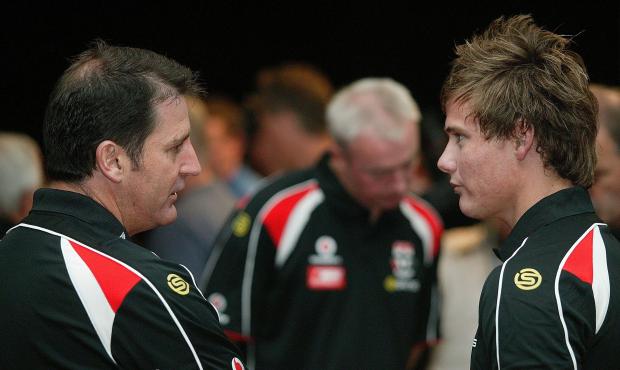 Armitage has flagged his interest in becoming St Kilda's captain but would be happy for Nick Riewoldt to see out his playing days in the role.
"I think everyone would like to but we've got Nick and he's been incredible and I've learned so much off him with the way he goes about it and how professional he is," he said.
Reaching the 100-game milestone has taken Armitage longer than most, given he played just 28 games across his first four seasons.
Injuries – like the hamstring he strained in the last training session of the 2009 pre-season that delayed his start to the playing year before the team won 19 games in a row, and the medial ligament he tore in his knee twice in 2010 – hurt.
But it was the issues with personal discipline that compounded those complaints.
For the Queensland kid who toyed with rugby league but in the end was influenced by his Tasmanian father Greg and his love of Australian Rules, Sunday's achievement is significant.
Greg and Armitage's mother Annette, along with various family members and mates, will be there to watch the Saints face the Blues at Etihad Stadium.
After Armitage's horrific knee injury in round four that split open his kneecap and needed two bouts of surgery to alleviate an infection, he's hoping to play well.
Last week's loss to Richmond was the first time his knee hadn't hurt since he came back in round 13 from the sickening injury that saw him lose six kilograms.
It's been a journey to 100 that's had its ups and downs but has delivered lessons Armitage is only starting to realise the significance of now.
"I just didn't think I'd get there in the early days - if anything, it's taken awhile," he said.
"I'm over the moon. Before I got drafted, who would have thought I'd play this many games?
"I would have been happy to get drafted because being on a list is something special in itself.
"To get here is something I'll look back on and who knows if there's another 100 or not but it's a massive achievement for myself and my family so I'm really happy."