•
The 2014 NAB AFL Rising Star Award as it happened
•
21 years of Rising Star winners in history
•
Full coverage at the NAB AFL Rising Star hub
AN "HONOURED" Lewis Taylor has thanked his father Simon for the crucial role he played in getting him to a position to claim the 2014 NAB AFL Rising Star.
The 19-year-old Brisbane Lion polled 39 votes on Wednesday, one more than the Western Bulldogs' Marcus Bontempelli, to win the Ron Evans medal.
North Melbourne's Luke McDonald was third, with 32.
Taylor, who is estranged from his mother and was raised with his brother Toby by their father, said Simon's role in his journey from grassroots football to the Lions was pivotal.
"Dad's been great for me, getting me to games, where I need to be, training, representative stuff," Taylor said on Wednesday after winning the award.
"We've had some good times along the way so I'm very thankful.
"He's worked hard to get me and my brother back and settle us down and get us on the right path, which he's done."
Brisbane Lion Lewis Taylor with the 2014 NAB AFL Rising Star Award. Picture: AFL Media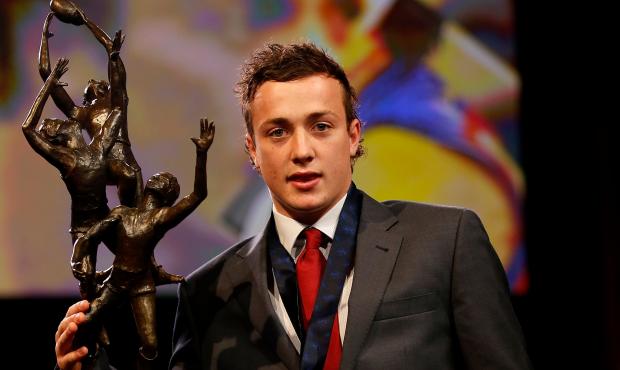 Wednesday afternoon's count at Crown in Melbourne was the closest since the prestigious award for the game's best young player was introduced in 1993.
Taylor was one of the bright lights for the Lions this season, making his debut in round one and playing every match.
He was one of only two nominated players (Sydney Swans Harry Cunningham was the other) and one of only three Lion players to play every match this season. Taylor averaged 84 per cent of playing time.
Of the 23 nominees, Taylor had the most disposals (371), the third-most score involvements (86) and fifth-most contested possessions (109).
Taylor averaged 17 disposals, five contested and 12 uncontested possessions, four marks, two inside 50s and two tackles. He kicked 12 goals.
Taylor receives the Ron Evans medal from last year's winner Jaeger O'Meara. Picture: AFL Media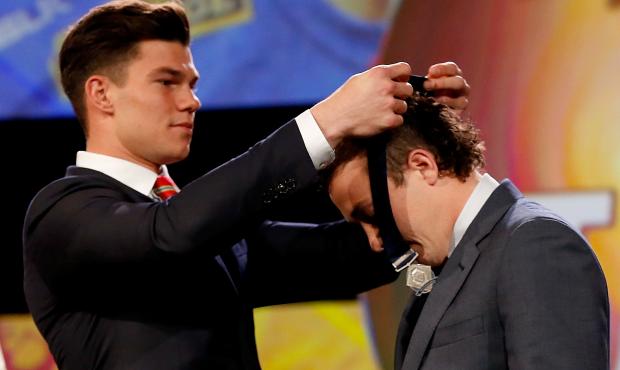 Lions football manager Dean Warren praised Taylor's determination after he was kept in a moon boot until after Christmas last year because of stress fractures.
"His resilience has been remarkable. Not only did he get himself up, he played a couple of NEAFL games leading into round one," Warren said.
"His form, you could see he was just a busy little player.
"Not only was it his resilience to get to the line for round one, but his resilience over the course of the season has been remarkable, not only physically but mentally.
"When you expect a lot of first year players to start flagging mentally ... he certainty didn't so that's a real credit."
2014 NAB AFL Rising Star
| Player | Team | Votes |
| --- | --- | --- |
| Lewis Taylor | BL | 39 |
| Marcus Bontempelli | WB | 38 |
| Luke McDonald | NM | 32 |
| James Aish | BL | 19 |
| Kade Kolodjashnij | GC | 7 |
| Luke Dunstan | STK | 5 |
| Tom Langdon | COLL | 5 |
| Harry Cunningham | SYD | 3 |
| Josh Kelly | GWS | 1 |
| Jarman Impey | PORT | 1 |
Taylor
was nominated for the NAB AFL Rising Star in round nine
after an impressive performance against North Melbourne. He collected 20 disposals, took eight marks and registered three tackles in that match, a loss.
Taylor was selection no.28 in the 2013 NAB AFL Draft. He played junior football for Terang-Mortlake in western Victoria and the Geelong Falcons.
He captained Vic Country in the 2013 NAB AFL Under-18 Championships and was named in the 2013 Under-18 All-Australian team. He was a member of the 2012 AIS-AFL Academy level two squad.
The class of 2014 (l-r): Matt Crouch, James Aish, Darcy Gardiner, Taylor, Luke Dunstan. Picture: AFL Media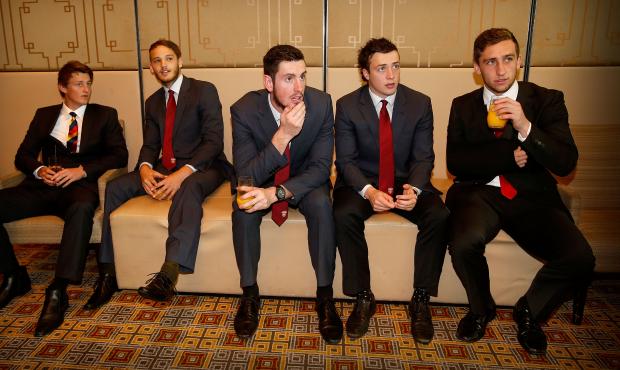 Taylor said he didn't expect much coming into his first AFL season and his initial focus was to get over his injury and give himself the chance to play in round one.
He also said he was forced to overcome doubts over his height throughout his career but had responded to those who didn't think he could make it by working hard.
"It didn't faze me too much at all. I just go out there and try and do my thing and work hard at things I need to work on instead of doubting myself about my height," he said.
"I think I'm just someone who wants to work hard. I like to think I've had that trait my whole life so it definitely helps you out."
It was just 12 months ago that the Lions were facing an exodus of players wanting to leave the club for their home states.
But Taylor said he "couldn't ask for a better place to be at the moment", which Warren put down to the improved resources at the club that have made it a "stronger" place.
"We had 10 players debut this year – I think that's a remarkable achievement in a year where we had seven wins," Warren said.
"The quality of the young guys that have come into our club are outstanding.
"While we had some leave, what it did do is allow us to balance out our list pretty well with the type of players we've brought in.
"Not only do they look like they're going to be exceptional players, but they're exceptional young men."
Taylor is the fourth Brisbane player to win the Rising Star. Chris Scott was the inaugural winner, Nathan Buckley took the prize in 1994 and Daniel Rich won it in 2009.
Taylor receives the Ron Evans Medal and a $20,000 investment portfolio courtesy of National Australia Bank.
How the selectors votedGillon McLachlan
5 – Lewis Taylor
4 – Marcus Bontempelli
3 – Luke McDonald
2 – James Aish
1 – Harry Cunningham
Mark Evans
5 – Lewis Taylor
4 – Marcus Bontempelli
3 – James Aish
2 – Luke Dunstan
1 – Harry Cunningham
Danny Frawley
5 – Lewis Taylor
4 – Marcus Bontempelli
3 – Luke McDonald
2 – Kade Kolodjashnij
1 – Harry Cunningham
Warren Tredrea
5 – Luke McDonald
4 – Marcus Bontempelli
3 – Lewis Taylor
2 – Kade Kolodjashnij
1 – Jarman Impey
Glen Jakovich
5 – Lewis Taylor
4 – James Aish
3 – Marcus Bontempelli
2 – Luke McDonald
1 – Luke Dunstan
Cameron Ling
5 – James Aish
4 – Luke McDonald
3 – Tom Langdon
2 – Marcus Bontempelli
1 – Luke Dunstan
Luke Darcy
5 – Marcus Bontempelli
4 – Luke McDonald
3 – Lewis Taylor
2 – Kade Kolodjashnij
1 – James Aish
Matthew Richardson
5 – Lewis Taylor
4 – Marcus Bontempelli
3 – Luke McDonald
2 – James Aish
1 – Josh Kelly
Kevin Bartlett
5 – Luke McDonald
4 – Lewis Taylor
3 – Marcus Bontempelli
2 – James Aish
1 – Luke Dunstan
Kevin Sheehan
5 – Marcus Bontempelli
4 – Lewis Taylor
3 – Luke McDonald
2 – Tom Langdon
1 – Kade Kolodjashnij
NAB AFL Rising Star winners: 1993-present
| Year | Player | Club | Votes | Recruited from |
| --- | --- | --- | --- | --- |
| 2014 | Lewis Taylor | BL | 39 | Terang-Mortlake (Vic) |
| 2013 | Jaeger O'Meara | GCFC | 44 | Perth (WA) |
| 2012 | Daniel Talia | ADEL | 43 | Calder Cannons (VIC) |
| 2011 | Dyson Heppell | ESS | 44 | Gippsland Power (VIC) |
| 2010 | Daniel Hannebery | SYD | 45 | Kew (VIC) |
| 2009 | Daniel Rich | BL | 45 | Subiaco (WA) |
| 2008 | Rhys Palmer | FRE | 44 | East Fremantle (WA) |
| 2007 | Joel Selwood | GEEL | 44 | Bendigo U18 |
| 2006 | Danyle Pearce | PORT | 43 | Sturt (SA) |
| 2005 | Brett Deledio | RICH | 43 | Kyabram/ Murray U18 |
| 2004 | Jared Rivers | MELB | 45 | North Adelaide (SA) |
| 2003 | Sam Mitchell | HAW | 33 | Mooroolbark/ Eastern U18 |
| 2002 | Nick Riewoldt | STK | 34 | Southport (Qld) |
| 2001 | Justin Koschitzke | STK | 31 | Albury (NSW)/ Murray U18 |
| 2000 | Paul Hasleby | FRE | 33 | East Fremantle (WA) |
| 1999 | Adam Goodes | SYD | 33 | Horsham/ North Ballarat U18 |
| 1998 | Byron Pickett | NMFC | 30 | Port Adelaide (SANFL) |
| 1997 | Michael Wilson | PORT | 27 | Port Adelaide (SANFL) |
| 1996 | Ben Cousins | WCE | - | East Fremantle (WA) |
| 1995 | Nick Holland | HAW | - | North Adelaide (SA) |
| 1994 | Chris Scott | BL | - | Eastern U18 |
| 1993 | Nathan Buckley | BL | - | Port Adelaide (SANFL) |