• Andrew Demetriou will stand down as CEO at the end of 2014
• AFL to begin 2-3 month search for a replacement
• Deputy CEO Gillon McLachlan among leading candidates for top job
• Demetriou denies AFL could have done more to prevent Essendon supplements crisis
ANDREW Demetriou has announced he will stand down as AFL chief executive at the end of the season.
He will leave the game after 11 years as the game's most powerful figure, with his decision to resign coming after his most challenging 12 months, which was dominated by the Essendon supplements scandal.
Demetriou, who took over from Wayne Jackson as League CEO in 2003, served as chief executive of the AFL Players Association between 1998 and 2000 and was then AFL football operations manager.
He announced his impending departure at a media conference with League chairman Mike Fitzpatrick.
Demetriou said he told Fitzpatrick of his intention to quit when they were both at the NFL Super Bowl on February 2, having held discussions on a transition since 2012.
"Every organisation needs renewal, needs a new set of eyes.
"I've always said it was a privilege and an honour to serve the game.
"I also believe the time is right.
"The growth of the game has been extraordinary.
"It's been a wonderful journey full of challenges but I wouldn't have it any other way."
And he noted, "I leave the game with no regrets."
Timeline: The Andrew Demetriou era
Demetriou hoped the year-long anti-doping saga surrounding Essendon would not taint his legacy.
"That will be for others to judge.
"Hopefully people won't take a snapshot of one point in time.
"Everything at the AFL has been done as a collective.
"We've achieved so much of what we've done as a collective. It will be for others to judge (whether I've done a good job)."
Demetriou repeated regrets expressed previously that the AFL hadn't moved earlier on concerns mounting about the level of regulation in sports science within AFL, but he defended his response since the Essendon scandal broke in early 2013.
"We (Demetriou and Fitzpatrick) were both concerned about sport science a couple of years ago," he said.
"Whether we could've acted earlier ... we just weren't in a position there. There was enough hearsay to have us worried.
"The AFL has done all it can do in this situation. I'm proud of how we acted last year.
"We've enhanced the anti-doping code. What happens thereafter is in ASADA's hands. We are well equipped with any issue going forward."
Who's in the running to fill Demetriou's shoes?
Asked if he accepted any responsibility for the Essendon scandal, Demetriou responded strongly.
"I don't accept any responsibility for people who try to infiltrate the game," he said.
"Even as good as our integrity department was, we didn't pick that up.
"That's not a fault. You don't pick up every speeding fine. The AFL's in much better shape today as an industry because of what we learned last year."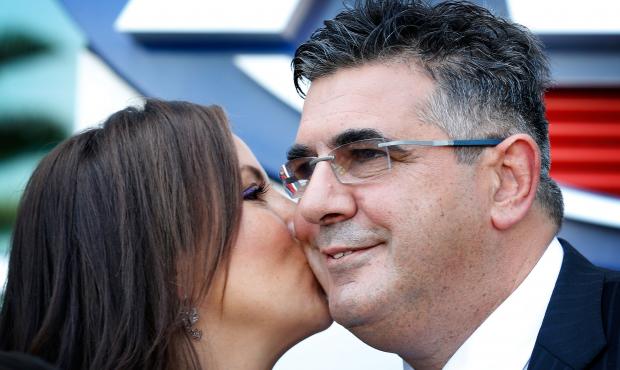 Andrew Demetriou gets a kiss from wife Symone after announcing his intention to quit: Picture: AFL Media
Demetriou said he was "looking forward to the next part of my life and the challenges that lie ahead. I'm young, I want to work and I have some roles left in me, so if anyone is listening ..."
He said he would not join the AFL Commission, nor did politics hold any interest for him.
An emotional Demetriou also thanked his wife Symone and his family for their support.
Fitzpatrick said one of Demetriou's greatest achievements had been "his determination to give our game an ethical underpinning - a conscience", describing the departing CEO as "one of the most influential chief executive officers in the history of the game".
The AFL will engage an executive search company to identify a successor, with an expected time frame of two to three months.
The 15 biggest issues facing the AFL's next CEO
Under Demetriou's leadership the competition has grown to 18 teams, with the introduction of Gold Coast and Greater Western Sydney, and crowd and membership numbers have increased.
However, the 52-year-old endured a difficult 2013, which was dominated by Essendon's supplements saga.
Demetriou also oversaw investigations into alleged tanking at Melbourne and, late in 2012, breaches of the salary cap and draft tampering by Adelaide.
His financial legacy is unrivalled, having negotiated consecutive record-breaking TV rights deals fetching $780 million in 2005 and $1.25 billion in 2011.
Demetriou also orchestrated the historic 2000 collective bargaining agreement when leading the AFLPA.
He played 103 games for North Melbourne between 1981-87, retiring after one season with Hawthorn in 1988.