AFL UMPIRE Simon Meredith has made a remarkable return from a major health scare mid-season to be selected as one of the three field umpires for the 2014 AFL Grand Final.
Meredith was hospitalised after suffering bleeding on the brain (a subarachnoid haemorrhage) following the round 13 clash between Port Adelaide and the Sydney Swans.
At the time, he wondered whether he would ever umpire again.
But on Saturday he will join Matt Stevic and Mathew Nicholls to officiate in his third consecutive Grand Final.
"At times I thought I pretty much won't umpire again, let alone get back to the AFL level and have a chance of running out with these guys on Saturday," Meredith said on Tuesday.
Meredith had six weeks off after being hospitalised, before returning to umpire in round 21 and has performed so well he has won the coveted position.
"It was pretty scary when it happened," Meredith said. "It was good to get back home first and foremost and see the wife and kids and get my health back."
Initially he suffered headaches for several days after training but gradually he felt normal again, won the all clear from the neurosurgeon and then from umpires coach Hayden Kennedy.
"It's obviously turned out really well," Meredith said.
Meredith is now fully recovered and off medication and says it was more of a physical challenge than a mental one to return.
Stevic said the umpires were proud of their colleague's efforts and he well and truly deserved the gig.
Meredith has umpired in the past three Grand Finals, while Stevic umpired the 2012 Grand Final between Hawthorn and the Swans, while Nicholls umpired his first Grand Final last year.
The trio are yet to decide who will take the first bounce but are confident whoever gets the nod will start the game off well.
Meredith took the first bounce in last year's Grand Final but Nicholls joked it might be a case of playing rock-paper-scissors to decide who takes that responsibility.
As to whether it was a dream or a nightmare to be forced to make a crucial decision late in a tight game, Meredith said it was not something the umpires' feared.
"I don't think any of us dream about having an impact on the game," Meredith said. "We just want to go out and do our job and hopefully don't get noticed.
Simon Meredith (l), Matt Stevic and Mathew Nichols (r) will umpire the 2014 Grand Final. Picture: AFL Media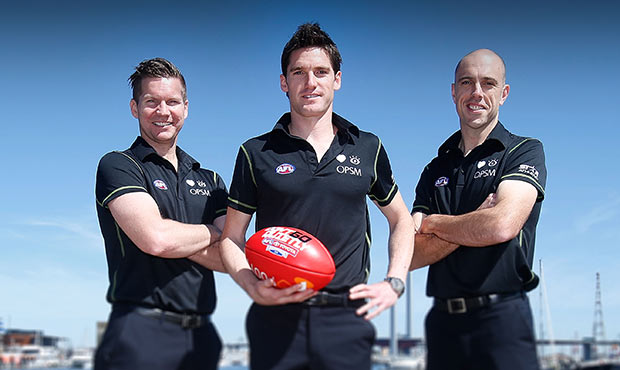 Field Umpires
Matt Stevic
AFL Debut: 2004.
251 AFL Games, 20 Finals.
All Australian: 2012.
2012 Grand Final
Mathew Nicholls
AFL Debut: 2003.
229 AFL Games, 13 Finals.
2013 Grand Final
Simon Meredith
AFL Debut: 2004.
235 AFL Games, 17 Finals.
2012 and 2013 Grand Finals
Emergency: Troy Pannell
AFL Debut: 2005.
150 AFL Games, Five Finals.
No Grand Finals
Boundary Umpires
Nathan Doig
187 AFL Games, 14 Finals.
2011 and 2013 Grand Finals
Matthew Tomkins
69 AFL Games, Six Finals.
First Grand Final
Ian Burrows
198 AFL Games, 22 Finals.
2008, 2010, 2010 Replay and 2012 Grand Finals
Mark Thomson
301 AFL Games, 24 Finals.
2009, 2010, 2010 Replay and 2011 Grand Finals
Emergency Boundary Umpire: Christopher Gordon
140 AFL Games, 12 Finals.
2011 Grand Final
Goal Umpires:
Luke Walker
198 AFL Games, 29 Finals.
Five AFL Grand Finals: 2010, 2010 replay, 2011, 2012 and 2013
Chris Appleton
185 AFL matches. 15 Finals.
Grand Final Debut
Emergency Goal Umpire: Chelsea Roffey
166 AFL Games, 14 Finals.
2012 Grand Final