Is the Sydney Swans' ability to recruit Kurt Tippett and Lance Franklin in consecutive years proof they no longer need the cost of living allowance?
Our view has been consistent. We were always going to review the cost of living allowance. It's being reviewed now in the context of the whole equalisation debate and moving to a pure salary cap. It is not being reviewed in the context of Tippett and Franklin and it's a key part of the equalisation discussion, along with things like veterans' allowances. It will be looked at in that context, but we haven't formed a view and the commission hasn't formed a view. But we will before the end of the year.
Is it true that even if the Swans lose their cost of living allowance, the Giants might keep theirs?
There's been no view formed other than to say all the clubs accept that the two expansion clubs have got some unique costs associated with being new clubs. As long as the Giants and Gold Coast can demonstrate those costs are unique to them I think most of the clubs, if not all, support the fact that they should be treated a little bit differently.
If the nine-year Franklin deal ends up hurting the Swans on and off the field, would the AFL bail them out?
No, they're decisions taken by the (Swans) board. In fact, the board has agreed that they know they have to pay the whole consideration in that contract. The AFL will not intervene. They know the rules, they fully understand that all of that contract goes into the cap. There will be no special dispensation. There wouldn't be for any club to be honest. But the Sydney Swans are aware of that.
Have you sensed a bit of anger among opposition clubs that the Swans were able to pull off the Franklin coup?
Yes and they've echoed that publicly. They've had concerns around whether the Swans used the cost of living allowance [to sign Franklin]. But I think people have moved on and they've accepted it. They signed him within the rules and, as long as it's within the rules, people accept that.
Do you have concerns about clubs offering such long-term contracts?
We do. It's something that we said we would take up with the Players' Association in the collective bargaining agreement review. And not just because of what happened with 'Buddy' Franklin, but more so about what might happen into the future and how we can stop things from getting out of hand on that front.
What do you envisage you could do? Could you put a ceiling on the length of contracts that clubs can offer?
That was one thing that's been mooted, but we haven't even sat down to talk about it yet.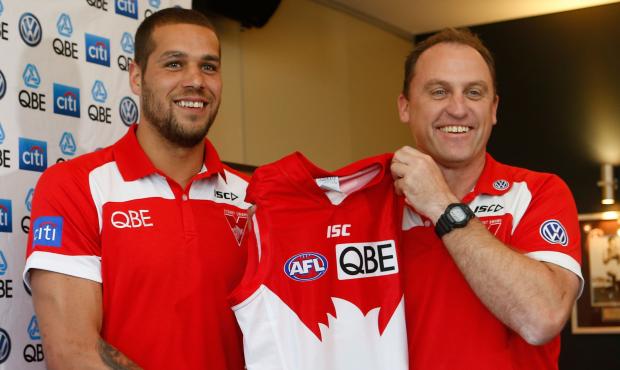 Lance Franklin's nine-year deal in Sydney has prompted the AFL to flag a review. Picture: AFL Media

There seems to have been a simmering tension between the AFL and Essendon since the supplements penalties were handed down. Is that fair?
I think in any situation where you're dealing with a club on issues that are so emotional there is bound to be some tension. I'd defy anyone to say that wouldn't be the case. In Essendon's case, they ended up not playing in the finals, lost draft picks and received financial sanctions.

Thankfully, Essendon and the AFL have agreed to move forward and work collaboratively. We're going out there next week to see the new facility (at Tullamarine). I've had several conversations with Paul Little. We want to help Essendon if they need help. They're a very important club in this competition. They want to move forward, we want to move forward and, most importantly, the supporters want us all to move forward. So that's what we're trying to do.

The Bombers have had some governance slip-ups since the supplements penalties were handed down: they failed to get permission for potential recruits to train with them ahead of the drafts; and Collingwood complained about their communications with one of their recruiters. What have you made of that?
Given all of the issues they had last year it's probably no surprise that a couple of things slipped through the cracks. And you've seen recently through the announcement from Paul Little that they've put some new measures in around governance, which seem to be appropriate measures. I guess you've got to cut them a little bit of slack given the year that they had, the changes in personnel, etcetera. Those things have occurred, but they're on the minor end of the scale, they acknowledge them and I think now that they've put in place a better set-up you probably won't see those things happen again.

The Brisbane Lions' membership and attendance numbers have been down for some years, they lost $1.5 million last year and had a group of young players leave the club for various reasons. Have you got concerns about them?
We have, but we've been working pretty closely with them, working on the Springfield development, supporting them on that. We helped them with their board composition, we've helped them financially next year and intend doing so into the future. We're also supporting them with resources in some of their admin functions. We want the Brisbane Lions to succeed.

I think they're coming out of the worst of it. The team is on the up, they've got a new coach (Justin Leppitsch) and they finished well last year on the field. They've also got a gaming facility that produces some good results for them.

But it's a competitive market. They've got the Queensland Reds there, they've got the Brisbane Broncos, Gold Coast is on the up. We want to see them succeed and they understand what's in front of them. But I think they've come out of the worst of it.

Has the formation of the Suns made it even harder for the Lions in the Queensland market?
I don't know if hard is the right word. It's forced them to compete more fiercely and in fairness to them we've probably put a lot of our resources and time into the Suns to get them up and running. Which probably means we took our eye off the Brisbane Lions, so we're very prepared to address that and remedy that.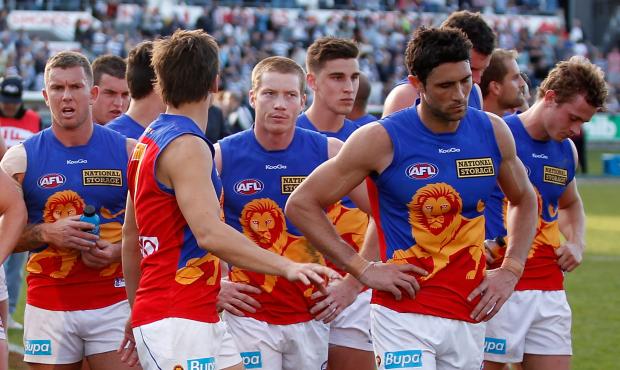 The Lions have endured a tough period but Demetriou is confident they are recovering. Picture: AFL Media

What was your reaction to Alastair Clarkson's call for AFL coaches to be accredited and have at least two years' coaching experience before taking on a senior job?
He presented that to the Commission on Monday and from our perspective it was very well received. It's not an unreasonable expectation that in most industries if you're going to work in a particular role you go through some form of training, induction or accreditation. He made the point that at junior levels you've got to get accredited, you've got to go through levels one, two and three. At AFL level, you don't.

We've also seen recently with people like Ken Hinkley, Alan Richardson and Damien Hardwick that guys who have been in the system for a while seem to be better equipped as senior coaches.

Alastair has the interests of the competition at heart. He's trying to enhance the competition, protect it from going down the track of having issues and one of his suggestions was having formalised training and accreditation.

To encourage recently retired players to gain experience coaching their own team at TAC Cup or state league level, can those jobs' salaries be boosted?
Alastair talked about that the other day and again that's something you'd have to think about if you went down this track of accreditation because it's true that some players suffer a huge drop in income when they retire. While not all coaches are going to earn a particular amount of money, some assistant coaches earn a lot of money in their first year, so you might need to find the happy balance between the two.

Alastair's view about getting some experience at TAC Cup level, at Central District (in the SANFL) or wherever it might be has got some legitimacy.

Can equalisation work without some form of cap on football department spending?
Revenue sharing can work. The problem that we've got – and it's something we constantly discuss – is we think we know how to do the revenue sharing but we need to put a handbrake on the spending. Because while you might revenue share there's nothing to create a disincentive for clubs to keep spending eight-10 per cent extra in their football department (every year). When clubs have got the capacity to do that it distorts things, it doesn't stop hyper-inflation.

So what's the lever, for want of a better word, that can put a handbrake on while you're doing this revenue sharing? That's the tricky part.

Do you expect new commissioner Kim Williams to play an active part in the new TV rights negotiations?
That will be a decision for the chairman. But we have a broadcasting subcommittee, which has two or three Commissioners on it. Kim has got great experience in that area. It will be a decision for Mike (Fitzpatrick), but we're delighted to have Kim. He came to the first meeting and we can already see the benefit of having him there.

Will the AFL be in a position to broadcast games in its own right from the start of the next broadcast rights deal in 2017?
Anything's possible. We'll be in a different world by then. Who knows what it will look like and who knows what the speed will be of transmission and so forth? There will be new technology we haven't even envisaged today. I think we've got an open mind to that sort of thing.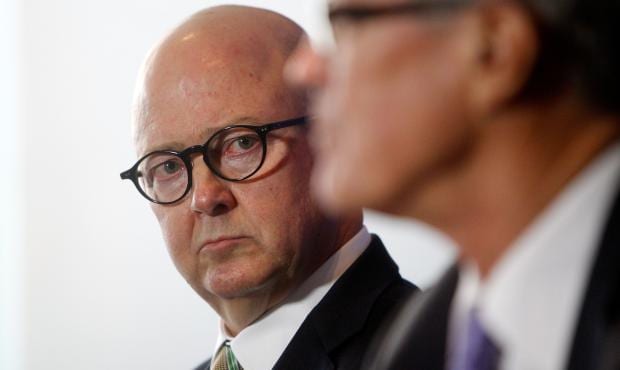 New commissioner Kim Williams has already proved his value, Demetriou says. Picture: AFL Media

Some clubs believe that the AFLPA's push for greater work-life balance for players has gone too far. Do you have a view on that?
I was a supporter of the work-life balance and what I would say is the people who resisted the change said that some players would come back overweight and unfit and that we would have more incidents because they would be away from the club (for longer).

But we've had the opposite. We haven't had one incident off field, touch wood, and I haven't had many reports abut players coming back out of condition. And if they do come back out of condition, they're dealt with.

I think on a positive note the clubs took a bit of a leap of faith giving the players a longer break. I think the players have responded and I think overall it's the right decision. I don't think the AFLPA has gone too far at all.

What is the opening of the Adelaide Oval this year going to do for football in South Australia?
It's going to be great for South Australia, full stop. Because the whole precinct has been revitalised, there's work going on around the casino and the hospital, and the connection into the city with the footbridge is marvellous. The night games there will be amazing for the CBD.

For the two clubs it's enormous. It's a huge increase in their revenues, which means they can become self-reliant. I think Port Adelaide will find a new supporter base of people who want to support them at the Adelaide Oval, but wouldn't go out to AAMI. And people will just enjoy the great facility.

AAMI was tired, it had served its purpose. It wasn't in the best location and they won't know themselves being in the CBD and this world-class facility.

THE CHIEF'S CRYSTAL BALL
Top four Fremantle, Hawthorn, North Melbourne, Richmond
Bolter Gold Coast
Grand finalists Fremantle and Hawthorn
Premier Fremantle
Coach of the year Ross Lyon
Wooden spooner Too hard to say
Brownlow medallist Gary Ablett
Rising Star Jack Martin
Can Gold Coast make the finals? Yes
How many goals will Buddy kick? 73
How many wins will Paul Roos lead the Dees to? Eight
Will James Frawley stay at Melbourne? I hope so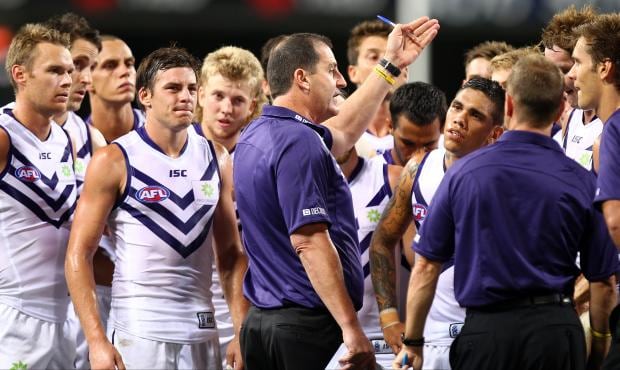 The chief has tipped Ross Lyon's Dockers to go one step further than 2013. Picture: AFL Media