AFTER 268 games across two clubs and a brief stint as a nominated rookie, Carlton veteran Heath Scotland has been forced to retire due to a degenerative ankle injury.
The 33-year-old announced the decision on Tuesday, having played four games this season.
He will be moved on to Carlton's long-term injury list before officially retiring at season's end.
An emotional Scotland said the last few years of his career had become focused on the "constant management" of his ankle, and it had taken a toll.
"I've given it every opportunity to get up and I was hoping I could get one more year out of it but it's just becoming too much physically, emotionally and mentally to get myself up to play," Scotland said.
"I owe it to the coaches, players and supporters that when you're going out there, you're giving it 100 per cent effort.
"Right now, my week consists of trying to get up to perform on the weekend.
"I struggle to go up and down the stairs at home during the week, I struggle to train, to get up to get to a level to get some fitness.
"I can't go out there and compete to the standard required, to what these boys deserve.
"I've always prided myself on being a hard worker and hard trainer, and pushing myself as hard as I can, and in the last year and a half, I haven't been able to do that."
The Blues made the announcement at this stage of the season to avoid it being lost in the flurry of retirements at the end of the year.
Scotland told his teammates earlier on Tuesday and was surprised at how emotional he became.
He said he wasn't sure what the next phase of his life looked like but would speak to the club in the coming weeks about potentially staying involved.
He also said he was embracing a midfield coaching role with Vic Country this year, which gave him a distraction while his body failed.
"I'd be interested definitely to go down the coaching path," he said.
"In the last few years, I've been working at that and trying to get as much experience as possible.
"It's rewarding and I'm enjoying working with a lot of talented young boys who are keen and eager to learn, and it's been a nice focus for me.
"Mentally I've been battling some issues and it takes the focus away from my performance and I've been able to get a lot of enjoyment out of it."
After being drafted by Collingwood with selection No.44 in the 1998 national draft, Scotland played 53 games for the Pies – including the 2002 and 2003 losing Grand Finals - before being traded in 2003 to the Blues.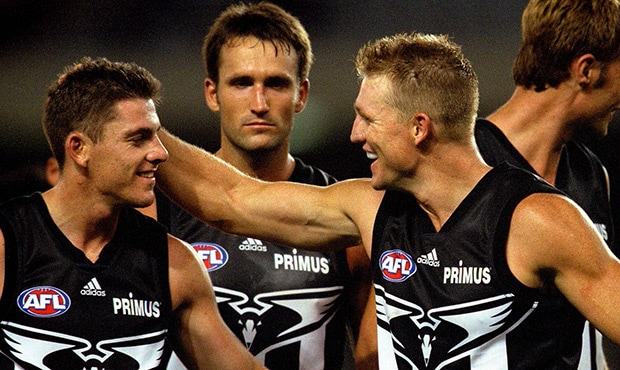 Heath Scotland celebrates a win with Nathan Buckley during the 2001 pre-season compeition. Picture: AFL Media
Scotland's coach Mick Malthouse praised his work ethic and determination to get the best out of himself through training, making him a "great role model" for coaches.
"He didn't get what he wanted with a premiership, but he can be very, very proud of his career," Malthouse said.
"When he moved [in 2003], I would say he'd probably play another 100 games because I just didn't see that player playing as often as he has, and it's testament to his courage and professionalism that's got him there.
"He's achieved far more than most players ever will."
Scotland played 215 games for Carlton, including the 2005 and 2007 pre-season premiership sides, and won the best and fairest in 2012.
This season, he signed on as a rookie, which enabled the Blues to use three picks in last year's NAB AFL Draft.
He was then promoted as one of two of the Blues' nominated rookies in the pre-season, which left him eligible to play in his 16th home-and-away season.
Scotland said one of his biggest regrets was failing to play in a premiership while one of his proudest moments was being made a life member of the Blues.