We can't have a competition without umpires but it's sometimes easy to forget them. AFL Media senior reporter Ashley Browne and photographer Lachlan Cunningham recently spent the best part of a week embedded with the AFL umpires, managers and coaches, gaining insight into their business, including the selection and review process, the demands of juggling family, work and other requirements with their craft, how they prepare for and recover from games, their relationships with players and what goes into one of their most critical tasks: settling on the Brownlow Medal votes. Here is the first of a five-part series running through Friday.
THE FIRST match committee meeting of any week in any football department takes place at noon on Monday in a first-floor office at AFL headquarters in Docklands.
While the 18 AFL clubs are still awaiting the results of medical scans and well before their first training sessions of the week, the AFL umpiring department meets to finalise umpiring appointments for the weekend.
They have little choice but to move quickly. Most of the umpires are part-time, and with a Friday night game in Adelaide between the Crows and Hawthorn kick-starting round 17, they need to let their employers know if they need time off and subsequently, arrangements at work and travel bookings need to be made.
AFL umpires' coach Hayden Kennedy kicks off the meeting and is joined by AFL national umpiring director Wayne Campbell and assistant coaches Michael Vozzo, Bryan Sheehan and Michael Jennings and analyst Briana Harvey.
There are 32 field umpires in the AFL's senior squad, but because of injuries and fitness concerns, there are only 27 available for that weekend, meaning all umpires involved in round 16 will get another game, irrespective of performance.
A first draft for the weekend's groupings has already been meticulously laid out on a whiteboard for all nine games, with field umpires' name magnets tagged green, boundary umpires orange, goal umpires blue and emergency umpires pink.
Kennedy gets started with a quick overview of the weekend just gone and with his computer screen faced towards the room rapidly runs through examples of issues umps need to focus on, including holding the ball, protecting ball carriers and consistency in adjudicating marking contests.
These areas will be the focus of the meeting with all umpires – field, boundary and goal – that will take place at Visy Park later that afternoon. Interestingly, the most contentious decision of the weekend,
Bomber Mark Baguley's tackle on Port Adelaide's Angus Monfries
, which wasn't paid as incorrect disposal, is not mentioned.
Other areas for discussion include the looming split round and veteran field umpire Shane McInerney's pending 400-game milestone.
Then come the appointments for the weekend, with the team spending about 30 minutes discussing form and fitness of the umpires and their groupings. Kennedy and Campbell run this part of the meeting, taking input from the others in the room.
An early decision is made to change the trio for the Adelaide-Hawthorn game. One of the mid-range umpires (they are ranked weekly from one to 32) has been performing well and Kennedy wants to see how he handles the white-hot glare of Friday night football.
The first draft has also listed a particularly strong combination for the Dockers-Giants Sunday twilight game in Perth, and again the decision is made to take an experienced umpire out of that game and move him elsewhere.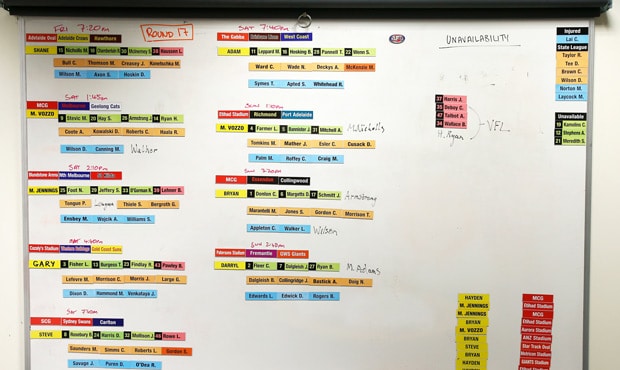 Vozzo holds a spreadsheet that lists which clubs each umpire has taken charge of in recent weeks. One umpire has officiated in several Essendon games of late; another has travelled interstate four of the last five weekends. Kennedy jokes that one recently married umpire would probably relish the chance for a weekend on the road.
Campbell throws up the idea of ensuring that two of the West Australian umpires work at home each weekend and then tries to calculate how many Fremantle and West Coast games that would mean they officiate. Umpires are like players, he suspects, in that they perform better when they sleep in their own beds.
But searching questions are asked. One group was thought to have started its match well before becoming "a bit lazy". Kennedy expresses confidence in one umpire, but Jennings reckons his bouncing is not up to scratch.
Campbell's experience as an assistant coach with Richmond and before that, the Western Bulldogs, also comes to the fore. He understands clubs and their tactics and helps place umpires accordingly. "Some matches will be easier to umpire than others because of the way they play," he says.
At one stage, the room sits in silence for more than a minute, contemplating the complex puzzle laid in front of them, but after a bit more discussion, the combinations for the weekend are finalised. Concern is expressed that one group might lack a real leader, but Kennedy interrupts to say that can be addressed with a phone call and a bit of a gee-up to one of the umpires. "He's capable of that," he says of the umpire about to receive a motivational message over the phone.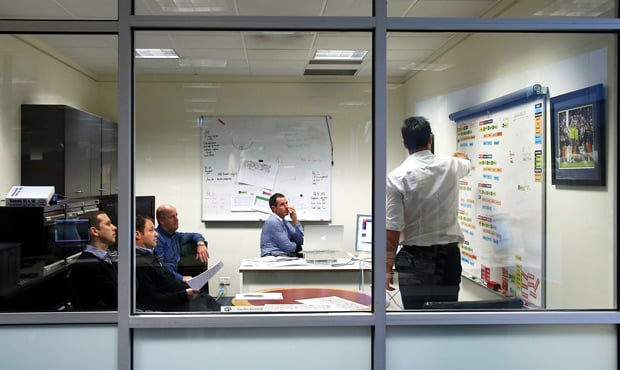 Campbell notes that in his club days, match committee members usually spent the most time debating the last two players picked, and who should be the substitute. The same happens with the umpires. Once the field umpires for each match are finalised, attention turns to the emergencies and the longest discussion of the hour-long meeting is focused on who will be the emergency for the Western Bulldogs-Gold Coast game in Cairns.
With the senior list down to its bare bones and other fringe umpires required at state league level, it takes several phone calls around Australia before a suitable candidate is found.
A bit more discussion takes place about some of the emerging state league umpires. Campbell enquires about one in particular and is told he has the makings of a 150-game AFL umpire.
And with that the meeting ends. Within the hour, every field, goal and boundary umpire will be emailed with their assignment for the weekend. Flights and accommodation will be booked for those needing to travel.
Photography and video by Lachlan Cunningham; video editing by Eddie Paynter.