• Check out all the latest Virgin Australia International Rules news
•
International Rules history, results and rules
COLM O'Neill has emerged as the biggest threat to Australia's defence after impressing with four goals for Ireland in a practice match against a VFL representative squad on Sunday.
The Irish easily defeated the local team, made up of VFL and amateur players, by 73 points despite taking their foot off the pedal in the last quarter.
O'Neill kicked four of Ireland's nine goals on the way to the victory and looms as a considerable challenge for Australia's defenders and goal-keeper in the one-off Test next Saturday.
The 26-year-old from Cork, who plays for Ballyclough and is on his International Rules debut, has endured a tough time with injury in his career, undergoing a knee reconstruction on both legs.
But he has bounced back strongly and will be part of a confident attacking set up when the teams meet at Patersons Stadium next weekend.
Brisbane Lions midfielder Pearce Hanley – the only AFL-listed player in the Irish squad – impressed in the practice hit-out at Sandringham's Trevor Barker Oval, despite copping a knock to his jaw.
Hanley didn't play in the last quarter but assured AFL.com.au afterwards he was fine after the third quarter run-in with Sandringham's Adam Cockie.
Former Lion Colm Begley also impressed, as did 12-time Ireland representative and International Rules veteran Sean Cavanagh, who gave the visitors good run off half back.
Ireland's captain Michael Murphy also stood out while Aidan O'Shea kicked a terrific around-the-corner over in the second quarter that defied the tricky breeze and showed the natural difference between the Irish and Australians when it comes to skills with the round ball.
For the locals, Cockie kicked the only goal of the day – a hugely celebrated moment in the final quarter – while draft hopefuls Adam Saad and Nick Newman adjusted to the different ball well.
Port Melbourne's Toby Pinwill and ex-Melbourne midfielder James Magner gathered plenty of the ball while Coburg's Lech Featherstone took a soaring mark in the last quarter.
It was a game played in typical Melbourne weather – cool and windy, after a night of soaking rain, before warm sunshine took over – and in front of a healthy crowd.
There was a strong Irish contingent in attendance, with the crowd clapping off the visiting team at half-time and after the game.
Star Lion Pearce Hanley impressed against the VFL rep side. Picture: AFL Media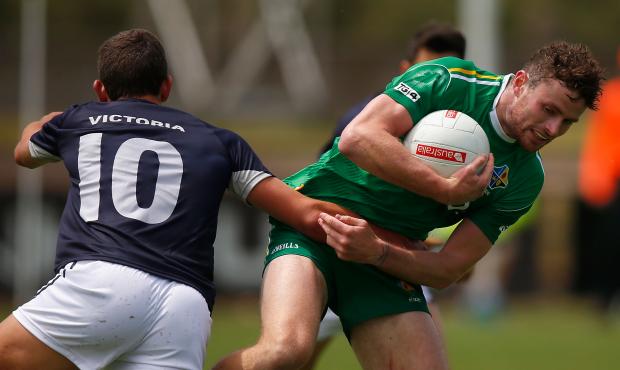 Ireland's team manager Paul Earley said the practice match had been beneficial as it gave his players a chance to experience the type of physicality they can expect on Saturday.
"It was really worthwhile, just to prepare us for next week," Earley said.
"We've got eight guys who have never played this game before and never played against an Australian Rules player so it was very important for them in particular to experience that.
"The pitch was a bit tighter, a bit shorter, and for obvious reasons - it's an oval and they couldn't make it any bigger so there was less space and it was more congested and that was good because there was a lot of physical contact.
"The guys got used to that so I was happy with it."
Earley said there were no "bad injuries", although Darren Hughes hurt his right quad in the third quarter and spent the rest of the game icing it on the bench.
The Irish did recovery straight after the game at Sandringham beach and will review the performance on video before the Test.
They will head to Perth on Tuesday.
The Australians will come together in Sydney on Monday for the start of their camp and will play a practice match against the NSW Gaelic team on Tuesday before leaving for Perth that night.