JORDAN De Goey was at training, went up with the flight of the ball on the boundary line and all of a sudden was at the fence.
It came up too quick. He tried to brace for contact, extended an arm and broke all of the bones in his right hand.
It was in the pre-season this year with TAC Cup side Oakleigh Chargers, De Goey was fitter and stronger than he'd been before and ready to start his draft year on a good note. Then came the mishap.
"It was really unlucky, it was one of those freak accidents," De Goey told
AFL.com.au.

"I had to wait a week to get surgery because it had swollen up so much, so it was about nine weeks until I played again.
"It was a major setback for me. Mentally I was fine with it, because I'd had that kind of experience with injury before.
"But it was still a challenge thinking will I be ready for the under-18 championships, and will I be able to perform?"
Click here for more draft and under-18 news
The 18-year-old has answered his own questions since then. He returned to the Chargers' line-up, played school footy with St Kevin's College and has featured in three of Vic Metro's four games so far in the NAB AFL Under-18 Championships.
After a broken wrist (this one after a pushbike fall) at under-16s level hurt his Vic Metro squad chances in 2012, this year's carnival is his first experience in this company.
"I wish I was out there last year but I blossomed late, I guess," he said. "It's always good motivation thinking I have the ability to be there and that I should be there."
It hasn't always been that way for De Goey, a creative and attacking midfielder who also plays across half-back. His father Roger has helped in that regard.
Himself a former under-19s player with Essendon in the 1980s – "Unfortunately he got cut by Sheedy so he's a bit filthy about that," Jordan said – Roger played alongside key Bombers Paul Vander Haar and Simon Madden. He has shared his lessons from that time.
"Dad was a good footballer and I've heard a lot of good things about him. But that's one thing he's been talking to me about," De Goey said.
"He said not to be intimidated by those players. He got overawed by it and it probably affected him in the end. That's something we've worked on, which has helped my performances.
"As a junior you hear about these big kids and how good they are and stuff like that but as you grow older you gauge your ability and what you can and can't do.
"That always helps me thinking I deserve to be here and I can play against these players."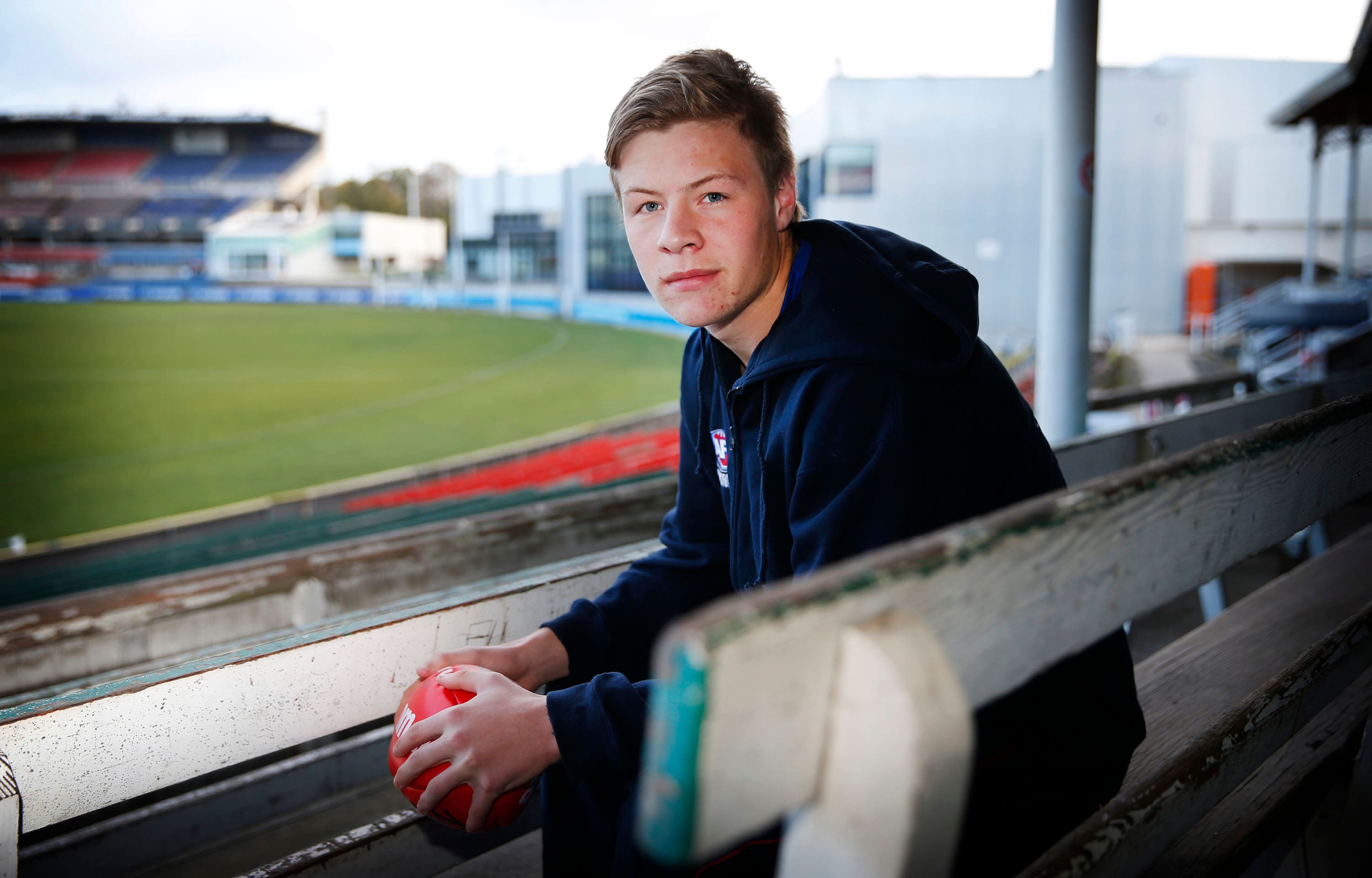 Jordan De Goey is hoping to realise his draft dream later this year. Picture: AFL Media
There have been other improvements. De Goey is an instinctive player, capable of winning it, spinning and then finding a teammate. Good things tend to happen when he has the ball; he can find a teammate close or far away, and at his size (187cm, 82kg), De Goey has many admirers as a first-round prospect.

"If I think I can influence a contest I'll go do it, nothing will hold me back," he said.

By his own admission, he wasn't always like that.

"As a junior I was fairly soft, I didn't get much contested ball. That was definitely something which changed with Dad," he said.

"I had a shocking practice match for Oakleigh in the under-16s, I was just soft and he told me I was soft. It's not something you want to be known for as a footballer so we worked together through that and with other junior coaches around my contested ball. I think it's a strength now."

It will be a trait on show over the next week, with De Goey to feature in Vic Metro's final two games of this year's championships on Friday against Western Australia and next Wednesday facing South Australia.

After a quiet start to the carnival his last game was very good sweeping through defence and the wing and after steady progress, De Goey feels ready to put all the elements of his game together for a breakout effort.

"I've sort of come out of nowhere, which is good," he said.
"I'm pretty confident. I know my ability. I'll be looking forward to showing what I've got and having a crack."
Twitter: @AFL_CalTwomey