MITCH Clark has informed Melbourne he will retire from the AFL, effective immediately.

Clark told the club his battle with mental illness would not allow him to commit to a full-time career at the Demons.

Clark has recently been diagnosed with clinical depression.
"This was a very brave decision by Mitch. There would be other players who are going through the same thing who might have made a different decision," Demons football manager Josh Mahoney said in a press conference on Tuesday evening.
"It got to the point where his health was hampering him getting back to AFL football and that's why the decision was made."
Clark played 15 games in two years at the Demons, with his time at Melbourne restricted by a serious foot injury that forced him to miss 18 months.
A Demon's demons
Mahoney made it clear Clark's long layoff had had a major impact on his mental state.
"When you've gone through the horrendous run Mitch has gone through with the Lisfranc injury and the more recent soft-tissue injuries he's had, you can understand that it's going to have an effect on most AFL players," Mahoney said.
"And it has been a contributing factor for Mitch."
Clark will remain on the Demons' list for 2014 before being delisted at the end of the year, although Mahoney would not be drawn on the financial settlement surrounding Clark's contract – labelling it "inappropriate" to discuss at the time.
Melbourne players were informed of Clark's decision on Tuesday afternoon. Clark sent his teammates a message saying he was disappointed he was unable to continue his career and that he would support the club in its quest to rise up the ladder.
Melbourne will continue to play an active role in Clark's rehabilitation, providing medical services and fully supporting him in his journey.
Late on Tuesday, the AFL's general manager of football operations Mark Evans said the League would continue to make available to him any support required.
He said Melbourne's medical team and the AFLPA had been providing support and care for Clark for the past few months.
"This has been a challenging situation for Mitch and the Melbourne Football Club; both have done the right thing by putting a priority on him overcoming his illness," Evans said.
"I understand that Mitch is receiving very good care and is making progress towards recovery, but it will not happen overnight."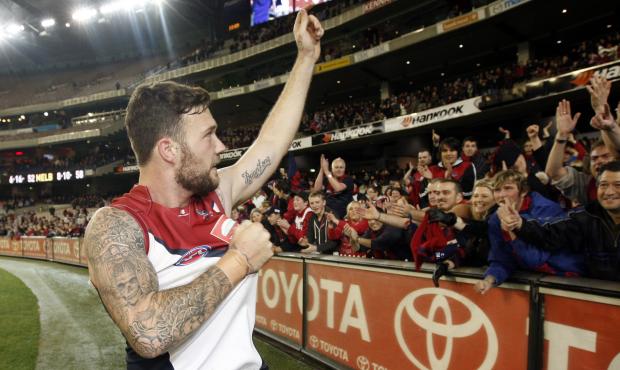 Demon forward Mitch Clark celebrates a victory with Melbourne fans in 2012. Picture: AFL Media
Earlier this year, BeyondBlue made a presentation to Melbourne players, as the AFL community does its best to further understand mental illness.
Clark thanked those at Melbourne for their support during tough times.
"I just want to say thank you to the Melbourne Football Club, firstly for giving me the chance to play for them and secondly for taking care of me during my time there," Clark said in a statement.
"Everyone at the club has been so supportive of me during some very challenging times, which I will always be appreciative of.
"Finally I want to say thank you to the players and members for being there for me. I'm sorry I wasn't out on the field more, but with my injuries, it just wasn't to be. I am very grateful for everything Melbourne has done for me. I will always consider myself a Melbourne player and a Melbourne person."
Hard to put a retirement speech into a tweet. I just want to thank everyone for your support throughout my career.

— Mitch Clark (@MitchClark11) April 8, 2014
WATCH: Former Cat Simon Hogan discusses his personal battle with depression
Clark played 15 games for Melbourne in two seasons after moving to the club at the end of 2011 from the Brisbane Lions, and will retire with 97 games and 97 goals to his name.
People seeking help or information about depression can contact Lifeline on 131 114 www.lifeline.org.au or Beyondblue on 1300 224 636 www.beyondblue.org.au
.