• NAB AFL Trade Hub: moves, rumours and your reaction• All the free agency moves and news• Click here for the 2014 indicative NAB AFL draft order
The silly season - an October to remember
TRADE week, or trade period as it has come to be known, is the gift that keeps on giving.
It is an incredibly important mechanism for players, pretty much the only window of the year for them to change clubs. Compare that to just about any other profession, and full-time football now stands up to that comparison, and workers have the freedom to change employer any day of the year if they wish.
The trade period has spawned its own cottage industry – blogs, twitter handles and its own radio station. It even has its own sponsor. Take that, January soccer transfer window.
The trade period is eagerly anticipated by all, particularly those whose teams missed the finals and have been out of action for more than a month. Such is the interest in any morsel of trade news on this website, that our live blog each day attracts more traffic than any news story we publish during the finals - by a margin of 10 to one.
It has been a blockbuster trade period in terms of news. Big names such as Paddy Ryder, Dayne Beams, Allen Christensen, Travis Varcoe and Ryan Griffen, combined with free agents such as James Frawley, Shaun Higgins, Nick Malceski and Jarrad Waite have kept the page impressions ticking over every day.
Club-by-club analysis of the first week of the exchange period
Add three coach sackings, headlined by the implosion at the Whitten Oval that coast Brendan McCartney his coaching job on Friday, and this has been an October to remember. And if you're a footy junkie, one to savour.

AFL's directive to Swans a puzzling decision
Almost a sidebar to the trade week was
the AFL's move to disallow the Sydney Swans from bringing players into their club through trade or free agency for the next two years
unless they bring an immediate end to the Cost of Living Allowance.
It is a stunning decision, which should end any perception once and for all that the Swans hold 'favoured club' status within the corridors of the AFL.
AFLPA slams Swans' trade ban
It was also a surprise move, because the initial and correct decision by the League earlier this year to bring COLA to a close as part of the new equalisation policies was seen to bring closure to the measure that was necessary when the Swans were a frontier club that few wanted to play for, but not so once they became a destination club that leading uncontracted players would scheme to get to.
But this latest directive from the AFL is a step too far. COLA was an AFL creation, not one of the Swans or the Brisbane Lions before them. And like it or not, the Swans kept to the rules of COLA, if not always in spirit, at least according to the letter of the law.
The Swans fought the good fight to keep it alive, accepted the decision when it was scrapped and started managing their affairs accordingly.
It doesn't come at the best time for the Swans. Their whopping Grand Final loss to the Hawks exposed a few issues with their defensive structure. Malceski is gone, an inevitable casualty of the burgeoning salary cap, meaning Ted Richards and Heath Grundy could do with some reinforcements and the trade period may have helped them in that respect.
But they've been short-changed by a puzzling decision, one that shapes as decision-making on the fly that unless I've missed something, not even the noisy Victorian lobby was calling to happen.
Strange things happen in footy, even when you play by the rules.
The Swans won't be able to bring in any big names like they have the last two years. Picture: AFL Media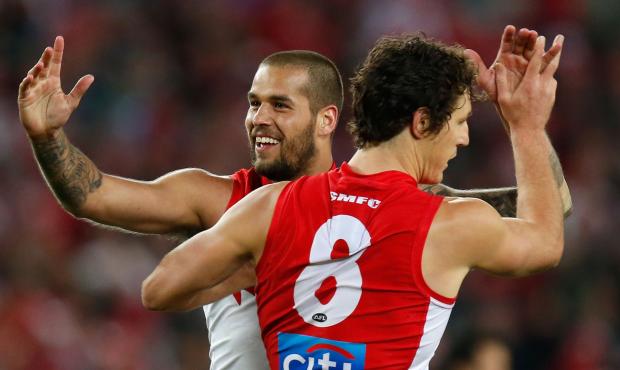 QUESTION TIME
Has the balance of power shifted in footy?
It has, and to the players.
There has been a disquiet in AFL circles for some time that the players have become a touch too entitled.
This was reflected in the last Collective Bargaining Agreement, which not only introduced free agency, but also gave the players an unprecedented amount of annual leave and which laid firm rules about time away from the workplace for players.
Much of it was commonsense, but privately, the coaches railed against the restrictions. You don't think Paul Roos would like more time with his players this summer as he continues the task of rebuilding a shattered football club?
But player power marches on and they now have a greater say in the fortunes (and futures) of their coaches. More often than not, coach sackings used to be brought about by disgruntled board members, often to placate of angry sponsors and influential supporters who ere threatening to withhold their cash.
But the three coaching changes since the end of last season – and remember it looked for most of the year that there would be none at all – can be traced back to player dissatisfaction.
Issues with development (Gold Coast) and communication (Adelaide and Western Bulldogs) marked the end of Guy McKenna, Brenton Sanderson and Brendan McCartney.
Who would want to coach the Bulldogs?
Empowerment has changed footballers. They hold the whip hand and it is why management and communication skills will continue to be the No.1 requirement for any prospective coach. Clubs want to know a coach will get into the heads of well-paid Gen Y footballers. And what's their plan for Gen Z?
Freedom of movement for players is much smoother for players than it has been for many years. So when they speak, football clubs have no choice but to listen, and to act.
How big was Phil Walsh's defection?
Shortly after the David Hookes was named coach of the Victorian cricket team in 2002, the erstwhile proud and passionate South Australian had cause to be back visiting family and friends in Adelaide.
While there, he came across a well known South Australian sporting identity who made it clear that he took a dim view of Hookes crossing the line to work for the enemy.
"How will you feel when you come over here and beat South Australia?" he was asked.
"I couldn't think of anything better," Hookes replied with just the trace of a devilish grin.
Welcome to South Australia, where when it comes to sport, they do "us against them" better than just about anybody. South Australians save most of their collective sporting bile for anything Victorian, but within the confines of the state, the Adelaide-Port Adelaide rivalry trumps everything.
There was Port knocking over the Crows in the first two Showdowns, the fisticuffs at the Ramsgate Hotel, the Angus Monfries freak goal and the argument over which club would host the first game at the Adelaide Oval (it was Port).
And now we can add Philip Walsh to the story. There is supposed to be goodwill, if not a showering of love towards an assistant when he gets hired away to become the head coach at another club, but not this time.
Not when you ditch Port Adelaide for Adelaide
, no matter the capacity.
Walsh spent 10 years at Port Adelaide, and was a key part of the coaching panel that delivered that club its first AFL premiership in 2004. And what a star-studded group that was – Mark Williams at the helm, Alastair Clarkson, Dean Bailey and Walsh as assistants.
Walsh would go on to West Coast for five seasons before returning to Alberton at the start of 2014, and it was painted at the time as a favourite son returning home, hopefully for a long time. Only it wasn't.
Walsh's "the other 17 clubs are the enemy," remark upon taking the Adelaide job might have appeared a bit of theatre, the sort of thing that makes headlines and appeases the fans, but it is a fair guess that he would have already understood how disappointed the Power were to lose him, particularly to the Crows.
In both his stints at Port Adelaide, Walsh would make his distaste for the Crows quite clear to anyone who asked. Those who heard the remarks were blown away by the apparent enmity and are sharing a few chuckles now that he is an Adelaide man.
But the Power remain miffed. They lost Alan Richardson to St Kilda after just 12 months and in bringing Walsh back from the Eagles, thought they had secured an assistant coach who would commit to the club for considerably longer.
"They're pretty disappointed," said one close observer of the Power. "He might have not been as forthcoming about his career aspirations as they'd hoped."
Will 'old man' coaches become the new trend?
Let's see what the Suns and Bulldogs choose to do. At 54, Walsh is the second oldest first-time coach in League history, behind only Paddy Noonan, who was about the same age when he started at North Melbourne in 1954.
Walsh has put in the hard yards at assistant level over many years, so his experience in the system can't be faulted.
As part of the new accreditation system that Clarkson would like to see introduced, that and time spent coaching a team in its own right would become the key criteria to be appointed an AFL coach.
Jack Trengove a Tiger? Really?
What
this move
would do is close the door once and for all on a shambolic era for the Melbourne Football Club.
It would be symbolic as much as strategic.
Tom Scully and Jack Trengove, in their shiny new No.9 and No.31 jumpers, were trotted out as the future of the club when they were drafted at the end of 2009. The club schemed to get them, but then forgot to teach them how to actually play League football once they got there.
They are the symbols of a generation of neglect for Melbourne and it is not a bad outcome – for both players and the club – that they move on.
Scully hasn't starred with Greater Western Sydney by any stretch, but he appears a player with the weight of the world off his shoulders.
Trengove, who is a ripping bloke by the way, could do with the change as well.
Twitter: @afl_hashbrowne