BITTERLY disappointed with his national under-18 championships, Tom Lamb was desperate to make a splash at the recent NAB AFL Draft Combine.
By his own admission, the agile 193cm big man had failed to put his best foot forward when he lined up for Vic Country.
But his response at the combine could hardly have been more emphatic.
Touted as one of the most athletically gifted draft prospects in this year's pool, Lamb lived up to his billing and excelled in aerobic testing – pushing himself to an elite 9:45 and second spot overall in the 3km time trial, and an outstanding 15.5 in the beep test.
It was the type of gut-running that gets recruiters talking and it put Lamb squarely back into the spotlight, even though nothing can change his up-and-down championships.
"I didn't have the best carnival; too inconsistent," Lamb told AFL.com.au.
"I enjoyed flying around Australia and playing with my mates and having a few wins. But in terms of my personal performance, it was pretty poor.
"If everyone knew how to play well every week it would be awesome but you don't, so it's something I've struggled with this year."
Lamb's first TAC Cup match of the season for the Dandenong Stingrays was a portent of things to come.
In the first quarter against Gippsland, he twice made mistakes and conceded goals, before he flicked the switch and kicked a bag of six majors in a thrilling one-point win.
It's that freakish talent that makes Lamb one of the enigmas of this year's draft.
He's rangy, quick, a strong overhead mark and he uses the ball well, but surprisingly those aren't his strongest traits.
"His strength is probably below his knees, believe it or not," Stingrays talent manager Mark Wheeler told AFL.com.au.
"For his size he's unique in athletic ability. He's not far behind (Hawthorn midfielder) Billy Hartung in what he's been able to produce but he's 12 to 15cm taller than him.
"Athletically he can do anything he likes. His agility stuff is pretty good as well.
Tom Lamb in action for the Dandenon Stingrays this year. Picture: AFL Media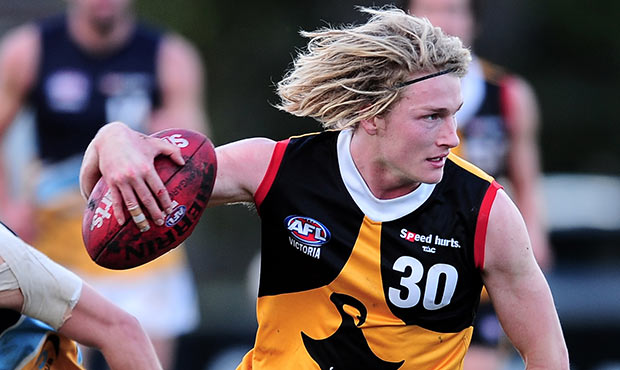 "I think once Tom gets into the system he's only going to get better. I think that's the biggest thing that's going to be the scary thing for anyone that bypasses him early (in the draft) is they know that."
It's tough to put a finger on exactly where Lamb might go in the NAB AFL Draft on November 27.
It's equally tough to know where he plays his best football.
During the championships he played everywhere except deep defence and ruck – which perhaps contributed to his inconsistency – and still averaged nearly 15 possessions.
Wheeler believes the 17-year-old (he turns 18 on Sunday) is best suited running off half-back, but Lamb sees himself as a high half-forward or midfielder – in a similar vein to Western Bulldogs jet Marcus Bontempelli.
"I probably play more like that than a key position target I suppose with my agility and athleticism," Lamb said.
"I'm the same height as (Bontempelli) and roughly the same weight (84kg). So someone like him…probably nowhere near as good."
Being hard on himself is a habit the Stingrays and Wheeler have tried to help Lamb eradicate during his junior career.
Being the son of Melbourne and Fitzroy 21-gamer Wayne Lamb and the grandson of 1966 St Kilda premiership player Ian Cooper has not helped expectations.
This is why Wheeler believes it could be a blessing in disguise if Lamb drops down the draft order.
"I reckon (he will go) late first (round), but I honestly think the best thing for Tom is to go as a second round pick and expectation be taken off him a little bit," Wheeler said.
"He carries the world on his shoulders – he always has.
"I think if he goes in the top 10 it will be the worst thing for him because it will just consume him."
Like most teenagers Lamb is not yet the finished article, but he impressed during two weeks of pre-season training with the Saints prior to last season.
Three times he jumped over a defender and marked strongly during match simulation and he certainly didn't look out of place among AFL ranks.
His burning desire to prove he's good enough – and do everything perfectly - could see him become a round one debutant next season.
"He's a perfectionist…he hates making mistakes and he hates others making mistakes," Wheeler said.
"If he gets in the system - and there's no expectation for him to play round one - he'll work his arse off to play round one."