CARLTON draftee Blaine Boekhorst has been given the nickname of 'Tweet' and you don't need to guess why.
Meeting new coach Mick Malthouse is tough in itself but Boekhorst, pick No.19 in this year's NAB AFL Draft, approached his first day at the Blues with more trepidation than usual.
The 21-year-old's first task was to seek out Malthouse and clear the air after his misguided tweet earlier this year after the Blues' 34-point loss to Collingwood in round seven.
"How can Carlton kick 1.5 in a half? Disgusting display of footy!" Boekhorst tweeted.
"The whole Carlton team need to go or Mick (coach Mick Malthouse) does."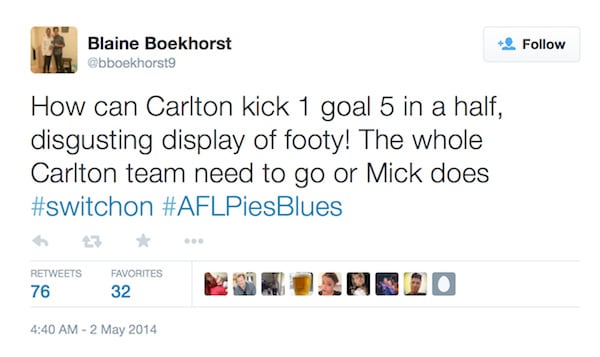 Ever one to teach his young players a lesson, Malthouse let the athletic midfielder stew all morning before addressing the incident with Boekhorst.
"He's got a new nickname and it's called 'Tweet,'" Malthouse said with a chuckle on Monday morning.
"He (Boekhorst) said to me, 'Now, I want to talk to you. Can I talk to you pre-training?' 
"And I thought, no, I'll let him cook for a little while longer."
A regretful Boekhorst, from Swan Districts in the WAFL, said he and Malthouse were on good terms.
"He's taken it pretty well. We'll just put it behind us, make a little laugh out of it," Boekhorst said.
"It's not the best thing to go into a club, but I guess it's a good little ice-breaker for the boys. 
"I think 'Tweeter' might stick for a while."
Malthouse made his view of social media clear.
"I love that stuff. It's just a great education – don't tweet," Malthouse said.
"I don't know what cyber space looks like, but I tell you what it must be a helluva joint."
Boekhorst joined fellow draftees Dillon Viojo-Rainbow (pick No.28), Clem Smith (pick No.60) and Jayden Foster (pick No.63) in front of the cameras on Monday morning. 
Viojo-Rainbow (who could usurp Collingwood's Steele Sidebottom for the best surname in the AFL) was drafted after an impressive year at the Western Jets in the TAC Cup. 
The 18-year-old is renowned for his elite disposal off half-back and admitted to being "starstruck" when meeting his high-profile teammates. 
"You're sort of 'starstruck' when you see Gibbsy, Juddy and Murphy walking around so it hasn't really sunk in yet, but once you get out on the track with all the boys it won't be too bad," Viojo-Rainbow said.
New Blues: Clem Smith, Jayden Foster, Dillon Viojo-Rainbow and Blaine Boekhorst. Picture: AFL Media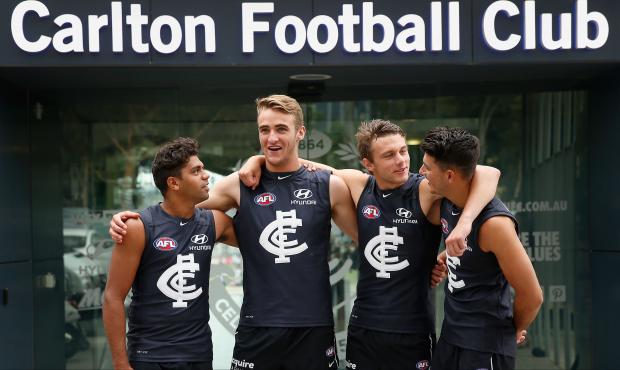 Smith, drafted from Perth in the WAFL, has already been likened to former North Melbourne and Port Adelaide tough nut Byron Pickett. 
"I had a look (at Pickett's highlights) on YouTube and there's definitely similarities there," Smith said. 
"If they're (opponents) in my path, I don't mind it (cleaning them up)." 
Foster missed out on being a father-son pick to the Western Bulldogs, after the Dogs chose Zaine Cordy instead. 
Foster, whose father Peter played 163 matches with the Dogs, already has lofty ambitions for next season after booting 49 goals in 16 matches for the Calder Cannons. 
"I'm aiming for round one. I know some people might see it as a bit unrealistic, but I'm looking forward to putting some size on in the gym and working hard on the track," Foster said. 
"Round one is the goal."