NEW DEMON Heritier Lumumba says he was convinced to join Melbourne after visiting Paul Roos' family and meeting his new teammates at former Magpie Chris Dawes' wedding.
"I always looked at him [Roos] and thought I'd love to be coached by him. He's a classy person … and it was [Roos' wife] Tami who got me over the line," Lumumba said in his first media conference as a Melbourne player on Friday.
The 28-year-old defender said he was impressed with Melbourne's list and had noticed its improvement from afar.
Lumumba can play in defence or on the wing and is expected to provide the Demons with run and drive through the middle, however he said he would play whatever role he was asked.
He said his relationship with Collingwood coach Nathan Buckley had endured 10 years and hoped it would remain positive. He said he owed a lot to Buckley who was Lumumba's captain when he arrived at Collingwood as a rookie in 2005, and despite the change he was still enjoying his football.
Paul and Tami Roos at the Field of Women breakfast in 2014. Picture: AFL Media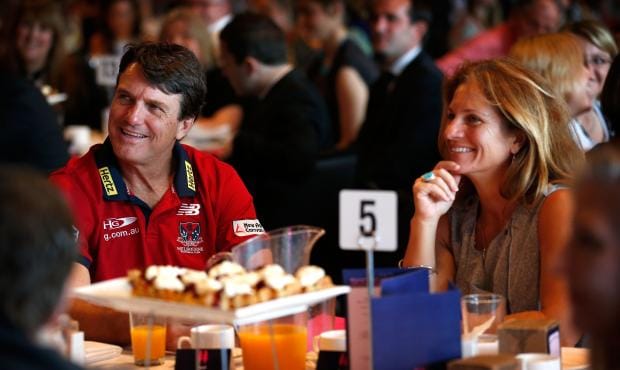 Lumumba was an All Australian in Collingwood's 2010 premiership year and despite some off-field setbacks, continued to maintain a high standard in defence.
Melbourne has indicated to Lumumba that it is happy for him to continue in his role as a multicultural ambassador through the AFL's multicultural program.
"That is a genuine interest of mine," Lumumba said on Friday.
So after a no-fault divorce with Collingwood, Lumumba is in new colours and ready to make an impression just 100 metres down the road from the Westpac Centre.
"I leave Collingwood with amazing memories and great friendships and I will forever be grateful for my experiences there but right now I am really excited about being able to contribute to Melbourne," Lumumba said.