ST KILDA has traded ruckman Ben McEvoy to Hawthorn in exchange for Shane Savage and the Hawks' first pick (currently No.17) in the 2013 NAB AFL Draft.
The shock trade, which was confirmed on Thursday morning, will see McEvoy, who was considered by some to be a future captain of the Saints, leave the club after six seasons and 91 games, including the 2010 Grand Final replay.
Click here to listen to the Gillette AFL Trade Radio
Justin Reid, from McEvoy's management company Elite Sports Properties, told Gillette AFL Trade Radio on Thursday that the deal was sealed in just 24 hours while McEvoy is holidaying in Thailand and Cambodia.
Official AFL Player Ratings: check out the game's top 10 ruckmen
A 90-minute telephone conversation between McEvoy and Hawthorn coach Alastair Clarkson, who is also overseas, proved pivotal in McEvoy's decision.
Reid said St Kilda's off-field rumblings had no influence on the 24-year-old's decision to agree to the trade.
Follow all the latest trade news here
McEvoy still had two years to run on his contract with St Kilda.
Reid said the Hawks instigated the trade, first signalling their interest in McEvoy to St Kilda late last week, and the Saints "didn't shy away from it".
McEvoy's management was brought into discussions late Tuesday afternoon and the trade was signed off late on Wednesday afternoon. Reid admitted the McEvoy camp had been "a little bit surprised" by the approach.
Reid said McEvoy was excited by the prospect of joining the reigning premier, which has a vacancy following the retirement of premiership ruckman Max Bailey, but revealed it was also a difficult decision.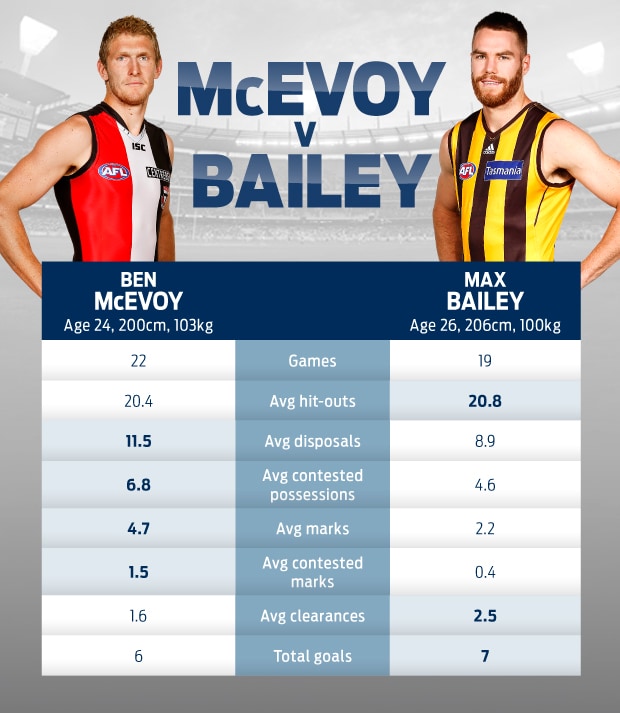 "Ben is a country boy, he's a real loyal young lad and he was obviously in the leadership group at St Kilda," he said.
"I think when you have that first conversation … your head's probably spinning for the first three or four hours, but once Ben settled down and had a chat to Clarko, he's really excited about the new challenge ahead of him."
Hawks recruiting and list manager Graham Wright told Gillette AFL Trade Radio the club was still interested in securing promising Brisbane Lions ruckman Billy Longer, and had relayed this to the 20-year-old's management and the Lions.
Wright said the Hawks were initially looking to gain a draft pick to satisfy the Brisbane Lions in exchange for Longer and were a "little bit surprised" to land McEvoy in the process.
St Kilda coach Scott Watters paid tribute to the departing 24-year-old.
"Ben is a person of great character and someone I hold in very high regard.
"On a number of levels this was an extremely tough decision for our list management committee. We wish him all the best for his time at Hawthorn."

The Saints had been determined to secure an extra first-round draft pick this year, and even warned premium club members to prepare for an unpopular trade decision.
McEvoy played 22 games in 2013 but didn't finish in the top 10 of the Saints' best and fairest award.
Click here to watch Ben McEvoy's highlights
St Kilda head of football Chris Pelchen said the deal put the club in a stronger position ahead of the 2013 NAB AFL Draft.
There is a possibility further picks could be exchanged between the two clubs once Hawthorn's compensation for losing free agent Lance Franklin has been announced.
"As it stands, we have now secured two first-round selections in the upcoming AFL national draft as well as acquiring a promising young midfielder who has already served his football apprenticeship," Pelchen said.
"Shane's career has continued to develop since arriving at Hawthorn as a 17-year-old at the end of 2008 and we look forward to the added dimension he will bring to the Saints."
Savage played 15 games in 2013 but was overlooked through the finals and was an emergency in the Grand Final.
The 22-year-old, who was born in Auckland and will be an ambassador for the club's increasing presence in New Zealand, said he was excited about beginning a new chapter at St Kilda.
"I'm very grateful to the Saints for giving me this opportunity and I look forward to being a part of the club's push back up the ladder," the 22-year-old said.
"I'm happy to be joining a club with such a proud tradition and can't wait to start the 2014 pre-season in the red, white and black."