IT WAS not a preconceived plan, but a pleasant surprise for the Brisbane Lions to land two Geelong Falcons in their rich haul from the NAB AFL Draft.
After five players left the club during the off-season due to homesickness, there was always going to be a close eye kept on how the Lions approached this draft.
The Lions' draft haul: recruiter's verdict
All six of the Lions' selections inside the top 34 came from interstate, but they did manage to grab two Falcons, with key defender Darcy Gardiner (No.22) and lightning quick midfielder Lewis Taylor (No.28).
Having friends joining the club at the same time should certainly help offset homesickness, but Lions' recruiting manager Stephen Conole says it was purely coincidence.
Draft Tracker: every club, every pick
"It was just the way it panned out," he said.
"We really wanted a tall defender. We thought Darcy Gardiner was the best tall defender in this pool.
"Lewis Taylor adds some dash and some panache to our group, so when he was still available we were rapt and more than happy to add Lewis to our list."
The big draft curveball that allowed the Lions to get the pair of Falcons was the slide of Taylor.
He was originally predicted to go inside the top-15, but once Greater Western Sydney took Cameron McCarthy at No.14, the diminutive Taylor began to tumble.
"We didn't have him in our picture at 28. We thought he'd be gone by then. But when he was still available we thought he was too good a player to overlook," Conole said.
He is just 173cm and 73kg, but Taylor is a product of the AFL's AIS Academy and is quick, elusive and can play a variety of positions.
His Falcons teammate Gardiner is quite the opposite, standing 192cm and weighing in at 95kg – a lock in for a key defensive post.
Gardiner was an under-18 All Australian and a long-term option for the Lions' backline.
The top nine: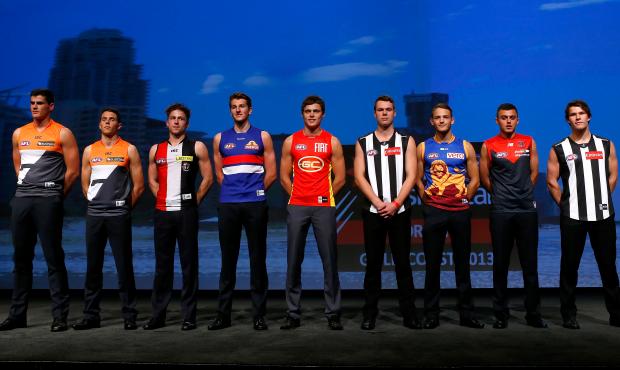 The Lions' No.8 pick James Aish with the draft's other top 10 selections. Picture: AFL Media