JAY Kennedy-Harris arrived at Trinity Grammar in 2009 as a student, not a footballer. After two years at St John's Regional College in Melbourne's east, Kennedy-Harris' mum, Heather, encouraged him to apply for a full indigenous scholarship at Trinity, a prestigious private school.
When Jay got it, he moved into Trinity's boarding house as a year nine, the school being too far away from home to travel each day. Nobody at Trinity knew he could play football. Even Kennedy-Harris, who grew up watching footy at home and going outside for a kick every half-time break, might not have known what he was capable of.
Studying hard was the first priority. He quickly noticed a change between his old school and his new one: at Trinity he found it socially OK to do well academically.
Click here for full U18 Championships coverage
He became close friends with classmate Luke McDonald, now a teammate at Vic Metro and formerly at the Oakleigh Chargers, and warmed to the opportunity and the structure Trinity provided.
"Most of my friends from my old school didn't really take it too seriously," Kennedy-Harris told
AFL.com.au
.
"When I changed to Trinity there were a lot of boys, like Luke, who liked to play a bit of footy but when it came to knuckle down and get some study done, they did it. It worked out to be a really balanced environment to be in."
McDonald took Kennedy-Harris down to his local club, Kew Comets, where Jack Billings, a possible top-five pick at this year's national draft, also played. Soon Kennedy-Harris' footballing abilities came to the fore. He was one of the smallest players but was quick, ran around other opponents, crumbed packs and kicked goals that nobody, at first, thought he would.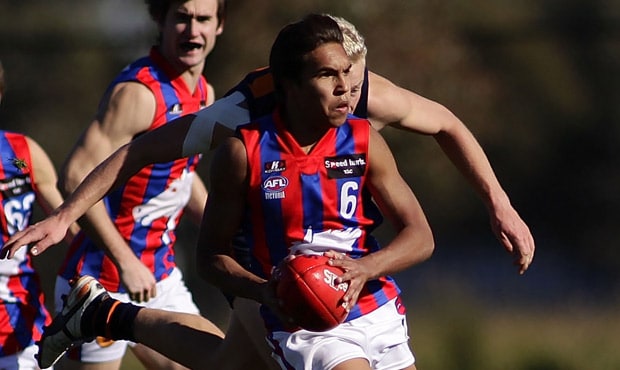 Jay Kennedy-Harris in action for the Oakleigh Chargers. Picture: AFL Media
Independence was a skill Kennedy-Harris had learned earlier than he would have liked.
When he was 13 his father, Edgar Harris, died from throat cancer. Kennedy-Harris immediately felt more responsibility for himself, his mum and younger sister.
"I still remember when I found out. It was a pretty tough time for my family and me. I thought I had moved on from it but I think I discovered a couple of years later that I probably only brushed it aside and never really dealt with it.
"That was another thing I had a few people at Trinity help me out with," Kennedy-Harris says, "and it now acts as a bit of a motive to keep going.
"When it comes to adversity I deal with a bit of bad luck pretty well because I always think things could definitely be worse. And I always feel a little bit prouder when I've done something well for that same reason."
Some of the people to lend him support were McDonald's parents Terri and Don (who played 155 games for North Melbourne between 1982-92 and is now the club's football manager), who would pick up Kennedy-Harris and take him to games, have him over for dinner, and give him somewhere to go when he'd tired of the boarding house routine.
"The McDonalds played a huge part in my time at Trinity. I think they drove me to just about every game Luke and I played together," he said.
"They really looked after me. We used to talk about North a lot and I probably have a bit of a soft spot for them just because of the McDonalds," said Kennedy-Harris, an Essendon supporter.
Kennedy-Harris' football has progressed step-by-step. Last year he played an important role in Oakleigh's TAC Cup premiership, and this year he was announced co-captain of the Chargers with Will Maginness, becoming the first indigenous player to be a captain of a TAC Cup side in the competition's history.
He's played two games for Vic Metro in the NAB AFL Under-18 Championships, and enjoyed earning his spot and trying to hold it.
In round one, against Queensland, he gathered 25 touches and kicked a goal. He's still short – 173cm and 68kg – but he runs to all parts of the ground, chases hard, and finishes well.
Captaincy has been a challenge he's risen to.
"I've ended up doing a lot better than I probably expected to do. A lot of credit goes to Will (Maginness), he's been a huge support for me. Being able to handball things off to him, when I'm not really up to the task, makes it a lot easier," he said.
"And sometimes he does the same thing. It's worked well so far."
Distance has been a test. After completing his VCE at Trinity last year – coupled with a football premiership for the school – Kennedy-Harris started his science degree at the University of Melbourne, where he lives on campus.
The transition was difficult early. Without his driver's licence, the 18-year-old caught trains, trams and taxis to Chargers training, never wanting to be late.
"At first it was a little bit difficult but it's probably helped me even more. I understand what works for me and how to manage myself better now," he says.
"A lot of people when they talk about the draft they talk about going interstate and if I was lucky enough to go somewhere and that was a possibility, I don't think it'd really worry me now. I've gone through, not the exact same experience, but I've had some similar experiences to being by myself."
When Kennedy-Harris started at university his classmates thought they recognised him from somewhere.
They did - from a television advertisement for the introduction of protective service officers at Victorian train stations. Kennedy-Harris plays the role of a shy boy at night walking in the bowels of a dark train station.
He took up acting at the suggestion of mum Heather, an artist herself, and has been in a number of shows and ads over the past few years.
Footy is his focus now, and Jay doing everything to get drafted at the end of the year, but he's already shown he's a prospect who has balance and whose world view is a bit broader.
"Mum gave me the idea of trying acting. I don't think I was ever really up for it but a couple of times I've surprisingly enjoyed it. Sometimes I wear the same jumper at the train station, just to see if anyone recognises me," he says with a smile.
"I remember moving to college at the start of the year and a few people swore they knew me from somewhere and a lot of people asked if I had a brother or something. It turned out it was just the ad.
"For some people it works just having their lives revolve around footy, and I love footy and I probably sit watching Fox Footy all the time. But with the academic [and acting] side of things I just have something that gets me away from it occasionally. At the moment I've put the acting on hold but I'll get back to it when I've got a bit more time to have some more fun."
Follow AFL website reporter Callum Twomey on Twitter at @AFL_CalTwomey.