THE AUSTRALIAN Sports Anti-Doping Authority will appeal Ahmed Saad's 18-month ban handed down by the AFL Tribunal last month.
The former St Kilda forward would have been eligible to return to the AFL for the 2015 season, but that timeline is now in jeopardy.
ASADA notified the AFL late on Wednesday that it would appeal the finding and the AFL Appeals Board will now sit at a date to be fixed to - more than likely - extend the ban.
Saad recently admitted to using banned substance methylsynephrine unwittingly on match days before he returned a positive test earlier this year.
The 24-year-old consumed the sports drink 'Before Battle', produced by Viking Protein, which is banned on match days but not during the week.
It is the same substance to which world champion sprinters Tyson Gay and Asafa Powell, among others, tested positive earlier this year.
Saad said
he took the product because it was given to him by a trusted mentor
and didn't seek approval for the energy drink.
Suspended VFL footballer Matthew Clark, who is serving a two-year ban,
recently called on ASADA to appeal the length of Saad's suspension
.
After a similar chemical to methylsynephrine was found in his system, Clark was banned for nine months before ASADA successfully appealed the decision and increased the suspension to two years.
"I was just very disappointed to see that an AFL player got one sentence and a small-time VFL player got a harsher punishment," Clark told AFL.com.au.
Saad failed a post-match drug test in July and started a provisional suspension in August.
He would have been able to nominate for the 2014 NAB AFL Draft and return to the AFL, if he was re-drafted, in February 2015.
Under new World Anti-Doping Authority regulations to be introduced on January 1, 2015, Saad could train with a club while he served the last month of his ban.
His admission this week on radio SEN that he had consumed 'Before Battle' on match days in the past could have prompted ASADA's appeal.
St Kilda has been committed to helping the small forward handle his suspension and the club has been open to the possibility of re-drafting him, granted he is eligible to play in 2015.
Lions fans torment Ahmed Saad after he was a shock selection in St Kilda's round 19 team. Picture: AFL Media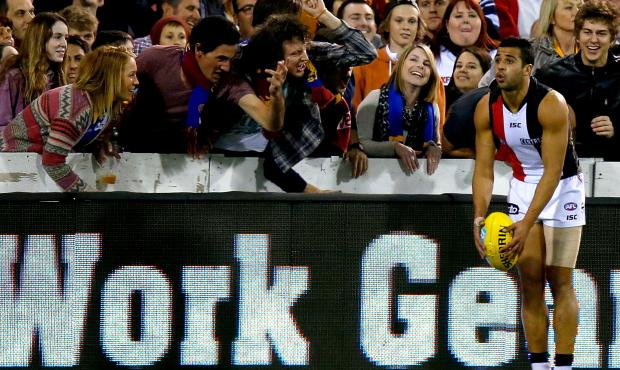 .

Twitter: @AFL_Nathan