MELBOURNE forward Chris Dawes kicked three goals in a three-point upset victory against Adelaide as the Demons logged their second win of the season.
The Demons triumphed 11.4 (70) to 9.13 (67) in a grinding affair in Saturday's twilight fixture at Adelaide Oval.
It was their first win in South Australia since 2002.

Melbourne coach Paul Roos was understandably thrilled by the result.

"I was excited after the game, I love winning and I don't like losing," Roos said.

"I'm really pleased for the players and pleased for the staff and pleased for the footy club because it's been really tough.

"The coach has got to enjoy it as well as the players because obviously there's been a lot of downs…I'm very excited, I thought it was a terrific win."

Dawes' output was crucial while onballer Jack Viney (23 disposals), Dom Tyson (29 possessions), ex-Crow Bernie Vince (26 disposals) and lively forward Jay Kennedy-Harris (25 touches) were influential.
Adelaide's Patrick Dangerfield (two goals, 24 possessions), Brodie Smith (30 disposals) and Scott Thompson (29 touches) battled gamely while Josh Jenkins and James Podsiadly each kicked two goals in a lacklustre display from the Crows, now with three wins and four losses.
The Demons, with captain Jack Grimes marshalling the defence, Vince prominent in the midfield and Dawes and Kennedy-Harris lively in attack, swamped their hosts with four goals to one in the first term.
Adelaide's goal came from Dangerfield inside 45 seconds but they didn't score another until the 21st minute of the second term.
The opening quarter was marred by a sickening collision which felled two players - Adelaide's Tom Lynch and Melbourne's Alex Georgiou.
Lynch was sandwiched between Georgiou and Viney and didn't return due to concussion, while Georgiou returned in the third term but was also substituted.
The Crows also lost small defender Matthew Jaensch to a knock to the back in the second quarter.
Jaensch's absence coincided with Melbourne making its move before 44,216 spectators, with Dawes kicking two second-term goals as the Demons crafted a match-high 36-point lead.
Melbourne then withstood a third-term fightback from the Crows, who crept within six points when Jenkins slotted his second major.
And the margin was reduced to just four points when Dangerfield goaled midway in the last term, only for the Demons to respond with majors to Mark Jamar and Tyson to seal a deserved victory.

Although pleased by his side's second-half fightback, in which they outscored the Demons by 25 points, Crows coach Brenton Sanderson said the damage was done early.

He said he "hated" Adelaide's opening half.

"It was a terrible first half, our turnovers again, we kicked it exactly where Melbourne wanted us to," Sanderson said.

"A really disappointing start, I hated the first half. Thankfully we got a much better response in the second half but the horse had bolted.

"We were gallant, but inexcusable today, really disappointing."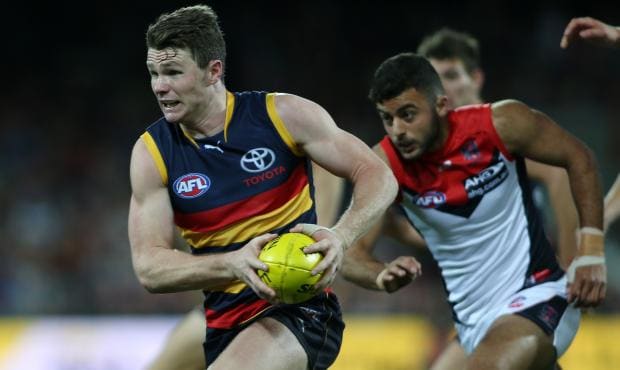 Adelaide Patrick Dangerfield dashes clear of Christian Salem in the final quarter. Picture: AFL Media
ADELAIDE

1.1 2.4 5.10 9.13 (67)
MELBOURNE 4.0 7.2 8.4 11.4 (70)
GOALS
Adelaide: Jenkins, Dangerfield, Podsiadly 2, Thompson, Crouch, Petrenko
Melbourne: Dawes 3, Bail, Kennedy-Harris, Salem, Watts, Viney, Jones, Jamar, Tyson
BEST
Adelaide: Dangerfield, Jacobs, Smith, Laird, Thompson, Sloane
Melbourne: Dawes, Tyson, Viney, Vince, Kennedy-Harris, Howe
INJURIES
Adelaide: Lynch (concussion), Jaensch
Melbourne: Georgiou (concussion)
SUBSTITUTES
Adelaide: Tom Lynch replaced by Mitch Grigg in the first quarter
Melbourne: Alex Georgiou replaced by Christian Salem in the third quarter
Reports: Nil
Umpires: Donlon, Chamberlain, Bannister
Official crowd: 44,216 at Adelaide Oval