• Tune in to Trade Talk for LIVE trade coverage every weekday
• Check out every confirmed move on the Trade Tracker
HAWTHORN has completed its second shock trade in five days, losing vice-captain Jordan Lewis to Melbourne.
The trade comes despite list manager Graham Wright last week declaring Lewis would remain at the club in 2017.
The Hawks received picks 48 and 66 in exchange for the 30-year-old midfielder, who played 24 games this year and 264 overall for the Hawks since his debut in 2005.
The Demons get picks 57 and 68 in return from Hawthorn.
Upon his unveiling as a Melbourne player on Tuesday afternoon, Lewis said the Demons' talented young list played a big role in his decision to nominate his new home.
>> On the app? Tap the green headphones in the top right corner to tune in
"For me it was about the youth and enthusiasm ... they're knocking on the door and they beat us (Hawthorn) quite convincingly last year, but also the competitive nature that they play with," Lewis said.
"That really resonated with me and that was one of the deciding factors, as well as knowing some of the people here."
The star midfielder went through a whole range of emotions after taking the step to request a trade away from Hawthorn.
"Whatever happens, Hawthorn will always be in my heart, and that has a special place for me, but it ends one chapter and opens a new one now," Lewis said.
"With any change in club or change in career, it is an uneasy step.
"In my mind I was here two weeks ago so for me it's about getting here and getting in front of you guys and putting the polo to go, 'OK this is happening.'
"And I'm really excited about that."
Lewis' manager Liam Pickering told NAB AFL Trade Radio there were no issues between player and former coach Alastair Clarkson, with the pair catching up again on Tuesday morning.
"Jordan's a professional. He understands how it works. That's the game these days," Pickering said.
"His relationship with Alastair will be strong. There's no problem there."
Pickering also said there was no coaching component as part of the deal with the Demons.
Pickering spoke to Lewis last Thursday to discuss potential new clubs. Melbourne was the only team with whom Lewis was discussed, Pickering said. The existing relationship with Demons list manager and former Hawks assistant coach Todd Viney was a key factor.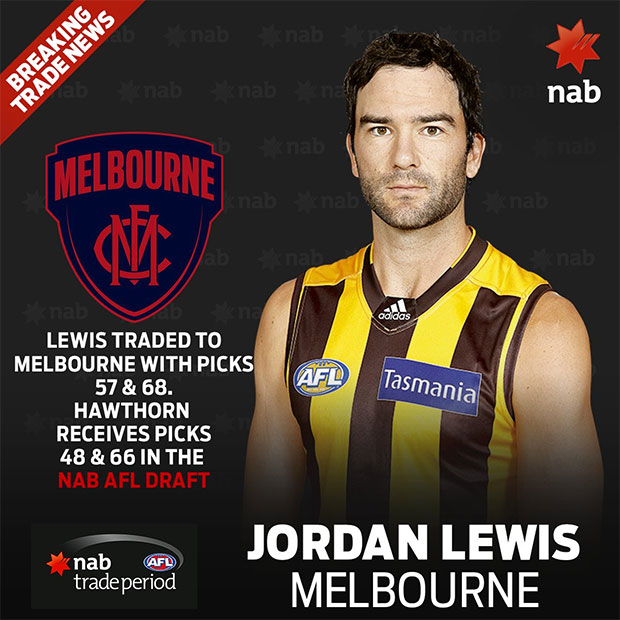 Gold Coast wanted to trade for Lewis, potentially as part of a deal for outgoing Sun Jaeger O'Meara, Pickering said.
"There was certainly interest (from the Suns) on the weekend. In the end, he made his mind up from the get-go that if he could get to Melbourne, that's where he wanted to play," Pickering said.
On Friday, club great and reigning best and fairest winner Sam Mitchell was traded to West Coast. It is believed to be the first time in League history a club has offloaded the top two place-getters in that year's best and fairest.
Lewis said Mitchell's move had not impacted on his own decision-making.
"From the start, it was really about what I wanted to do and where the club saw me, and he was a totally separate issue," Lewis said.
"When he did leave that created a hole for a lot of reasons, but his decision didn't impact on mine."
The deal works out well for all parties. The Demons get a tough and experienced midfielder just as expectations are building ahead what will be their first serious finals tilt in 11 years.
Lewis gets to extend his career for perhaps two more years than had he remained at Hawthorn, with the club considered unlikely to have offered him a new contract at the end of 2017 when his existing agreement expired.
Welcome @JordanLewisO3

— christian petracca (@cpetracca7) October 18, 2016
Jordan Lewis's honour roll
| | |
| --- | --- |
| 264 games | Four premierships (2008, 2013, 2014, 2015) |
| All Australian 2014 | Club best and fairest 2014 |
And with Mitchell and now Lewis out the door, the Hawks get further salary cap relief leaving them well-placed to make another big trade or free agency play, if not this year then certainly next year.
The Hawks have already landed free agent Tyrone Vickery and former Sydney Swans midfielder Tom Mitchell this trade period and are expected to add gun Sun Jaeger O'Meara as well.
They had initially declared that Lewis was a required player when the trade was first mooted last week, but a more sober assessment by the club was that it would be more beneficial to stagger the departures/retirements of Mitchell, Lewis, Luke Hodge, Shaun Burgoyne and Josh Gibson over two or three years.
Lewis, who was taken with pick No.7 in the 2004 NAB AFL Draft, shortly after great mates Jarryd Roughead and Lance Franklin, played in Hawthorn's 2008 and 2013-15 premiership sides and won the best and fairest in the dominant 2014 team when he took his midfield play to a new level.
Sam Mitchell and Jordan Lewis have both departed in a shock trade period. Picture: AFL Photos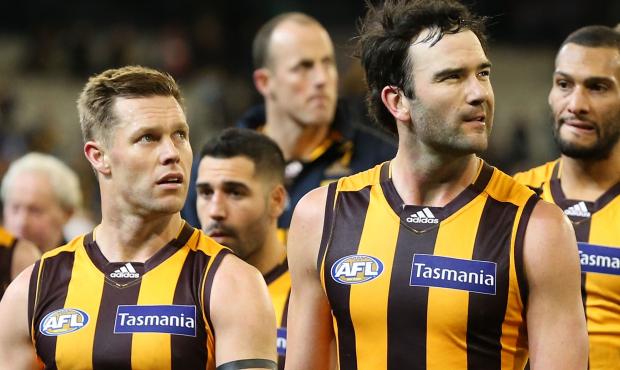 He played with a hard edge and was often the poster boy for the so-called 'unsociable Hawks' but he was also a ball-winning midfielder and dangerous close to goal, where he regularly chipped in to kick important goals.
The Demons will love him and he will be a huge acquisition for the club in the short term, although some would query whether he has three years of top-flight football in him.
• Indicative draft order: Which picks are the Hawks and Demons taking to next month's draft?