AS PLAYER trades go, it was as big as it got in the 1970s.

Peter McKenna, the mop-topped Collingwood spearhead who became a TV star and singer on the back of his cult-hero status with the Magpie masses, caused a sensation when he decided to join despised rival Carlton in 1977.

But this week McKenna, 70, was quick to point out the club he played for before joining Carlton was the Devonport Magpies (who else) in 1976 when he moved to the Apple Isle to accept a teaching appointment.

"The way people made out over the years was that I walked out on Collingwood to go to Carlton and it wasn't like that at all," he said.

McKenna had retired from League football in 1975 after losing part of a kidney playing for Collingwood reserves.

After a season in Tasmania, the star full-forward returned to Victoria determined to have one last crack at the big time.

He completed the pre-season under new Collingwood coach Tom Hafey and was in supreme physical condition.

Despite performing well in the practice matches, the Magpies' offer to the spearhead was far from adequate and reluctantly forced him to look elsewhere.

"I really don't think Collingwood wanted me," he recalled. "They offered me a pittance to play – it was $300 a game and if I got dropped to the seconds I would get $100 a game.

"I said: 'How about making it $300 a game regardless?' and they said no. I just thought that was unfair."

McKenna fielded offers from several clubs including Fitzroy and South Melbourne before deciding to join the Blues, a club he respected immensely.

Peter McKenna on the Grand Final podium in 2010. Picture: AFL Photos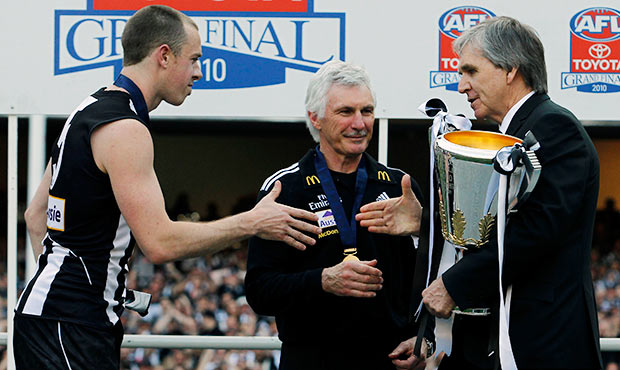 He was approached by Carlton general manager Keith McKenzie and was offered a two-year contract.

The deal involved 1972 premiership wingman David Dickson going to Collingwood and Carlton relinquishing its hold on Preston rover Peter Marshall, who was residentially tied to the Blues.

Dickson played only one pre-season game for the Magpies and Marshall managed only four senior games.

McKenna spent most of his first game for Carlton, in round two against Fitzroy, on the bench.

He graduated to the starting 18 in the next three games, booting five goals apiece against St Kilda, Hawthorn and South Melbourne.
Then came his first and only appearance against the Magpies in front of more than 64,000 fans at Waverley Park.

McKenna has a clear recollection of the day which was less than memorable for him and the Blues, who were annihilated by 102 points.

"I got booed by the Collingwood supporters, not all of them of course but you could hear it," he said.

"I didn't take offence at that. Collingwood supporters were sensational to me throughout my career.

"We kicked only seven goals that day and I kicked three of them."

He finished the season with 36 goals in 11 games, having booted four in his final game against Melbourne in round 18.

McKenna regrets he did not fulfil the second year of his contract with the Blues.

"I loved Carlton and the players – some of the Carlton guys are lifelong friends," he said.

"The first day I walked in there I felt at home. I knew a lot of them and they made me really, really welcome. I did enjoy it.

"But I found it very, very difficult to play against Collingwood after having been there for 11 years. There was too much Collingwood in me."

Full house: Peter McKenna in action for the Pies at a packed MCG in the 1970 Grand Final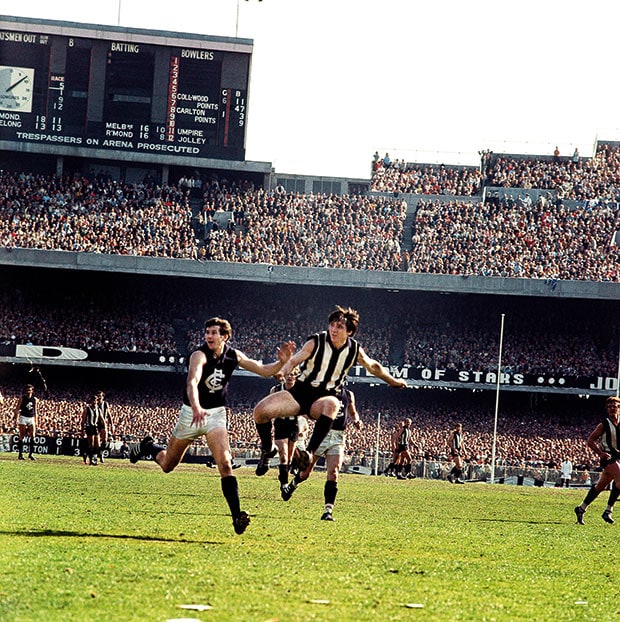 McKenna said he found both clubs to be similar in so many ways, but there were differences.

"I was really impressed with the way Carlton looked after the players' families with special rooms for the wives and children on match days," he said.

He went on to play in the VFA before retiring and becoming a commentator with Channel Seven for many years.

Forty years on, McKenna regularly attends Collingwood games and will be at the MCG on Saturday to watch the Magpies take on Carlton to celebrate their 125th anniversary.

"I will be forever indebted to president Eddie McGuire and the Collingwood board for choosing me to present the premiership cup in 2010, particularly after we had so many near-misses over the years," he said.

SIX OTHER PLAYERS WHO MOVED DOWN JOHNSTON ST
Jim Crowe (Carlton 1929-34, Collingwood 1936-37) Originally a forward who became a creative defender, Crowe played in Carlton's 1932 Grand Final team. After being relegated to the bench early in 1934, he finished up with the Blues midway through the season. But Collingwood lured him out of retirement and he played alongside star full-back Jack Regan in the Magpies' 1936 premiership team.

Ray Byrne (Carlton 1973-78, Collingwood 1978-83) Hailing from Bendigo club Golden Square, the tough defender played six seasons at Carlton, including the losing 1973 Grand Final. But he saw more opportunity at Collingwood in the late 1970s and played his best football under coach Tom Hafey. He finished his career with a season under Hafey at Geelong in 1984.

Russell Ohlsen (Carlton 1975-78, Collingwood 1979-81) Ohlsen played four seasons at Carlton but was unable to secure a regular senior spot and switched to Collingwood in 1979. The on-baller is best remembered for being knocked out by former teammate Trevor Keogh in the 1979 Grand Final when he was starring in the muddy conditions.

Mick McGuane (Collingwood 1987-96, Carlton 1997) McGuane had a celebrated career at Collingwood, being a key component of the Magpies' drought-breaking premiership in 1990. Seeking a change of scenery after a series of injuries, McGuane joined Carlton. His last game was in the controversial M&M sky blue strip, when he broke down with a serious groin injury.

Heath Scotland (Collingwood 1999-2003, Carlton 2004-14) Scotland managed only 53 games for Collingwood as a utility, yet was good enough to play in two losing Grand Final teams. But more opportunities lured him to Carlton, where he became an important player off half-back or occasionally up the ground. He won a best and fairest in 2012, was second in 2007 and third in 2006.
Dale Thomas (Collingwood 2006-13, Carlton 2014-current) After being taken at No. 2 in the 2005 NAB AFL Draft, Thomas became a star under Mick Malthouse, possessing great speed and an amazing leap for his size. He was a vital component of the 2010 premiership and an All-Australian the following year. Was lured to the Blues by Malthouse, but injury has prevented him recapturing his best form.