WHEN Shane Edwards first walked into the gym at Richmond, there was possum poo on the floor.
FULL FIXTURE Every round, every game
Edwards had been flown over for the day after being selected with pick 26 in the 2006 draft, and was somewhat taken aback by his surroundings.
"I came from North Adelaide, which was a really modern SANFL club. When I rocked up to Richmond, while I can't really remember what I expected, the facilities weren't actually as good as what I came from," Edwards told AFL.com.au.
"It was historic. Now, I appreciate what it looked like and what it had been through, but there was possum poo on the floor of the gym, the weights were uneven, things were just really old.
"It surprised me what state the club was in both financially and from a facility point of view. But that's one per cent of my first impression, everything else was about, 'oh my god, I just met 'Richo' (Matthew Richardson), Nathan Brown and Kane Johnson'."
There wasn't much of Shane Edwards in his debut season at the Tigers in 2007. Picture: AFL Photos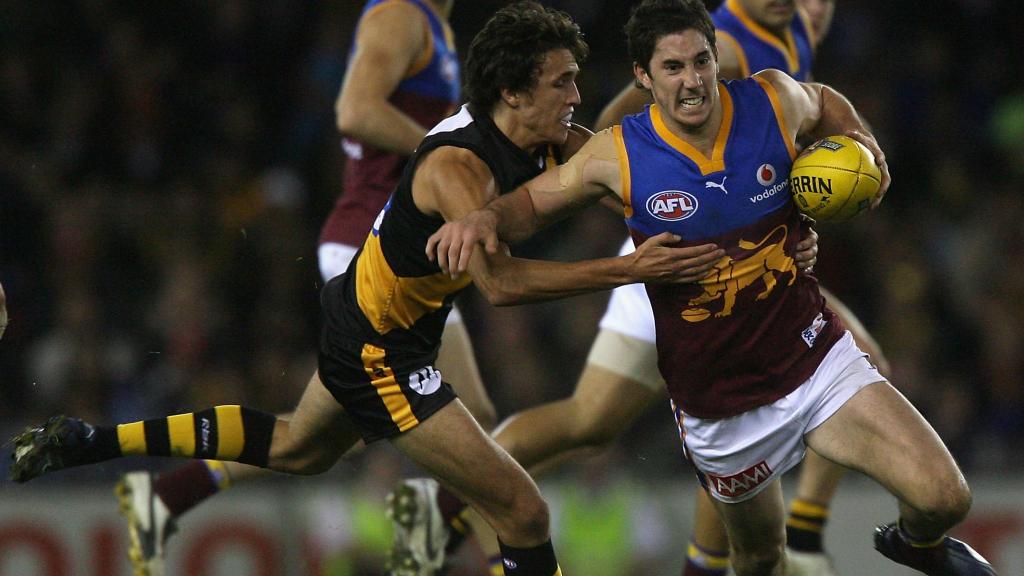 On the day of his 250th game (oddly enough, when he runs out on Sunday against Carlton, he will be the 250th player to reach the mark), Edwards is playing for a different Richmond.
He jokes, head in his hands, that the young Tigers don't know how good they've got it, playing for one of the strongest clubs in the competition, both on and off the field.
While now very stable, the club underwent a massive transformation during the early years of Edwards' career.
Former club hero Brendon Gale was appointed CEO in August 2009, while Damien Hardwick took over from caretaker coach Jade Rawlings at the end of that year (Rawlings became caretaker following Terry Wallace's departure midway through that season).
Everyone shifted their focus from negative to positive, focusing on what everyone could do well rather than people can't do - Shane Edwards on the change at Richmond between 2016 and 2017
The Fighting Tiger Fund was launched at the start of 2011 to clear the club's debt of $4.5 million, upgrade Punt Road Oval and invest in the football department, particularly recruiting. A redevelopment of the club's facilities was also completed that year.
But all that seemed miles away to Edwards, whose immediate concern upon starting at the club was to find a jumper that fitted his 71-kilogram frame.
"Back then, we weren't given high jumper numbers, we got given low numbers straight away. Jack (Riewoldt) was given number eight, I was given number 10," he said.
"Greg Stafford was number 10 before me, and he was 35 centimetres taller and 30 kilos heavier. It was a dress on me.
"I don't know whose jumper they eventually found, probably a kid who won a competition!"

Edwards believes himself, Riewoldt and head of coaching Tim Livingstone are among the longest-serving members (in terms of consecutive years) at the club, given the turmoil of his early years.
"It's all you know. When you get here, you think whatever you're doing is the right thing. It's not until things change and more success happens, that you think, 'I can't believe we ever did that back then'.
"One of the biggest changes between 2016 and 2017 (the premiership year) was just everyone shifted their focus from negative to positive, focusing on what everyone could do well rather than people can't do.
"It snowballed into positive energy that hasn't stopped since. That obviously started from the top with 'Dimma', 'Cotch' (captain Trent Cotchin), the Chief (Gale) and Peggy (O'Neal, president). It just filtered down everywhere."
That positivity was tested earlier this season as the Tigers suffered a string of injuries to key personnel.
The three-man leadership group of Trent Cotchin, Riewoldt and Alex Rance were all ruled out by round four, leaving a surprised Edwards skipper of a decimated side for seven weeks. The team even ran into Steven Bradbury at the airport on the very same day Edwards had "Bradbury-ed" his way to captaincy.
The Tigers formed, in effect, a new leadership group, comprised of Edwards, Nick Vlastuin, Dylan Grimes, Kane Lambert and Tom Lynch. The quintet still go to leadership meetings, despite Riewoldt being back on the field.
"I suppose I was captain, but really we all just lifted a little bit. I would talk a bit, but then I would get someone else to have their little spiel as well. Ranting and raving isn't really one of my strengths, so I included others," Edwards said.
"After moving to half-back (having been moved there to cover for Jayden Short), I had to make sure I really knew my position so I can help others.
"But I can't believe how good the young guys were. Jack Ross had 28 touches in his first game; it took me 200 to get that."
The 30-year-old is still some way off retirement, but is currently working with the club's recruiting department, a nod to where his post-playing career might head.
"When I have to retire or get delisted – by the guys I'm working with – then I'll hopefully be a recruiter and know myself that I'm no good anymore, so it'll be a good call."
Find AFL Exchange on Apple Podcasts, Google Podcasts and Spotify.